Duran Duran exclusive new content section and interview on Flipboard
Inside Flipboard / March 18, 2011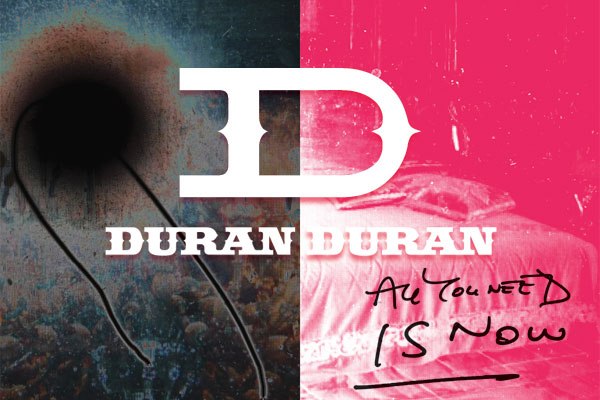 Today Duran Duran and Flipboard are happy to announce that you will be able to add a new, exclusive Duran Duran section to your Flipboard. In this section, you will be able to follow the band as they launch their new album, All You Need is Now, and embark on a new tour.
The next stop on the tour will be live streamed from the Mayan Theater in Los Angeles. Directed by none other than acclaimed filmmaker David Lynch (Blue Velvet, Mulhullond Drive). Tune in March 23 at 10 PM ET/7 PM PT to watch this landmark performance at www.YouTube.com/DuranDuranVEVO. Now, on your Flipboard, you can follow the events leading up to the show and see all the posts, photos, and comments from the band as the concert happens live.
Simon LeBon and John Taylor took the time to visit with us on Flipboard's Red Couch at the SXSW conference and music festival in Austin, Texas. Hermione Way, talked to the guys to discuss the new album, the up-coming concert, and fruit bats. Enjoy the interview.
Duran Duran's 13th full length studio album All You Need is Now will be released physically in the U.S. and Canada on the band's new label S-Curve Records on March 22, 2011. WATCH the video for the title song off the new album "All You Need Is Now"
"Duran Duran re-creates the Rio-era sound" right down to the slap bass, synthesizer arpeggios and tropical percussion" -USA Today
Upcoming Duran Duran Live Dates – First U.S. Shows in Three Years!
March 18th WinStar World in Thackerville, OK
March 25th Ultra Music Festival in Miami, FL
April 16th The Fillmore in San Francisco, CA
April 17th Coachella Valley Music and Arts Festival in Indio, CA
American Express, in partnership with VEVO and YouTube will provide Duran Duran fans worldwide with access to their "Unstaged" performance on March 23.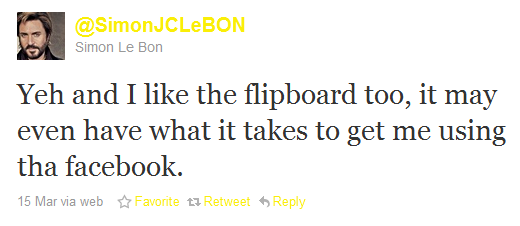 To add the Duran Duran section to your Flipboard, just tap the Featured ribbon at the top right of your Contents page. Enjoy the new Duran Duran section on your Flipboard!
~ JonV
community@flipboard.com
facebook.com/flipboard
@flipboardCM