Enjoy SXSW 2014, in Austin or Elsewhere, with These Flipboard Magazines
Inside Flipboard / March 10, 2014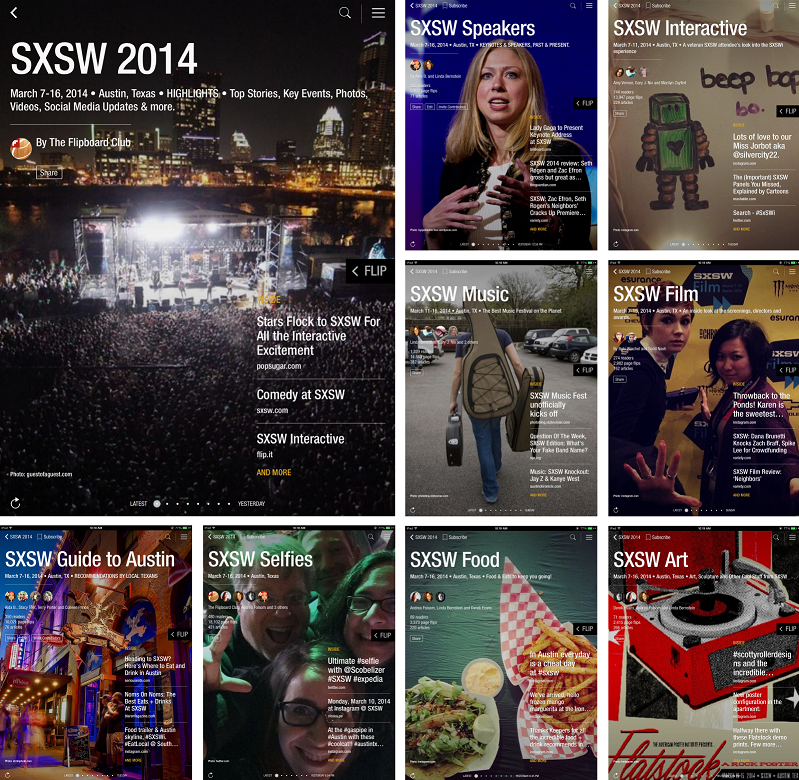 The South by Southwest (SXSW) conference is underway right now in Austin, Texas. For the next few days, tens of thousands of attendees will immerse themselves in the unique mix of art, technology, film, music, food and Texas charm that has made SXSW a haven for trendsetting cool.
If you're attending SXSW 2014 or just following along from home, our friends at the Flipboard Club have launched an impressive series of co-curated magazines to cover all the action:
SXSW 2014,  a digest of news about all facets of the SXSW, by Flipboard Club and Aida B.
SXSW Speakers by Aida B. and Linda Bernstein
SXSW Interactive by Amy Vernon, Gary J. Nix and Marilyn Zayfert
SXSW Music by Linda Bernstein, Carla Zanoni, Dana Conroy and Gary J. Nix
SXSW Film by Beki Winchel and Scott Nash
SXSW Guide to Austin by Aida B., Stacy Teet, Terry Porter and Colleen Pence
SXSW Food by Andrea Folsom, Derek Evans and Linda Bernstein
SXSW Art by Andrea Folsom, Derek Evans and Linda Bernstein
SXSW Selfies by The Flipboard Club, Aida B., Derek Evans, Andrea Folsom and Linda Bernstein
Please do check them out.
Meanwhile, special thanks to the Flipboard Club and all the MagMakers who bring these magazines to life!
IMAGE: Cover montage by Aida B.