Feeds for Music Lovers
Inside Flipboard / July 9, 2011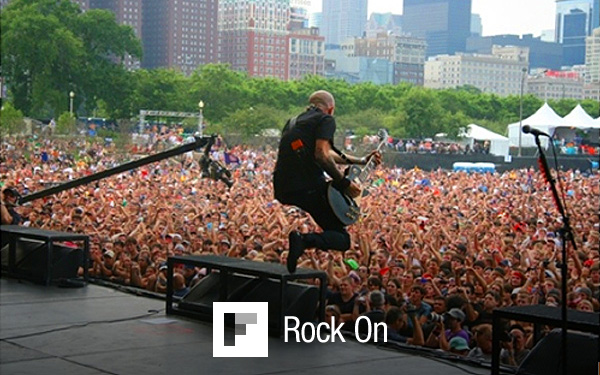 From Bonnaroo to Glastonbury to the iTunes Festival to the upcoming 20th anniversary of Lollapalooza, music is definitely in the air. These featured feeds will keep you tuned in to the latest news from music journalists, artists, and even a pair of musically-inclined cooks.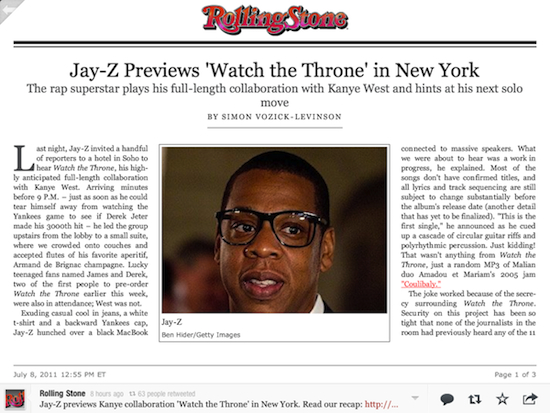 Rolling Stone – Tap to Add Section
This venerable magazine is the pulse of youth culture and has been for the last 44 years. Founded in 1960s San Francisco by Jann Wenner, the publication is known for its bold stories, big interviews, and iconic photography. For example, don't miss Al Gore's "Climate of Denial" or Jesse Hyde's exposé into a Mormon cult's secret empire.
Brooklyn Vegan – Tap to Add Section
NYC – and music – are at the center of the Brooklyn Vegan world, and hipsters love them for it. The blog focuses on global music news, live show reviews, pictures, tour dates, gossip, tips, MP3's, videos, and just about anything else a music fan could want. There's some non-music coverage, too.
Turntable Kitchen – Tap to Add Section
Instead of pairing food with wine, San Francisco couple Kasey and Matthew do their match-making between food and music. Their blog, Turntable Kitchen, features recipes that focus on local, fresh ingredients. Those recipes are then coupled with hand-selected musical pairings, album reviews, and musings on city life.
UK Music Media – Tap to Add Section
The British music press have long been some of the most passionate advocates of new bands and new sounds. This section follows some of the biggest music publishers in the UK, including NME, Q, and music sections from The Guardian and The Telegraph.
Music Festivals & Tours – Tap to Add Section
If you love seeing live music, let this be your guide to rocking out in a public setting. There's a good range of contributors here, from festival brands like Bonnaroo, SXSW, and Glastonbury to touring acts like Weezer, B.o.B., and Temper Trap.
Flip on,
~MiaQ
featured@flipboard.com
facebook.com/flipboard
@flipboard_mia