<![CDATA[Flipboard is a social magazine, not a social network, so it's entirely possible to be an active user by following topics of interest rather than connecting with your online community, but, really, where's the fun in that? If you're interested in following people you love and/or respect so you can see what they deem worthy of flipping into magazines, here are a couple tips for how to find your people on Flipboard.
Before We Get Started: Connecting Your Social Profiles to Flipboard
Let's assume for a moment that you're already using social networks to connect with people you like. Connecting your favorite social networks to your Flipboard account enables you to easily connect with the ones who are also active on Flipboard. Pop open the app and click on the tile tab (four little squares). From there, click accounts and then add the networks you'd like to connect.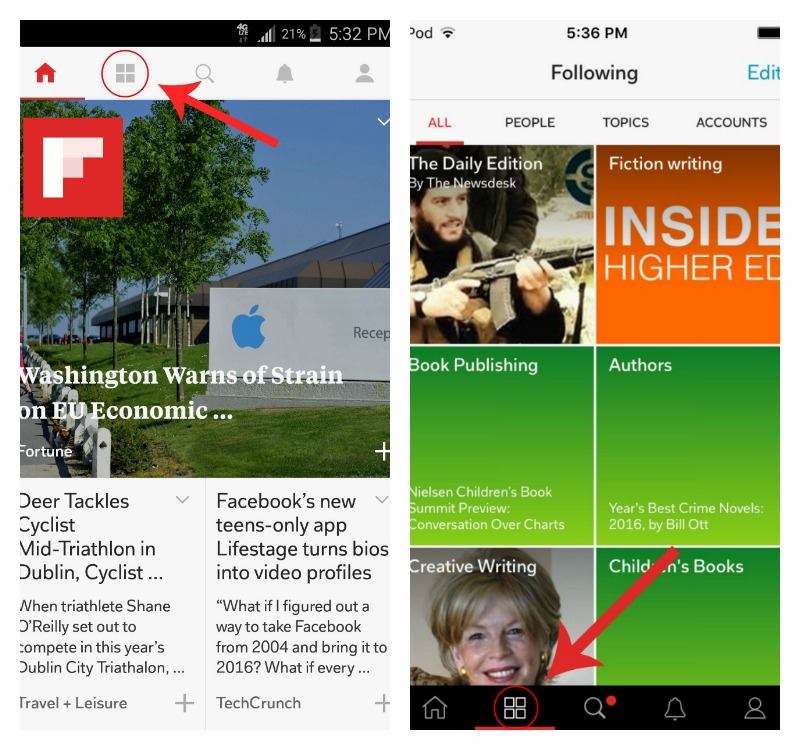 Now Let's Find People to Follow!
1) See Who Flipboard Suggests
Let's start by taking a look at who Flipboard suggests you might be interested in following. From the app, click again on the tile tab, but this time click on "People." At the top of the list of people you already follow, you'll find a link that says "Find More People to Follow."
Once you open that screen you'll come to a treasure trove of Flipboard user profiles. The first tab, identified by a person in a red circle, will show you first a list of suggested friends (Android app users: scroll beyond Staff Picks to see yours.) The suggestions are comprised of people with similar interest as yours.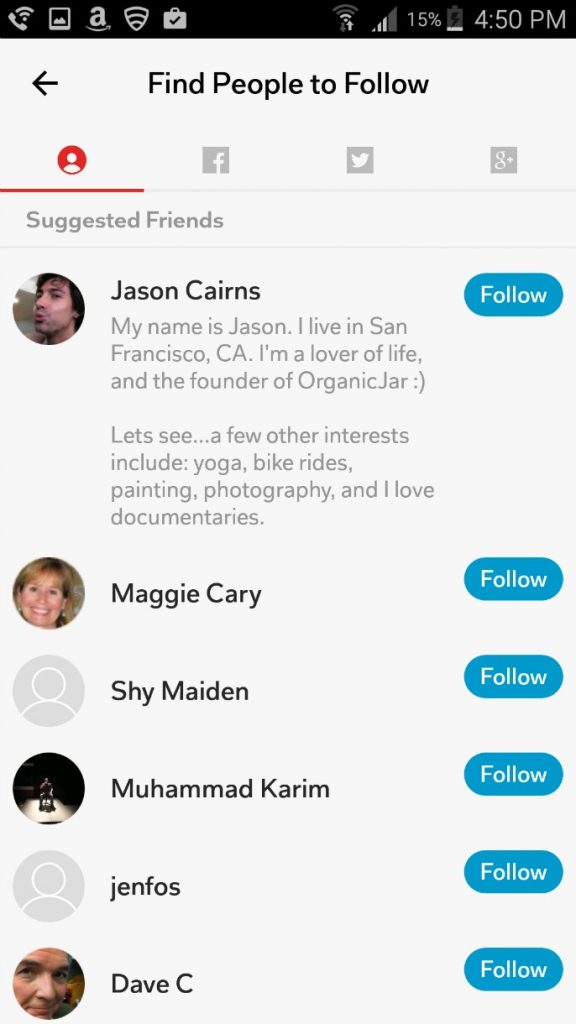 2) See Which of Your Online Friends Are Using Flipboard
After the first tab you'll see the various social networks you connected when we got started. Click on each to see which of your friends are using Flipboard. You can either click "Follow" from this screen, or click through to see their individual profiles before deciding whether you also want to follow them here.
Haven't found too many of your existing friends? Maybe they just don't know about Flipboard yet! Give them a head's up. Email them your profile and invite them to join.
3) Search For People With Similar Interests
Let's take it a step further now and discover a whole new group of friends! What we're about to suggest is why we can't stress enough how important it is to create
strong profile bios
and
comprehensive magazine descriptions
. Either from the app or from the Web, type in a keyword for an interest of yours. The results will be a mix of featured topics and magazines or profiles with names containing your search term. Exploring the magazines and profiles is a great way to discover new, like-minded people to follow.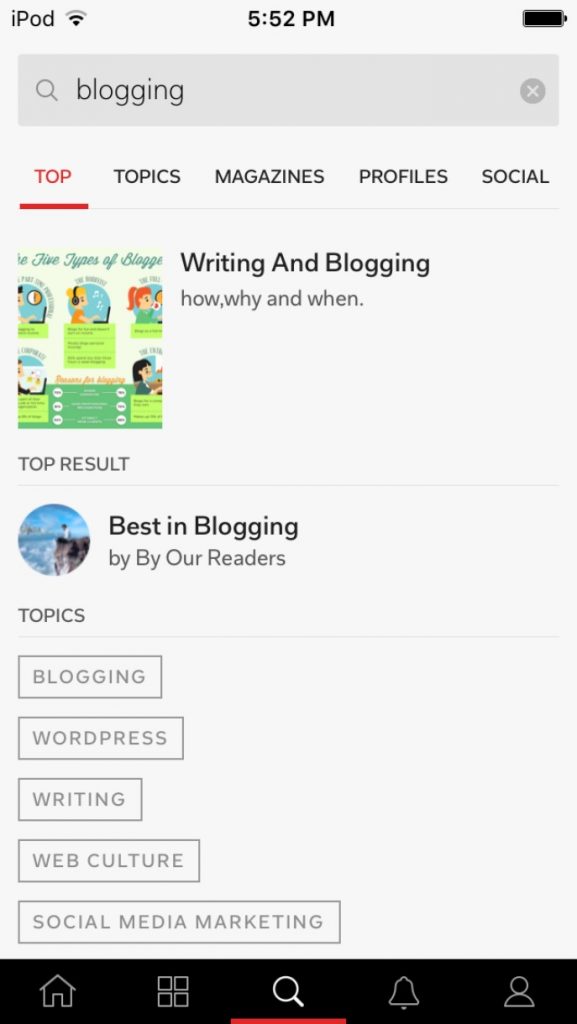 4) Search Topics for Inspiring Flipboarders
Consider also starting your friend search in the topics section. On the app, after you click on the tile tab, click topics to see an endless scroll of topics. On the Web you'll find the same by clicking on "Explore." If you know what you're interested in, you can also search for specific topics. Browse the articles in the various topics, if something catches your eye, see who flipped the article. By clicking on their name you can see their full profile and decide whether you want to follow them and get connected.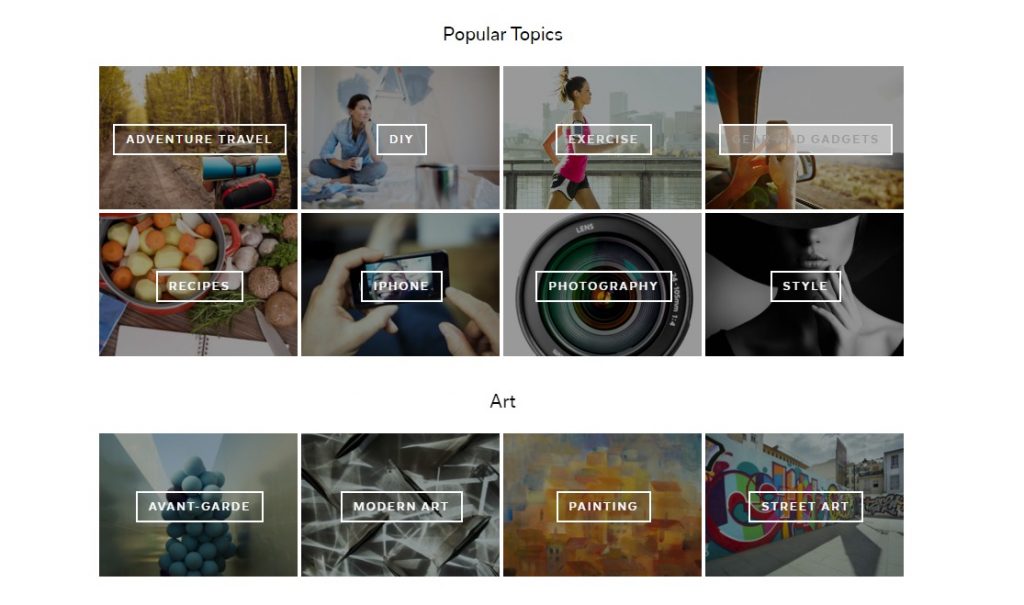 5) Take a Look at Who's Flipping Your Flips
The little bell icon at the top of the Flipboard home page or the app is where you can find all of your notifications about who's following you or who is liking or flipping your content. If people are flipping your content, odds are you have similar interests. Not only is it worth clicking over to their profile to see what they flip, but returning the favor by following them back or flipping something they've added to a magazine is a nice way to build community support.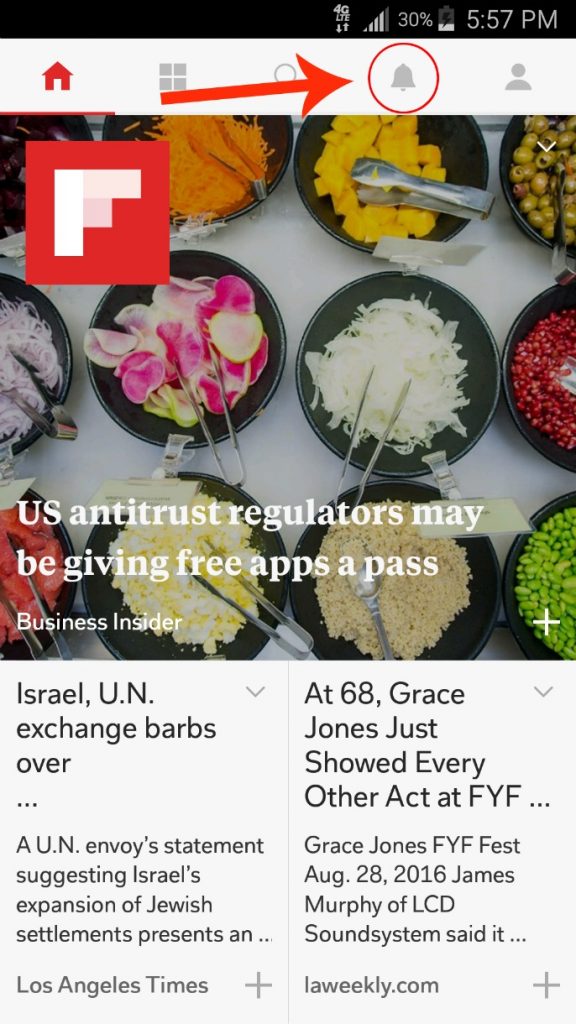 6) Follow @FlipBoard and #FlipBlogger on Twitter
We're pretty passionate about our users, so we take every opportunity to showcase the amazing curating that goes on here at Flipboard. By following Flipboard on Twitter and keeping an eye on the #FlipBlogger hashtag, you'll always be in the know when there's someone inspiring or interesting to follow.
Have a useful Flipboard tip that other bloggers might enough? Share it on Twitter with the #FlipBlogger hashtag!
~
JessicaR
is reading the
Creativity
topic