Flipboard Donates Company Stock to The News Literacy Project
Marci McCue / February 13, 2018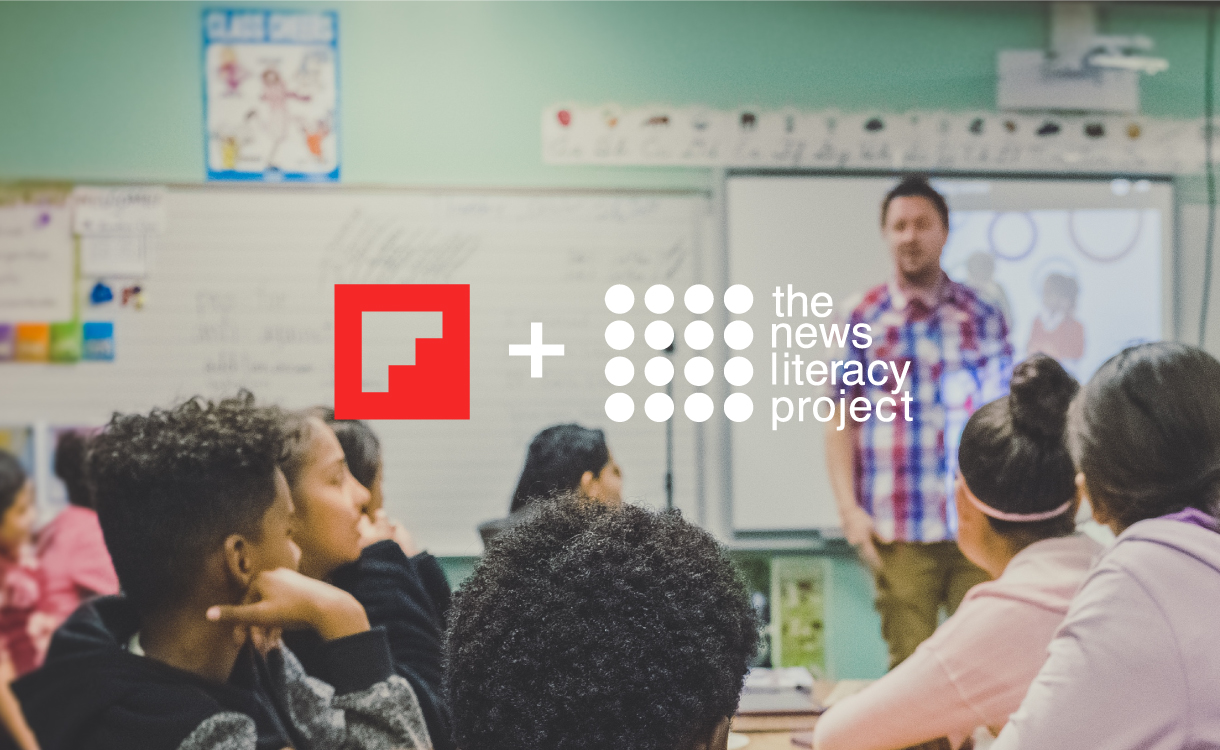 Do you know how to navigate today's confusing and charged media landscape? Do you know how algorithms influence what you read? Can you recognize fake news?
In a time when people are increasingly confused about which news outlets to trust, the News Literacy Project, a nonpartisan national education nonprofit, is on a mission to teach middle- and high-school students how to sort fact from fiction in the digital age.
Here at Flipboard, we're aligned with NLP's mission and believe news and media literacy skills are urgently needed. When we learned the organization was fundraising to further develop its technology and expand its reach, we decided to support the NLP by donating 0.1 percent of Flipboard's stock. Also recently announced, I joined the NLP's National Advisory Council.
"We appreciate this extremely generous gift, which will help us expand our reach and impact in the future," said Alan Miller, NLP's founder and CEO. "The donation is particularly meaningful given what Flipboard has accomplished, including its commitment to sharing quality journalism and its use of humans to curate stories."
This is the first time Flipboard has donated stock to a non-profit. We've chosen this moment because not only is understanding the news important, but also the ways that we stay informed have radically changed. Having an organization like NLP help teachers stay on top of the shifting landscape in a neutral, factual way is a huge service to educators and students.
Over the years our work with the Journalism Education Association, led by its board member, Jonathan Rogers (also the journalism advisor for Iowa City High School), has given us a deeper understanding of the challenges teachers face when it comes to finding tools to teach media literacy in a non-biased way. In a world where news comes to us via social channels—vetted and unvetted—teachers might struggle to teach their students the distinction between opinion and hard news, the importance of credible sources, and the ways for them to know if all sides of a story are being told.
To address these needs, NLP has developed checkology, a virtual classroom for grades 6-12 with 12 core lessons that can be used by educators anywhere. The program seeks to address the pain points of teachers who are looking for tools that can give students the skills they need to be smart, active consumers of news and information, as well as engaged, informed citizens.
Ultimately the NLP drives fundamental civic values and teaches students to be news-literate; it shows them that journalism, free speech and the First Amendment are vital for the way they live their lives in our democracy. We, too, believe these are among the most important goals to work towards in our time.
~Marci McCue, CMO, Flipboard, is reading Great Journalism From America's High Schools
P.S. Jonathan Rogers will join author/professor Julie Smith for a campfire conversation at SXSW EDU in a session titled Media Literacy in the Era of Fake News. If you can't attend, don't worry—we'll summarize the session for you right here in this blog.