Flipboard Launches in China
Inside Flipboard / December 6, 2011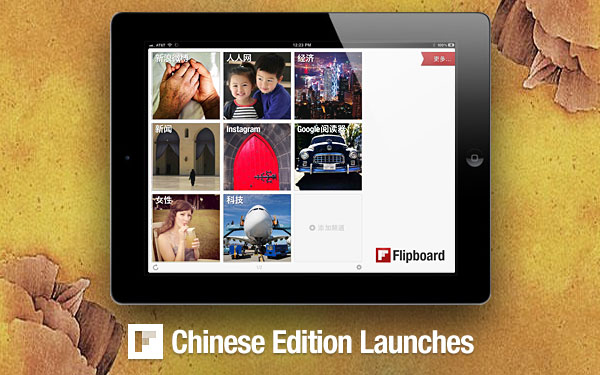 Starting today, Chinese readers get their very own edition of Flipboard. It's the first international edition of Flipboard to launch, and it's in collaboration with Sina, China's largest Web portal and owner of Sina Weibo (新浪微博), and Renren (人人网), one of China's most popular social networks.
Of course, you can already search for and add content in any language to Flipboard. What's different about the Chinese edition is the fact that the entire Flipboard experience is in the local language, including a curated Content Guide with regionally-relevant content and the inclusion of popular local social networks Sina Weibo and Renren.
Flipboard's Chinese edition is free and only available in the iTunes China App Store. Once you've installed it, tap on the red ribbon to connect to your Weibo, Renren, LinkedIn, Google Reader and Instagram accounts to it, and begin customizing your Flipboard with your favorite sources. Go deeper into the Content Guide for recommendations of some of the best Chinese news, business, tech, design, photography, entertainment and fashion feeds, picked by local curators.
If you would like to share feedback about the Chinese edition or would like to recommend local feeds for the Content Guide, please email support_cn@flipboard.com.
在Flipboard上见 !
~The Flipboard Team
support_cn@flipboard.com
weibo.com/flipboard