Flipboard's "Vote 2020": Your Election Guide to Help Make Sense of It All
Carl Sullivan / August 11, 2020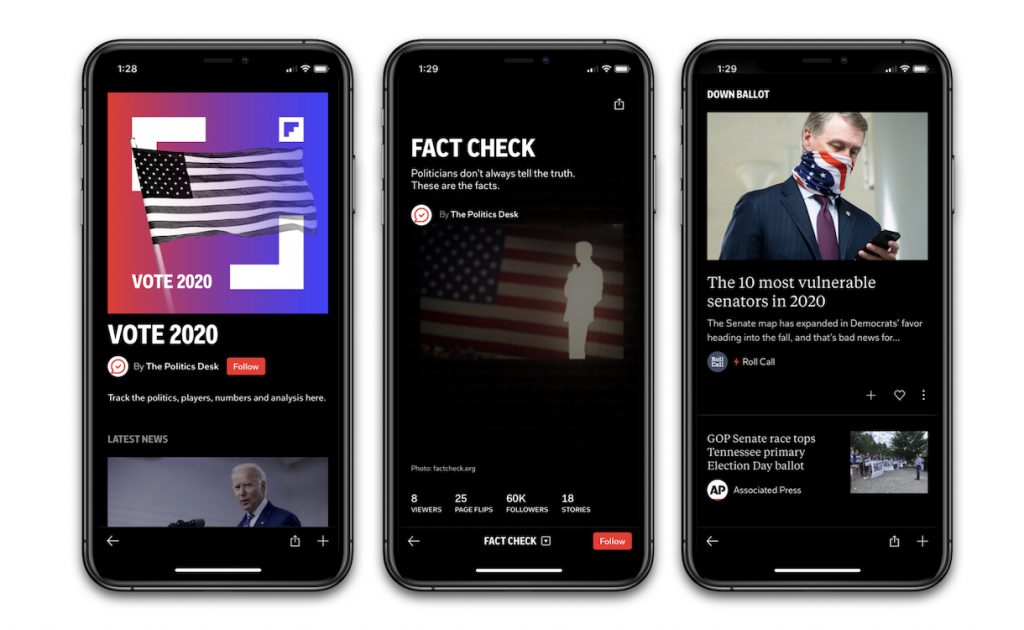 Every campaign season, pundits love to pronounce, "This is the most consequential election of our lifetime." The phrase was certainly heard often in 2016. And again in the 2018 midterms. But it's hard to argue that the sentiment doesn't apply to 2020 as the nation hobbles under the weight of a pandemic and social unrest.

With less than 100 days to Election Day, America seems again to be at a major crossroads. It's sort of hard to remember that the nation felt very divided even before the coronavirus pandemic and the killing of George Floyd which resulted in waves of protest and activism.

Most analysts attribute President Trump's current standing in the polls (he's trailing Biden) to his handling of the COVID-19 and racial justice crises. Will voters treat this Election Day primarily as a report card on Trump's performance? Or will some new development shift the narrative before November 3?

Whatever happens, we'll keep you informed about ongoing political events and conversations. Our new Vote 2020 magazine is updated daily with the latest news from dozens of news outlets, including ABC News, CBS News, CNN, Fox News and NBC News.

Our polls magazine brings you the latest national and local polls, so you can keep track of how candidates are resonating with voters. Ourkey issues magazine goes in-depth on candidate proposals, including healthcare, the economy, social issues and more.

We're also tracking campaign fundraising and advertising campaigns, and you can even watch a sampling of the latest political ads directly from the Trump and Biden campaigns (via YouTube). If you live in a battleground state, you're probably sick of campaign ads. But residents of solid Red or Blue states might never see any campaign messages. We think it's important that everyone get a chance to see how the candidates present themselves.

And don't forget all the important down-ballot races. We're tracking those too, especially the battle for control of the U.S. Senate.

Are politicians telling the truth? We're curating a magazine with content from non-partisan fact checkers to help you do your own research. Last, but not least, our "How to Vote" section offers tips on checking your registration and more.

Vote 2020 is a great way to get a mix of daily news from a variety of trusted sources, all in one place. Join us, and if you haven't already, check out our quick guide for registering to vote! It's your right, and a privilege we are blessed to have.
— Carl Sullivan, U.S. News Managing Editor at Flipboard, is reading the FiveThirtyEight on Politics magazine for the latest polling and campaign analysis.