#FlipboardChat Summary: Engaging the Flipboard Community
Inside Flipboard / July 28, 2015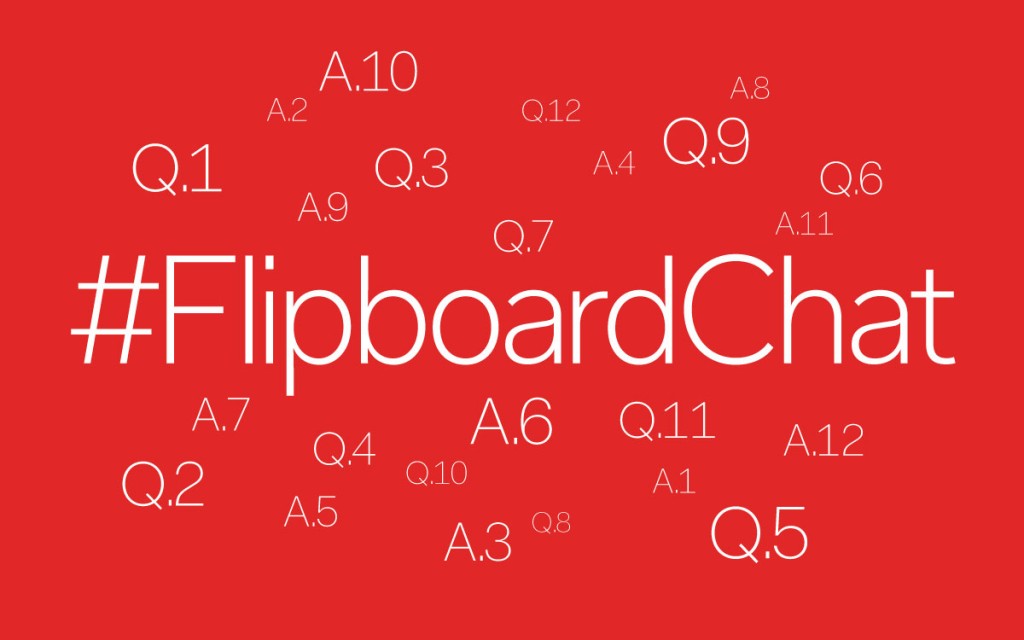 Every Wednesday evening, members of the Flipboard Club—an unofficial group of passionate evangelists—hold a Twitter chat about a Flipboard-centric topic. We share the tips and ideas discussed there each week and let you know what the next topic is going to be. (Tomorrow we're going to be asking the questions during "What Makes You Flip? (Q&A with Flipboard)." Join in the chat at 7pm PT / 10pm ET via the #FlipboardChat hashtag on Twitter. If the time zone doesn't work for you, join this Facebook group to stay in the loop.)
Last week, participants chatted about "Engaging the Flipboard Community." Here's what they said:
How did you discover the social side of the Flipboard platform?
When people were kind enough to like, comment on, and reflip my content! It started to become a 2-way dialogue.
I think I probably learned about comments and reflips from @FlipboardClub.
When I found I could connect my social platforms.
Not until I joined #FlipboardChat.
I knew there were others using Flipboard, eventually the app grew and they became easier to discover.
Notifications have been helpful.
I remember it being kind of an "aha" moment when I saw Flipboard had a social side.
When topic suggestions came via email, I noticed people too.
I found the social side in a Flipboard group on Facebook, ironically.
The reflips into other magazines.
What is the most memorable notification you've ever gotten in the Flipboard app?  
One time on a food mag I have someone commented that I must be a "mad" baker. I wish.
When Mike McCue followed one of my magazines.
A comment on a flip that said "I love you." It made my day, even though I don't believe it is true love! 🙂  But sweet!
When others started contributing to my mags that they found interesting.
The best one also was a 6th grader that used the mag for school project.
When one of my mags were first featured in #MagsWeLove magazine. I bet that got noticed.
What is the best method of interaction on Flipboard when reading or curating?
Comments, in my opinion, are gold. Reflips give you breadth but comments give you depth.
I try to leave comments or now I click on "hearts." I also try to send an "I love your mag" to the creator on Twitter.
I think comments are best, because they imply one has read the piece, and wants to interact with the "flipper."
See a stunning photo? Say so! Means a lot to creators/curators..
What is the benefit of using Flipboard comments on the Web to develop conversations?
You can type a lot more and without errors on your computer. It's so much easier to have a convo.
I love how easy it is to comment on the Web, and conversations about mags make me a better MagMaker.
Tagging! When you tag in a caption or a comment, they get a notification. Great convo starter. But don't overdo it.
You can EDIT! Very important.
What are the unique ways to engage the community on Flipboard versus other social services?
Comment on someone's flip and tell them what you think! Or, use the Compose tool in your own mags to ask a question.
You have unique opportunity to create a "social magazine" to use and share for any practical need.
Re-flipping! Re-purposing other's content into your mags gives them a notification that you like what they are doing.
I like using Compose to ask a question. I'm hoping that catches on for more social interaction.
Unique to Flipboard: Metazines (feat. fav curators), group curated mags, CTAs as mag names, SoundCloud audio guide, etc.
How can you use Flipboard's website to manage your personal community of followers?
I like to click on followers and then see my new ones and explore their profiles (which I do if they have pics and bios).
Stay current with your notifications on the Web to see who's following you and check out their profiles and likes!
The Editor. Sometimes I use it to check comments and conversations by followers whose notifications I missed.
How can brands effectively draw the Flipboard community to their activity?
Analytics on the Web! Great way to track activity by followers, what they reflip, etc. and strategize.
Glad you asked. Show their clients how consumers engage with their brand.
Brands can share the content produced by the influencers they engage with.
I was thinking that brands should take advantage of compose and draw in fans by asking questions.
Adding collaborators with a large Flipboard follower base, and interacting with users.
Cross-promotion! Use your existing community on Twitter, Facebook, etc. to make them aware of Flipboard.
A brand that ran a campaign for MagMakers would be a hit. "Create a mag about our products, we'll feature the best ones."
I like to see "behind the scenes" at brands. Flipboard often shares photos of the staff.
Use video, audio and Compose to create a message especially for your Flipboard community.
Create magazines that your community wants. Ask them what they'd like to see.
Brands can have exclusives just for their Flipboard readers. Contests, giveaways, videos, the possibilities are endless.
What is on your Flipboard wishlist for enhanced engagement and social capabilities?
Easier to find active users, likes on comments, expanded profiles, being able to set topics for magazines.
I wish there were a way of organizing followers, like with Twitter lists.
I really want the ability to tag users using the website, too.
Compose on iPad, local analytics.
The ability to like and comment on whole magazines, not just flips.
If you could follow someone without them becoming a tile. A list instead of all those tiles.
I'd like to see a "follows you" on people's profile, if they are.
I wish I could better organize my tiles. Group by category so that I can easily find MagMakers I'm following.
I'd also like to see who's following each magazine. I'm sure there's some meaty data in there.
Don't forget to join the #FlipboardChat this week for "What Makes You Flip? (Q&A with Flipboard)." Start chatting on Twitter on at 7pm PT / 10pm ET, or come back to this blog for an update.
~jdlv on behalf of the Flipboard Club
FOLLOW US ON:
FLIPBOARD / TWITTER / INSTAGRAM / FACEBOOK / GOOGLE+ / TUMBLR / YOUTUBE / SOUNDCLOUD / PINTEREST / MEDIUM