#FlipboardChat Summary: Using Flipboard with Students
Jenn de la Vega / April 29, 2015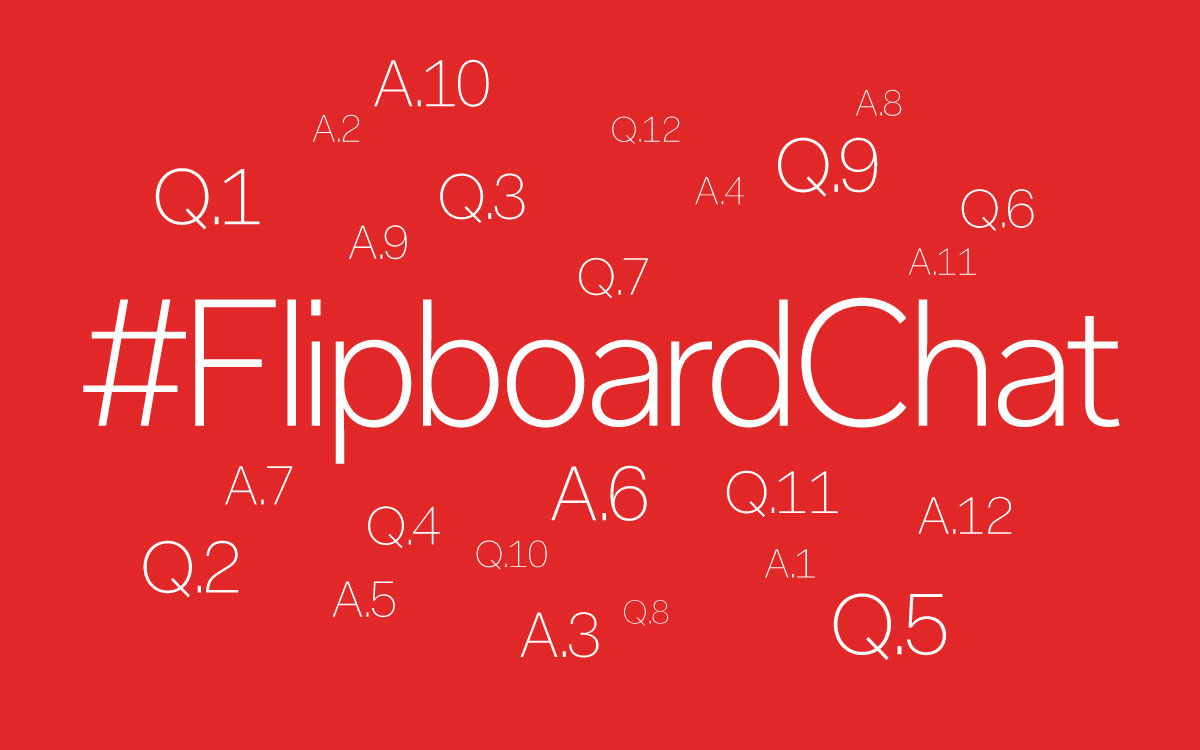 Every Wednesday evening, members of the Flipboard Club—an unofficial community of passionate evangelists—hold a Twitter chat about a Flipboard-centric topic and we summarize the discussion here.
Tonight's topic is "Brands on Flipboard." Join in the chat Wednesday at 7pm PT / 10pm ET via the hashtag on Twitter. If the time zone doesn't work for you, join their Facebook group to stay in the loop.
Last week, participants chatted about how to use Flipboard with students. Here's what they said:
Q1. How has the internet changed the way students learn?
The internet means a teacher doesn't have to be the deliverer of all knowledge.
Students have more access than ever to just about everything. Access is immediate and information is current.
The Internet is a learning tool no matter what your age.
We no longer have encyclopedias and dictionaries in our homes for students. Research capabilities online are amazing now!
Researching is much faster, communication is much easier for group projects.
One aspect I really like is that the Internet lets classrooms and students from other countries connect and learn together.
Q2. In what way does Flipboard offer an opportunity for quality learning?
Flipboard enables parents and teachers to curate the best and present that to kids and students.
Flipboard allows a better way to organize that information in a simple (for teacher) and engaging (student/user) way.
Flipboard lets you put quality info & content — videos, articles, pictures — all together in one package for students
Teachers can basically create their own "textbooks" on specific subjects for their students
Having mags with flipped educational info is a continuous source to learn from.
Q3. What are some creative ways educators can use Flipboard with their students?
If students have trouble with a concept, educators can present it in many ways, with videos, infographics, GIFs.  So many things Flipboard can do. Little kids, for instance, can curate shape pictures.
Group projects, science fairs, exams, research, homework. This is just the beginning.
I'm having my college students use Flipboard mags to focus on their passions to help their job search.
Can you imagine a student using Flipboard to help present their science fair project to judges?
For high school students, a class #hashtag. They can tweet or Instagram work with the hashtag, even get extra credit!
Some of my students are also creating mags with their own photos and blogs — a kind of portfolio.
Q4. Can educators use Flipboard to supplement classroom materials? How so?
Absolutely! You can go further in-depth in your Flipboard mag or showcase current events related to what you're covering.
Flipboard can be a supplement to classroom materials by covering what is not in textbooks.
Put training resources in a magazine.
Absolutely, and sharing a Flipboard magazine with students is easy with Flipboard on the Web. All they need is a browser!
Mags can be used to feature content showcasing how what they're learning in class is being used in the real world.
It's a great way to showcase at parent teacher conferences while parents are waiting in the hall!
Magazines for book reports!
Q5. How can parents use Flipboard to engage kids in their studies?
Parents can create family's work/study magazines for their children. Could be a fun activity to keep kids focused
Make it fun and interactive! Use videos and other media to illustrate what the articles are talking about.
Flip with your kids and get involved. That's way more interactive than handing them the iPad.
Parents get to watch their child's project develop in real time with Flipboard.
Parents can curate a book library for students. Include book, author information maybe even videos.
Homeschool kids can collaborate far and wide with Flipboard Mags. Like pen pals, but better.
Q6. Can Flipboard be used to promote good study habits? How so?
Yes!! Make it fun. Make it interactive and social. Comment on each others flips. Start a convo.
Flipboard can let students study in their best way — like if they're visual learners they can flip videos & infographics.
A large part of homework is research. With Flipboard, research includes data, images, and video at their fingertips.
Creating mags can also help train students' method of evaluating good vs. bad online sources.
Q7. Studies aside, what are some ways students can have fun with Flipboard magazines?
Students can flip SoundCloud links and make music playlists for study time.
Fun projects, like field trips, graduations, yearbooks or science fairs can be put into a magazine.
They can collaborate with close friends to keep up with each other, even after graduation.
With private mags, students can share cool stuff with their friends. Pictures from concerts, clubs, sport teams or parties they are going to.
Get them involved/invested in planning their summer! Or after their summer, a "How I spent my summer vacation" magazine instead of an essay!
Celebrate your school and daily school life. Pics of teams, events and accomplishments. Teachers, students, everyone!
Q8. How can students use Flipboard to engage with one another?
Students can now use Flipboard Mags as study group material.
Flipping mags can help them stay connected in between meet-ups especially if they share interests.
Group projects, planning trips, sharing flips they like, and comments!
Like they use Instagram and Snapchat. Recess can become part of learning.
Don't forget to join this week: the topic is "Brands on Flipboard." Start chatting on Twitter on April 29, 2015, at 7pm PT / 10pm ET, or come back to this blog for an update.
~jdlv on behalf of the Flipboard Club