Get the Latest Edition of Flipboard
Inside Flipboard / December 15, 2010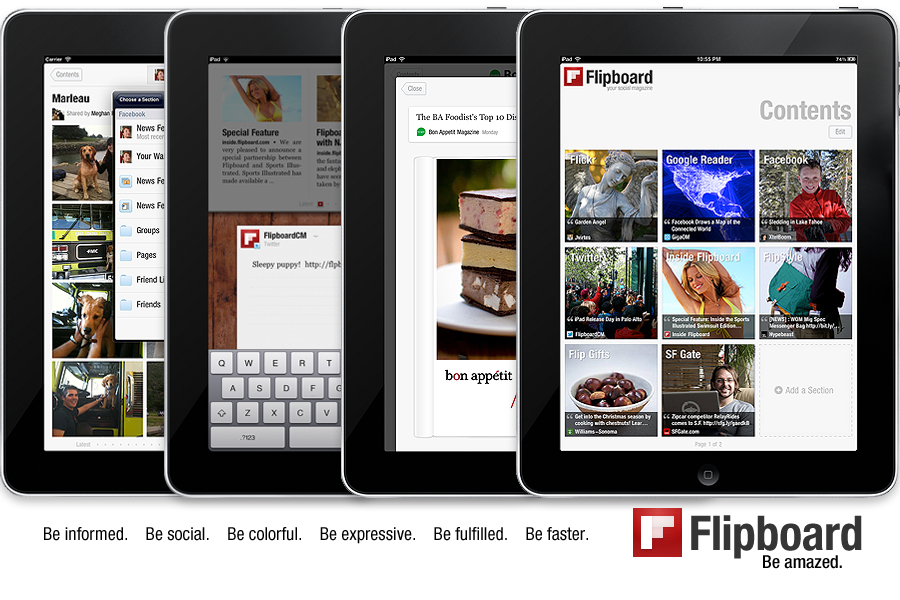 We are incredibly excited to offer you the latest edition of Flipboard!
In this major update, we bring you a new set of features to expand and refine your Flipboard experience. Several of these features are from among of the most requested features we have heard from you, our readers. Thank you for your valuable suggestions, thoughts, and ideas. Please keep the excellent feedback coming. We can't wait to hear what you think about this new release.
What's in this new release, you ask?
By far our most requested feature to add was Google Reader. When we spoke to Google Reader enthusiasts about it further, what we heard was that you wanted Google Reader integrated as a social network. And that's what we have done. We now have deep implementation of Google Reader. You can browse your folders and your friend's shared items. You also have the ability to star, share, and comment on stories.
People love how photos look on the iPad and in Flipboard, which has led to a lot of requests for Flickr support. Once again, we have heard you loud and clear and we've added Flickr as a new social network on Flipboard. We have added all the colors of Flickr, including your photostream, your favorites, groups, and more. This brings a whole universe of beautiful images to your Flipboard.
We've also added significant new depth to our integration with Facebook and Twitter. With Facebook, you can flip through your Facebook groups, fan pages, and photos from your feed. For Twitter, you can also browse your Tweets, Twitter Favorites, @mentions and lists. You can also tap on a friend's avatar icon in Flipboard to be brought to their profile or see their tweets. These were all very popular requests as well.
You can now create new status updates, post photos, and even share Flipboard pages across Twitter, Facebook and Google Reader, and you can compose a new post from any where inside Flipboard. You can even cross post between Twitter, Facebook, and Google Reader. If you see an interesting article on Twitter, you can post that story on your Facebook wall. Simply put, you can post updates from anywhere, to any network.
We've made several improvements to Flipboard's interface by introducing fast switching between sections, browsing feeds and the ability to quickly add them to the table of contents. Just tap on a masthead from anywhere in the magazine and choose from a list of related features and recommended sections for quick viewing. This method of navigating feeds is a completely new way to browse social content; using related feeds and social curation instead of hyperlinks to go from one page to the next.
We have also made a lot of improvements to give you a more beautiful layout, including fully-justified text with hyphenation and faster access to the stories with faster load times. We have eliminated the "read on web" button and now Flipboard automatically loads the original web page, RSS feed or Flipboard Pages view of a story when a reader taps on an excerpt. There is a deeper integration with Flipboard Pages, a way to display web content in a magazine-style layout that Flipboard is currently testing with nine publishers and creates a beautiful, end-to-end reading experience.
Please let us know what your think of the latest edition of Flipboard.
You can send us feedback and suggestions via twitter @flipboard and on our Facebook Page. If you have any technical issues, please contact us via flipboard.com/support or support@flipboard.com. We can't wait to hear your reaction and to begin collecting suggestions for the next round of development. We hope you love this update as much as we do.
NOTE: If you don't see the update right away, it will take a few hours to roll out through the App Store, please be patient.
~ JonV
community@flipboard.com
facebook.com/flipboard
@flipboardCM