Get Your Flipboard Account, Connect to Tumblr and 500px
Inside Flipboard / November 17, 2011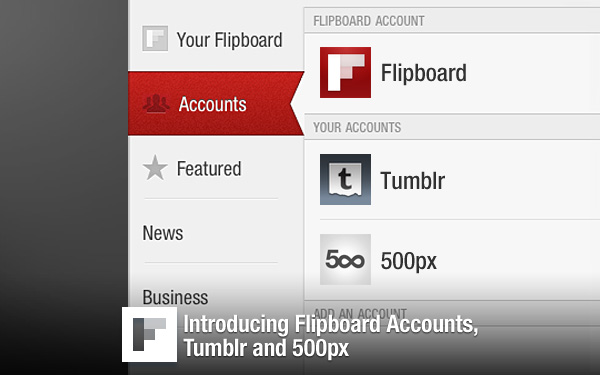 A new edition of Flipboard releases today, and it brings the debut of Flipboard Accounts, as well as integration with blogging service Tumblr and photography community 500px. Now, Flipboard is even more tailored to you while offering easy access to two of the most beautiful content platforms out there.
Flipboard Accounts
Starting today, you can sign up for a Flipboard Account. With Accounts, your reading preferences stay with you no matter how you access Flipboard. For example, families and friends who share an iPad can log into Flipboard and find their favorite sections. And when Flipboard comes to the iPhone, accounts ensure that your Flipboard is configured exactly as you like it, with your favorite reading sources already saved and your social networks connected.
To get started, tap "Flipboard Account" on the upper left of your main Flipboard page. This will allow you to create an account or sign in to an existing account.
Connect to Tumblr
Tumblr's meteoric rise as a blogging platform makes it an essential addition to the list of social networks that you can connect to Flipboard. Log into Tumblr to read friends' posts and enjoy features like re-blogging and liking, all from within Flipboard. To celebrate, we're featuring some of our favorite Tumblr blogs in the Content Guide right now. Tap on the red ribbon at the top of your Flipboard to browse them and feel free to tweet your favorites to us at @flipboard so they can be included in our guide.
Join Photographic Community 500px
500px is powered by creative people and it shows in the quality of photos you'll find on the service. By connecting Flipboard to 500px, you can browse gorgeous pictures from this talented community of photographers. We've got some of our favorite 500px streams featured now throughout the Content Guide.
We hope you enjoy these additions. Feel free to tweet feedback to us via @flipboard.
~The Flipboard Team
featured@flipboard.com
facebook.com/flipboard
@flipboard