Getting Started With Flipboard Magazines—A Blogger's Guide
Inside Flipboard / June 9, 2016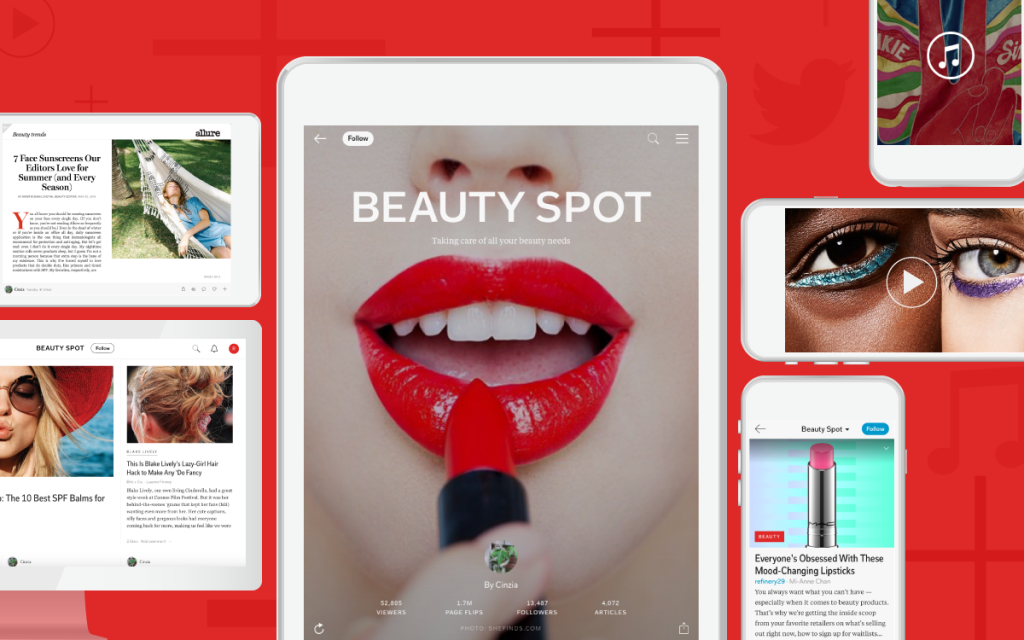 Flipboard Magazines are rich collections of articles, social posts, photos, videos and SoundCloud files that merit being saved. The days of stacking paper magazines all over your house because you wanted to save an article or two are long gone; now you can do it simply, easily, and in a way that won't collect dust. Even better, now you can carry your favorite magazines in your pocket!
You don't have to stick to flipping content that you find on Flipboard. Be sure to install the Flip It button, so you can flip articles from anywhere on the Web into your Flipboard Magazines. This way, you'll always know where your favorite stories are while also collecting and showcasing things you think your readers and followers will enjoy. The Flip It button is the ideal way to flip your own blog posts or blog posts from around the blogosphere.   

Creating magazines from your profile
If you already know what kinds of content you'll be curating, you can go ahead and create magazines straight from your profile.  
Under your bio you'll see a button labeled "New Magazine." Click on that.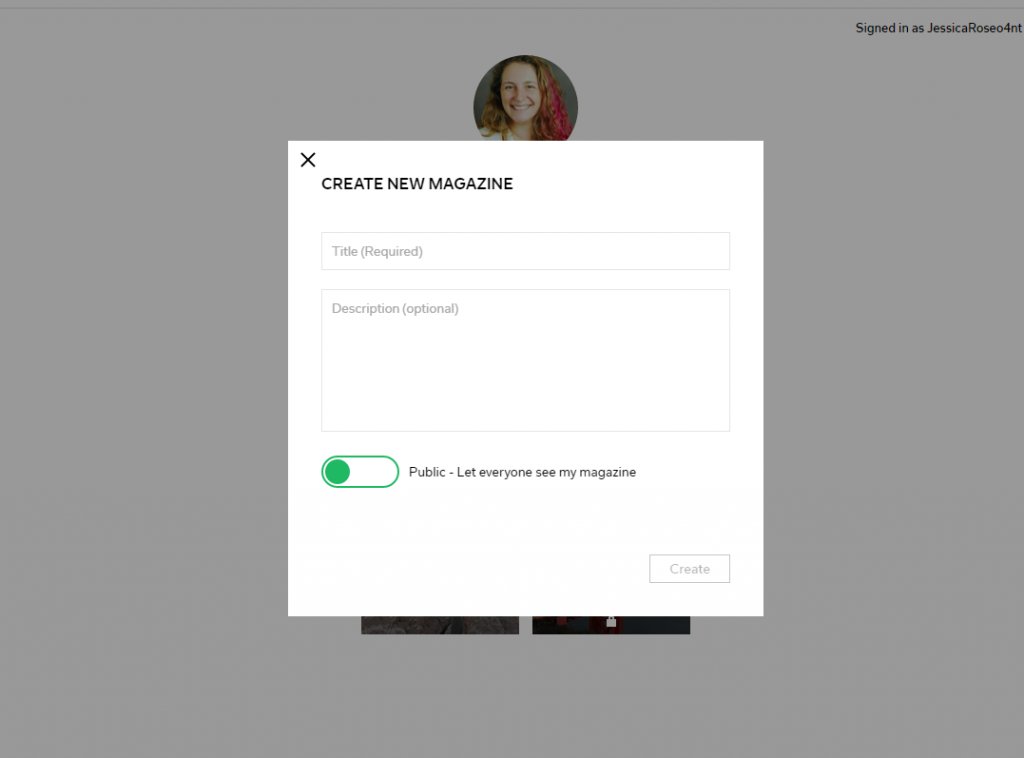 We love fun names for magazines, but if you chose to go that route, we suggest giving your magazine a solid description with good metadata that will help users and the Flipboard search engine know exactly what you're curating and sharing. If this will be a magazine where you will be sharing blog posts from your own blog, maybe name the magazine after your blog name and in the description share a few keywords describing what you write about.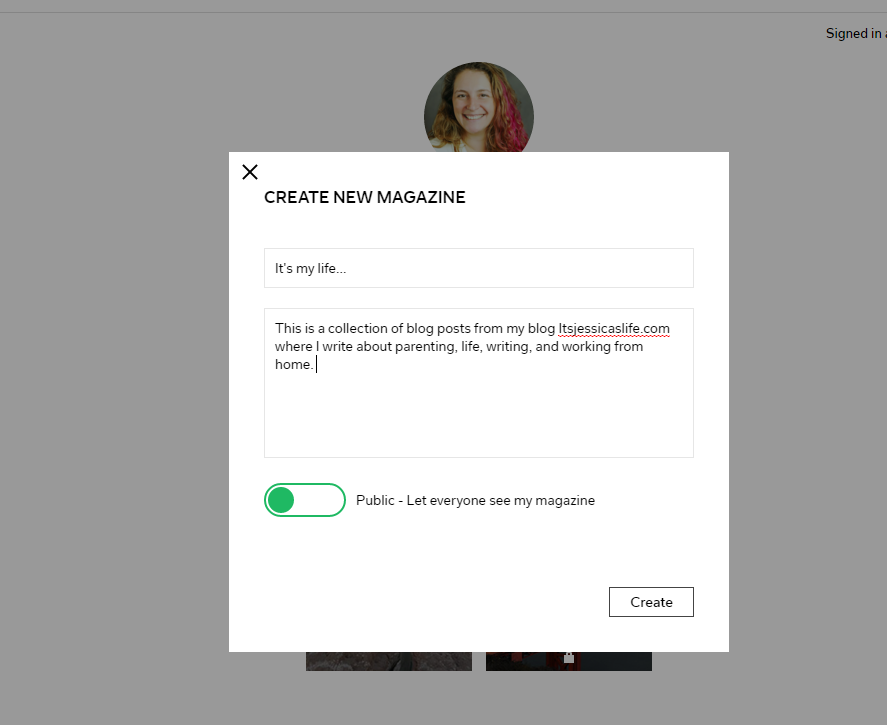 Leave the setting as public, click "Create," and—poof!—your magazine is ready to be filled with great content you want to share and save. If you're not ready to share your magazine with anyone, you can select to keep it private. Only you, and anyone invited to contribute (see below), will see what's flipped into the magazine. This is a great tool if you're doing research on something that hasn't been announced yet!
Inviting others to contribute to your magazine
Next you'll be prompted to invite users to contribute to your magazine. This is a fun way for bloggers to collaborate on magazines that share a common theme, but is definitely not necessary. You can always choose to invite people to collaborate at a later time.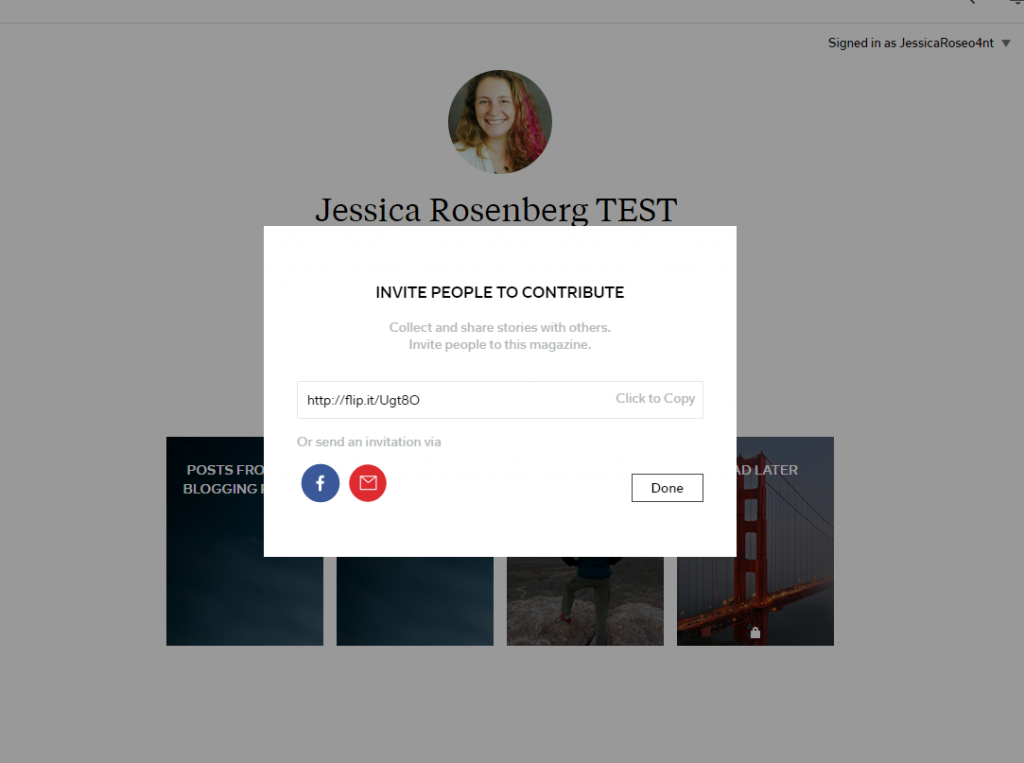 Creating a magazine from an item found on Flipboard
You can create a magazine from any item you find on Flipboard just as easily as from your profile.
Items on Flipboard always give you the option to like, share, comment and/or flip (the + sign).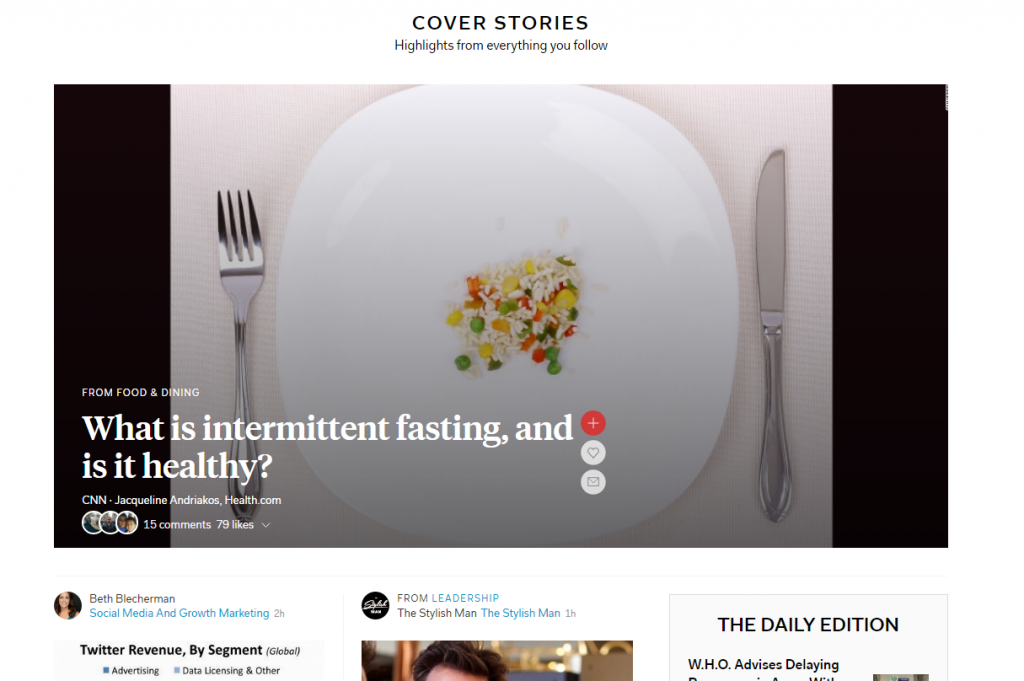 Click the (+) and you'll be prompted to create a magazine following exactly the same steps outlined above.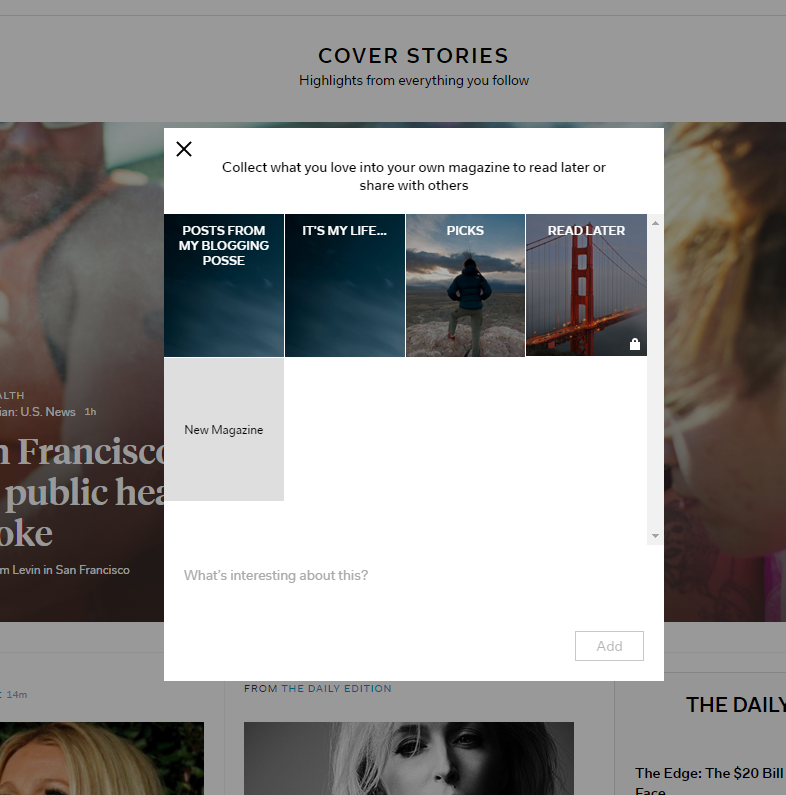 You can choose to write a few words in the "What's interesting about this?" section when flipping an article into a magazine. It's a neat way to give readers context or to engage other Flipboard users in a conversation about the item by asking a question or sharing your opinion.
Editing magazines
Inevitably at some point you're going to add an article to the wrong magazine or decide that, after all, you don't want to save it. To edit a magazine, open it up and click on the Edit button you'll see to the right under the header image.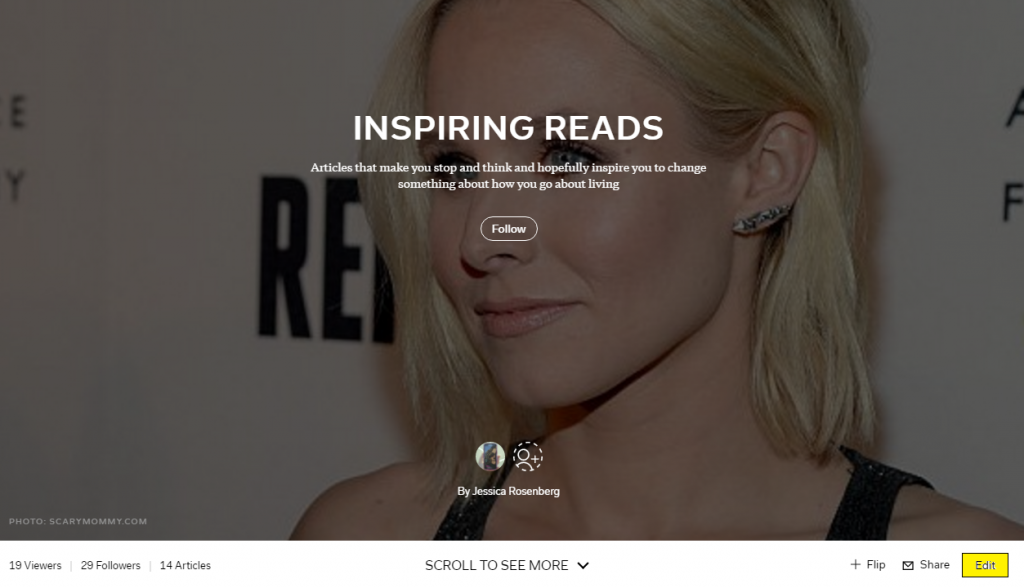 That will open up a new screen like this one: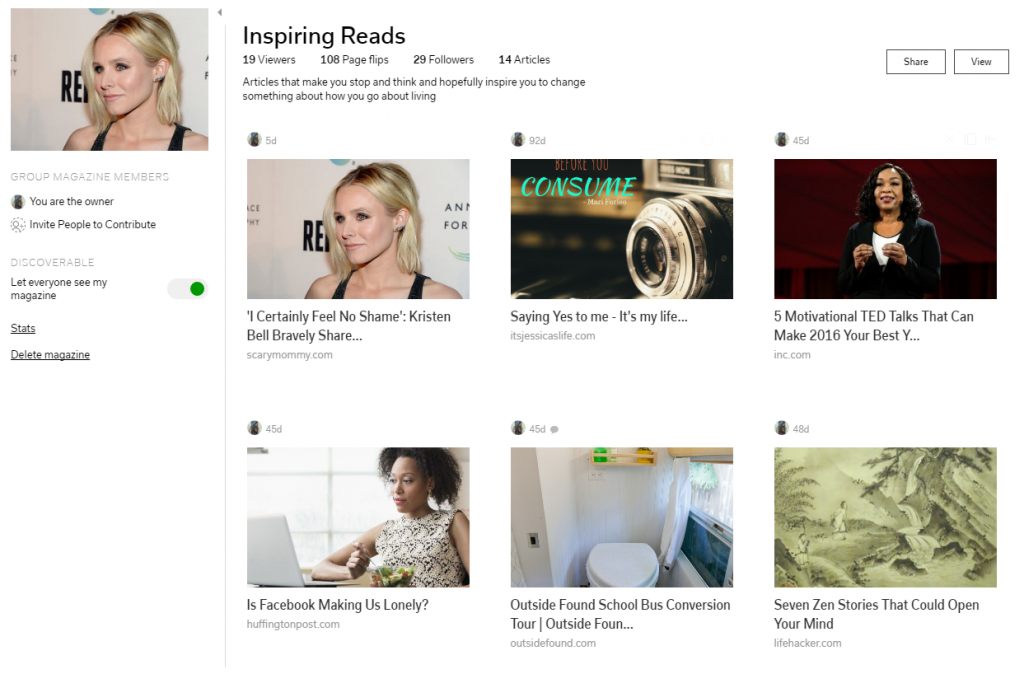 To delete an article, mouse over it and click the X. From this page you can also opt to share the magazine or hide it, invite contributors, or even delete the whole magazine. Change the magazine's cover image by mousing over the featured image to the left or by dragging the magazine you'd like featured into that top left spot.  
Sharing and embedding magazines
When you create gorgeous magazines, you rarely want to keep them to yourself. Flipboard makes it easy to share magazines via email, text, or social posts or to embed them on another site.
To share a magazine you can either click on the share button under the cover image of a magazine and select how you'd like to share it.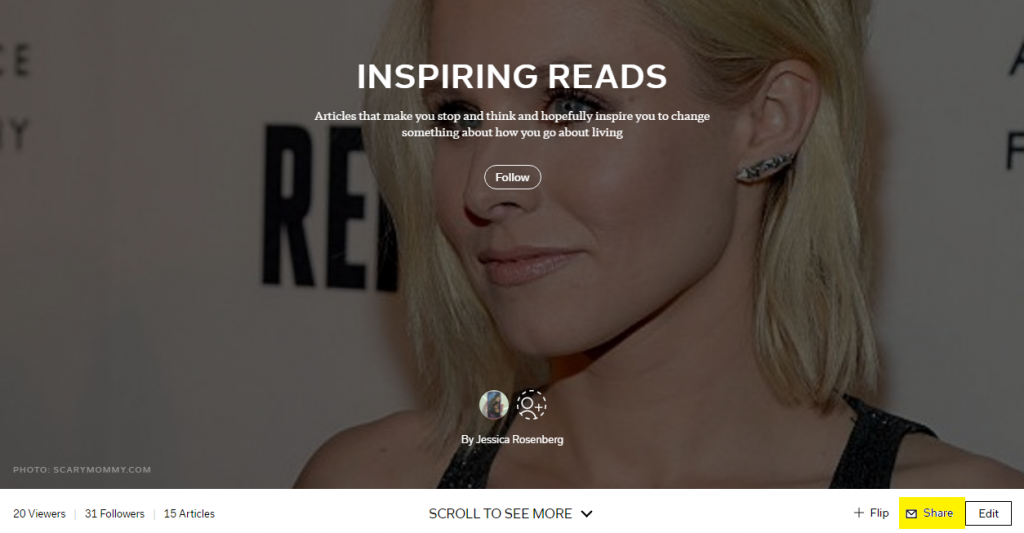 Or you can share from the back-end editing screen for any magazine. You'll find share button on the top right of the screen.
The embed function is particularly helpful if you want to draw your readers to a specific magazine by sharing it on your blog siderail or by embedding it in your email signature. It's a great way to show people that you're on Flipboard and to give them a taste of what they'll find if they follow you.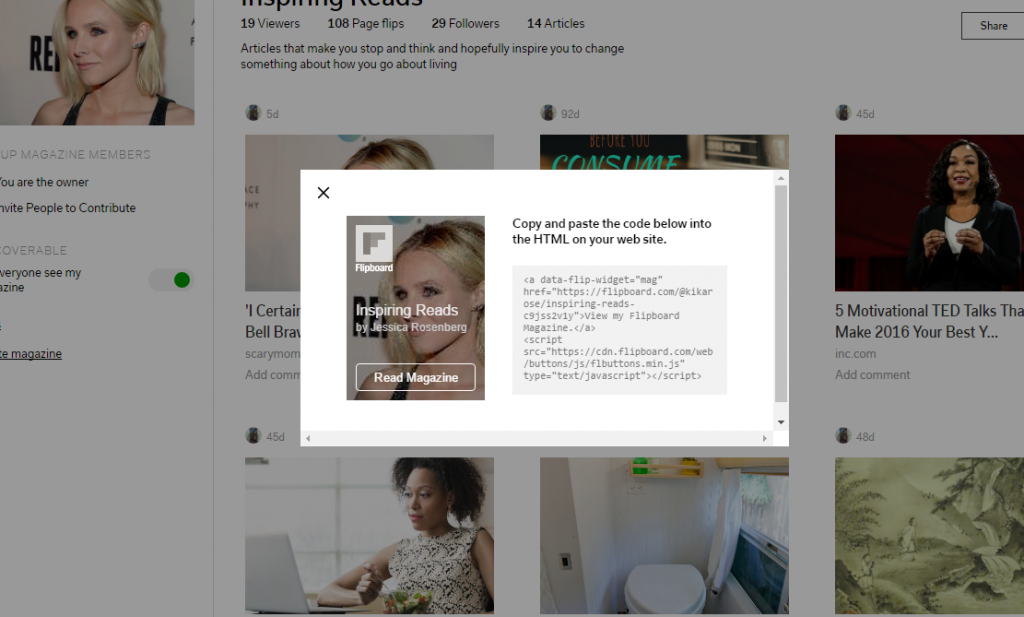 We're excited to see the magazines you create! Share them with us on Twitter or via email at FlipBlogger@flipboard.com so we can feature them on the FlipBlogger profile.
Are you a blogger interested in being kept in the loop? Sign up for the FlipBlogger newsletter.
~JessicaR is curating Great Blog Posts and FlipBlogger