How to Follow March Madness on Flipboard
Steve Fine / March 12, 2017
March Madness, also known as the NCAA basketball tournament, begins this week in eight sites involving 64 teams (after the play-in games), battling all day and night for four days.
Why do they call it Madness? Because it combines the elements of surprise, lunacy, insanity and mania in a nationwide hoops competition that allows all the Davids to think they can beat the Goliaths. Who can forget Villanova playing a near perfect game to upset Georgetown in 1985? Or, the rise of such Cinderellas as Gonzaga, Butler and VCU? Or how about the legend of Tyus Edney, who saved UCLA's 1995 title run by making a shot against Missouri after he drove the length of the court in the final seconds? How about the buzzer beaters by Christian Laettner of Duke (1992), Lorenzo Charles of NC State (1983), Bryce Drew of Valpo (in front of his father, the coach, 1998), or Tate George of UConn (1990)?
Everyone remembers where they were when those shots went down.  Over the next three weeks, there will more than one shining moment. They always happen.
The games pit the usual top 10 suspects against the 'mid majors' against the little schools with the hyphens in a win-or-go home format. This year's favorites include North Carolina, Kansas and UCLA. But for those of us playing in office pools (and who isn't?!) we are all over the upset specials like Minnesota, Wichita State and Florida Gulf Coast. If you are not in an office pool, play online.  
Players to watch: Lonzo Ball of UCLA; Malik Monk of Kentucky; Dillon Brooks of Oregon; Frank Mason III of Kansas; Justin Jackson of North Carolina.
Coaches to watch: Mark Few of Gonzaga; Bob Huggins of West Virginia; Jay Wright of Villanova.
The Final Four will be played April 1-3 in Glendale, Arizona, famous for Super Bowls but making its debut on the college basketball stage.  
To follow the tourney on Flipboard, create your own March Madness Smart Magazine. You can customize the feed with your favorite teams and get the latest scores and highlights.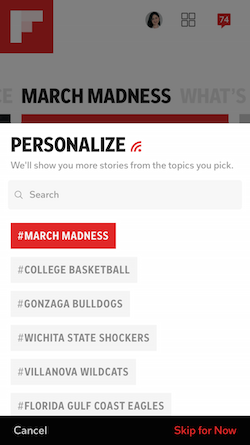 Check out our March Madness magazine, curated by @thesportsdesk, for analysis, behind the scenes and opinions about the biggest games and players.  
~Steve Fine, who curates @thesportsdesk on Flipboard, has been to 25 Final Fours and won two different office pools. It's all about the upsets.