How to Get Flipboard's Curated Emails
Mia Quagliarello / December 5, 2016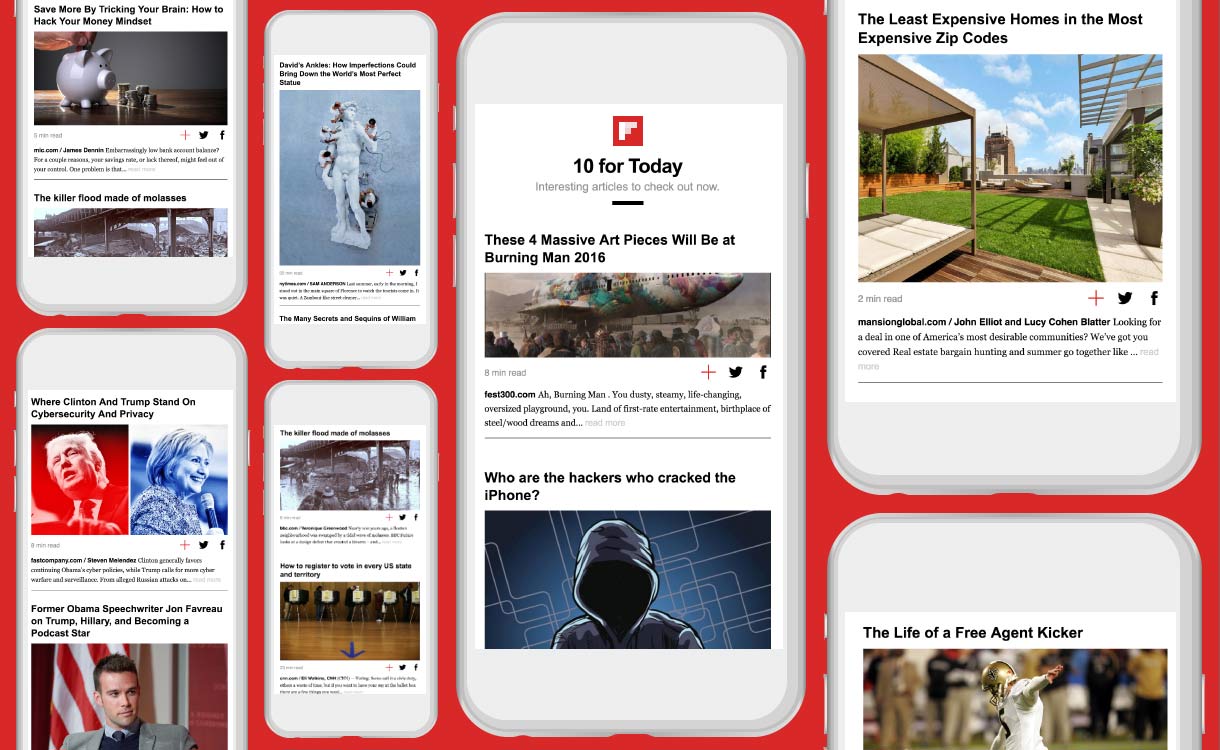 Email may be ancient, but it's as vibrant as ever and proving to be a critical way for publishers to reach readers. As a home for thousands of publishers' content, Flipboard has a 10,000-foot view of all the great stories, photos, videos, music and podcasts being made out there. There is so much amazing stuff to read and enjoy, and never enough time in the day to consume it.
Flipboard's small team does its best to help you keep up with it all via daily and weekly emails filled with must-read stories hand-picked by our editors. To get any of these emails delivered to your inbox, all you have to do is: 1) have a Flipboard account and 2) follow the magazines or topics below. (Please note that the frequency of some of these may change based on current events or other priorities.)
DAILY
10 for Today: Timely and topical, 10 for Today is programmed six days a week—Monday-Friday, plus Sunday—and leads with stories relating to the biggest themes of the day, ending with lighter fare. It's sent to Flipboard account holders in the U.S. (There's also 10 for Today: UK and Brazil, but you must be in those regions to receive these editions.)
Flipboard Picks: A "best of" Flipboard magazine, curated by a local editor. If you are in any of the following countries and have a Flipboard account, you'll receive it: Italy, Russia, Germany, Spain, Korea, Japan, Latin America and Turkey. Sent out Monday to Friday.
WEEKLY
Best of Mind & Body: Every Monday, we send out 10 stories related to being and becoming your best self. Articles touch on everything from productivity and working out to stress management and relationships. These stories will help you make positive, concrete lifestyle decisions today. To get this email delivered to your inbox, please follow happiness, productivity, health and self-improvement.
Wanderlust Weekly: On Tuesdays, we let our minds and fingers wander to dreamy destinations and hunt for practical travel advice that will make each trip go as smoothly as possible. To get five awesome travel stories via email, follow the travel topic.
Politics Rundown: On Wednesdays, we roundup the best political stories—what you can expect with the changing administration and the inauguration of president-elect Trump.  Follow the politics section or Election Central to get this email.
Tech News You Can Use: On Thursdays, we look at the most popular stories from the last seven days in tech, plus we mix in practical tips and reviews that you can apply to your daily digital life. To get this newsletter in your inbox, follow our technology magazine.
The Weekend / The Celebrity File: On Fridays, we alternate between sending a summary of what's in our Weekend magazine and a celebrity news / entertainment roundup called The Celebrity File. Follow Celebrity News, Movies or TV to get this digest.  
MONTHLY
Blogger Newsletter: There's so much to share with bloggers about how Flipboard can be a great distribution, research and packaging tool. This newsletter sums it up. Go here to sign up.
Educator Newsletter: To cater to the many teachers using Flipboard, we use this mailing to share stories of educators, product tips and #FlipEDU program updates. Enter your details here to get it.
Marketer Newsletter: FlipMarketer shows marketing and communications professionals how they can get the most out of Flipboard. This newsletter delivers a roundup of news, tips and ideas from the program. Sign up here.
What kinds of email digests would you like to see? Let us know! 
~MiaQ is always on the lookout for stories for 10 for Today