How to Vote
Carl Sullivan / September 10, 2020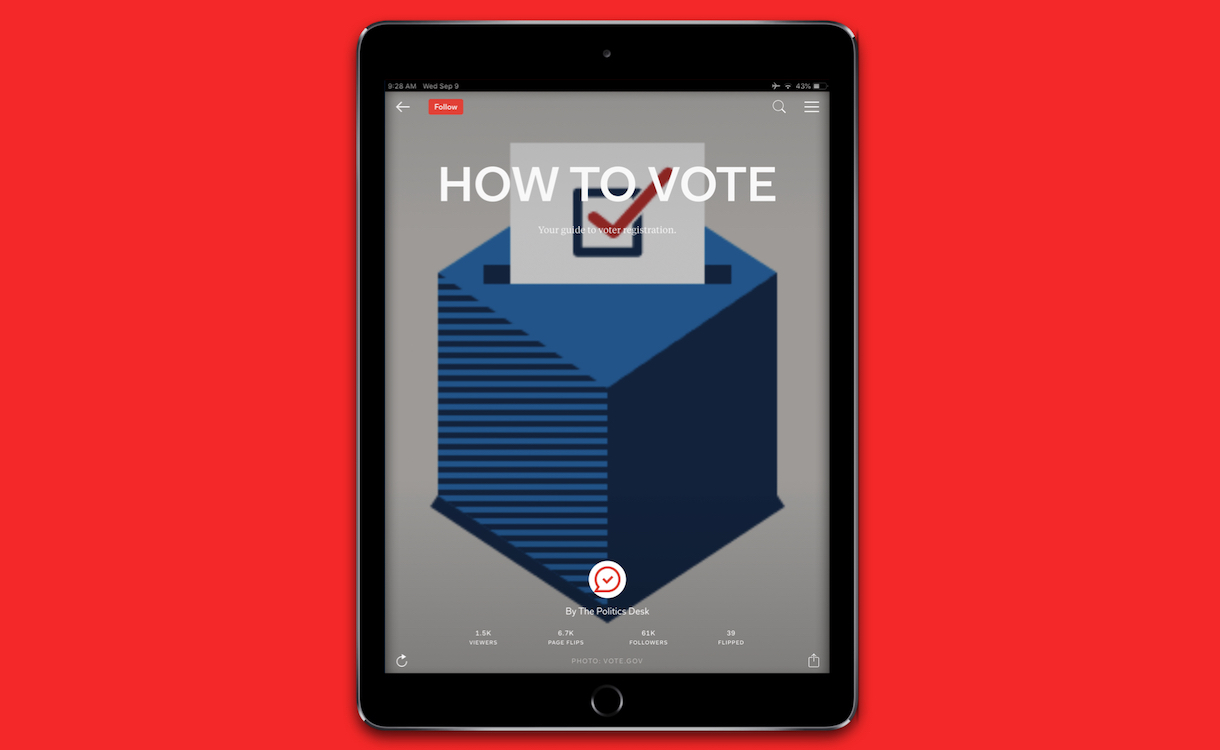 2020 has thrown us quite a few curveballs. Like most aspects of our lives, the act of voting has been vastly complicated by the coronavirus pandemic. It's hard to predict what the COVID-19 infection rate will be like on Nov. 3, or whether parts of the country might be in some form of lockdown again. While in previous years, Flipboard's "How to Vote" magazine would be a "build-it-and-you're-done" affair for our editors, this year, we're finding ourselves constantly updating this guide as the process of voting itself has become an evolving news story.

Understandably, many citizens have concerns about standing in potentially long lines at sometimes crowded polling places. Many plan to vote by mail, and some states have modified their laws to make it easier to vote remotely. Experts predict more absentee and mail-in ballots will be cast than ever before. Many more are expected to take advantage of early in-person voting.

Enter President Trump, who has suggested that mail voting will lead to double-voting and other illegal activities. Experts refute that, saying there's no evidence that mail-in voting results in election fraud. Meanwhile, a controversy around changes that reportedly slow down U.S. Postal Service delivery has also raised fears about whether all mailed ballots will be counted.

To keep track of this rapidly changing story, Flipboard is frequently updating our "How to Vote" magazine, which includes information on voter registration, voting at the polls, absentee ballots, early voting and more. It also offers several state-by-state guides so you can look up the rules that apply to you, and the latest stories about rule changes from partners such as ABC News, CBS News, NBC News and more reliable sources.

Follow us for the latest news on voting and to learn about how the process will work in your state this year. Then, make a plan for how you will vote. It matters, and your voice deserves to be heard—whether you use a traditional ballot box or a mailbox.
— Carl Sullivan, U.S. News Managing Editor, helps curate Flipboard's Vote 2020 magazine with contributions from Axios, Politico and more partners.