<![CDATA[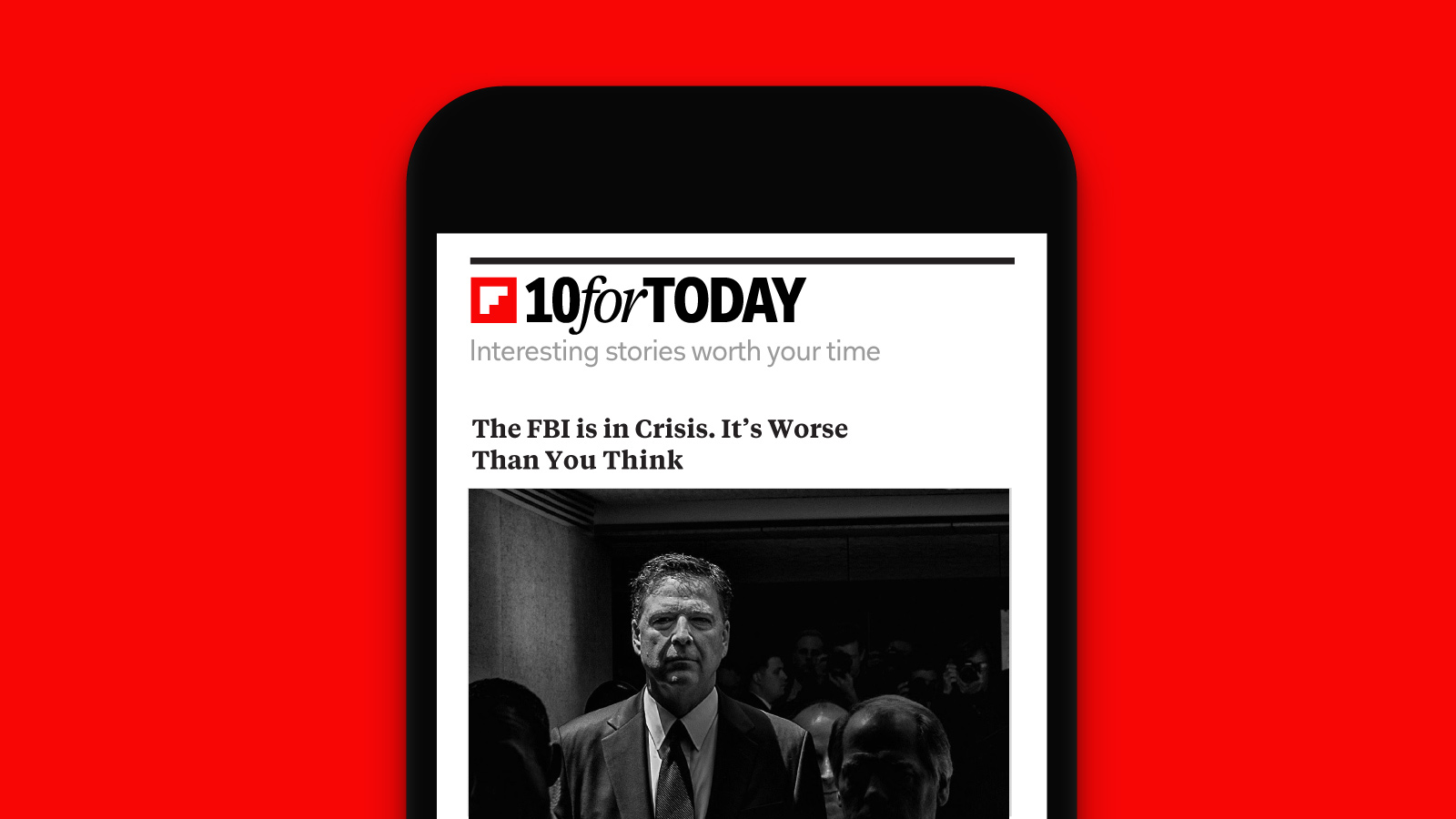 Do you read "10 for Today"? If so, thank you, we love you! If not, you're missing out big time. Create a Flipboard account and you'll start receiving our signature daily email every afternoon: 10 stories obsessively curated by Flipboard's editorial team, seven days a week. "10 for Today," in our slightly biased opinion, is essential reading for anyone who's curious about the world, strives to be better in work, life and play, and for whom there's nothing quite as satisfying as a good story. Thankfully, at Flipboard, we're surrounded by so much incredible journalism from our publishing partners that there's no shortage of stories to fill each day's mail. But how do we pick what to include? What systems help us be efficient at our job? And how do we know when it's done and ready to send to you, dear reader? Here are five things we think about when putting together "10 for Today" to inspire your own curation on Flipboard:
Decide what you want to convey. With so much content at our fingertips, we could go in a million directions. Where to begin? With a point of view. We've thought long and hard about what we want our curation to convey, how we want it to make you feel. We want you to feel smarter. We want you to feel inspired. We want you to be moved to act, to share, and to save for future reference. We want you to be surprised and delighted. We've summed up all these ideals in a short sentence we use to sanity check our choices: "The highest quality curation for your work, life and play." Is it a well-done story from a respectable source? Does it add value to your life, even if it's just a smile or a new tip? Yes? If so, it's a contender for "10 for Today."
Think about the reader journey. Now our universe of content is still a very broad palette to work with, so we also think a lot about flow and cadence. We start with a story that's subject line worthy—that is, a story so big or noteworthy that we think either you must know or that you'll want to know about it. From there, the fun really begins. We add articles that gently hop from theme to theme, publisher to publisher, and order them in a way that feels right. We try not to repeat sources in a single email and we take care to differentiate subject lines from day to day. We always close the 10-story mix with lighter fare—a tasty morsel before moving on with your day. And because we think hard about how we open and close each email, "10 for Today" has the best distribution of clicks across all of our emails. It's not unusual for the last item to rival the first in terms of clicks.
"Always be curating." This is another team motto, and it's an important one because a good story can strike at any time. The small team that curates "10 for Today" is always collecting articles and videos into a private shared magazine so when it comes time to assembling the actual email, this bank of stories is at the ready to provide balance, fill in any holes, and help us remember what we wanted to cover.
Set up your systems. I've just mentioned the private magazine that we use as our "holding pen" for stories, but we have other systems, on Flipboard and off, that help us read or scan hundreds of articles a day. For example, on Flipboard, we have topically sorted "rivers" of content that feature everything being published by our partners at any time. We have an email alias for daily pitches from top publishers that we look at every day. From there, every curator has their own ways of working. For me, trending feeds give me insight into what's gaining steam on Flipboard; Google News and our own Daily Edition help me see what's dominating the headlines; content-rich hashtags like #longreads and our long-form journalism topic help with discovering in-depth pieces; and other platforms, like Nuzzel and LinkedIn, give me a view of what's being shared by people I follow and respect.
Work with diverse co-curators. The value of having a diverse team is well documented, and I see that firsthand when working on "10 for Today." While we could be more diverse in some aspects, we are diverse in terms of our gender, demographics, interests, and expertise. This is so valuable because while I can't necessarily bring myself to scour sports or political stories, my colleagues love nothing more—and they're so good at it. As a team, our interests fit together like pieces of a puzzle, giving us coverage we'd never have if we were all cut from the same cloth.
And finally, it's worth saying that as "10 for Today" production comes to a close around 11 a.m. PT, when we get the email prepped for delivery, I often get a feeling that I can't fully describe. It's my gut telling me that everything is in its right place: the stories, the flow, the people and teamwork that brought us here…And that's when I know it's ready to send.  
— Mia is curating "The Forgotten Sense" (about scent)