Make a Modern Holiday Card on Flipboard
Jessica Rosenberg / November 24, 2016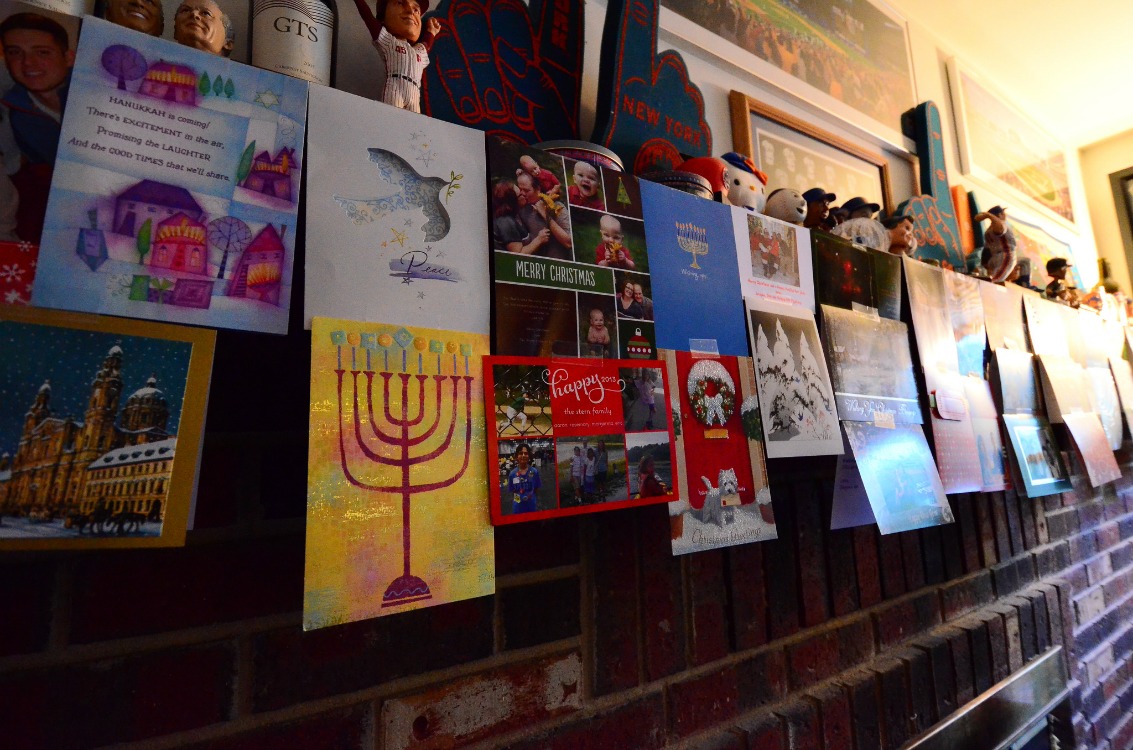 Once the turkey has been inhaled, the last slice of pie tucked away for safekeeping, and the football game is over and done, more than one family embraces the fact that everyone is together and dressed in their finery to snap the perfect holiday card photo. OK, maybe the photo taking happens later in the weekend, but for many families, Thanksgiving weekend is nonetheless synonymous with holiday cards.
The biggest challenge when it comes to holiday cards is how to pick your favorite photo. Even the cards with the option to feature a few photos hardly give you the space to tell the story of a very full year. Flipboard offers the ideal solution to families who have a lot of stories to tell and don't want to be confined to just a few square inches. Read on for suggestions on how to use a Flipboard Magazine to make a modern holiday card!
1. Create a New Magazine
Start with a clean slate, so to speak. Create a new magazine and give it a title that clearly states what you'll be sharing. I called mine "2016 In Review" but you could go with "Happy Holidays from Us to You" or "Highlights of Our Year."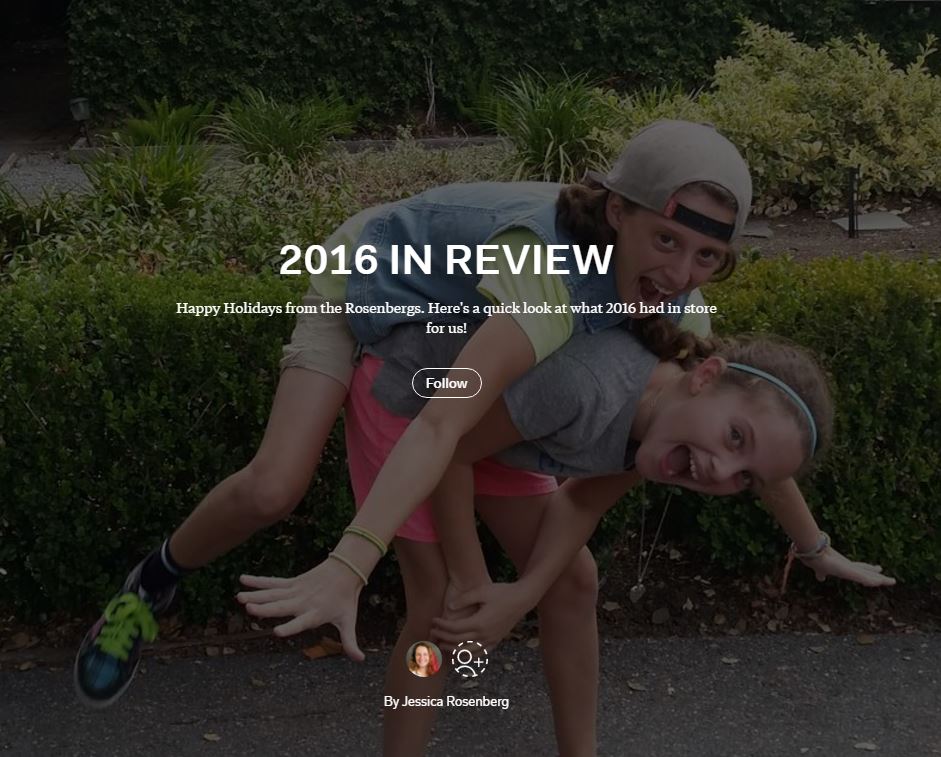 2. Flip Items that Represent Your Year
Between phones, Facebook timelines, Instagram profiles, and everywhere else we share little bits of our days, we create enough content to reconstitute an entire year's worth of details. Look through photos you've taken, updates you've been tagged in, and blog posts that you've written. Skim through your Tweets and Instagram shots, too! You can flip a huge variety of items into your Flipboard magazine, from YouTube videos to tweets. Go back through everything and see what you feel is truly representative of your year. The end result will be a rich tapestry that will give your friends and family a real taste of the life you lead.
3. Add Captions!
Whenever you flip something into your magazine, take a moment to add a note about why this particular item has made it into your 'holiday card.' It might be obvious to you, but your friends and family will appreciate the context and will love getting some insights into why you shared that particular photo or post.
When people are flipping through your magazine, the captions will show up above each item and will nicely stitch together the story of your year.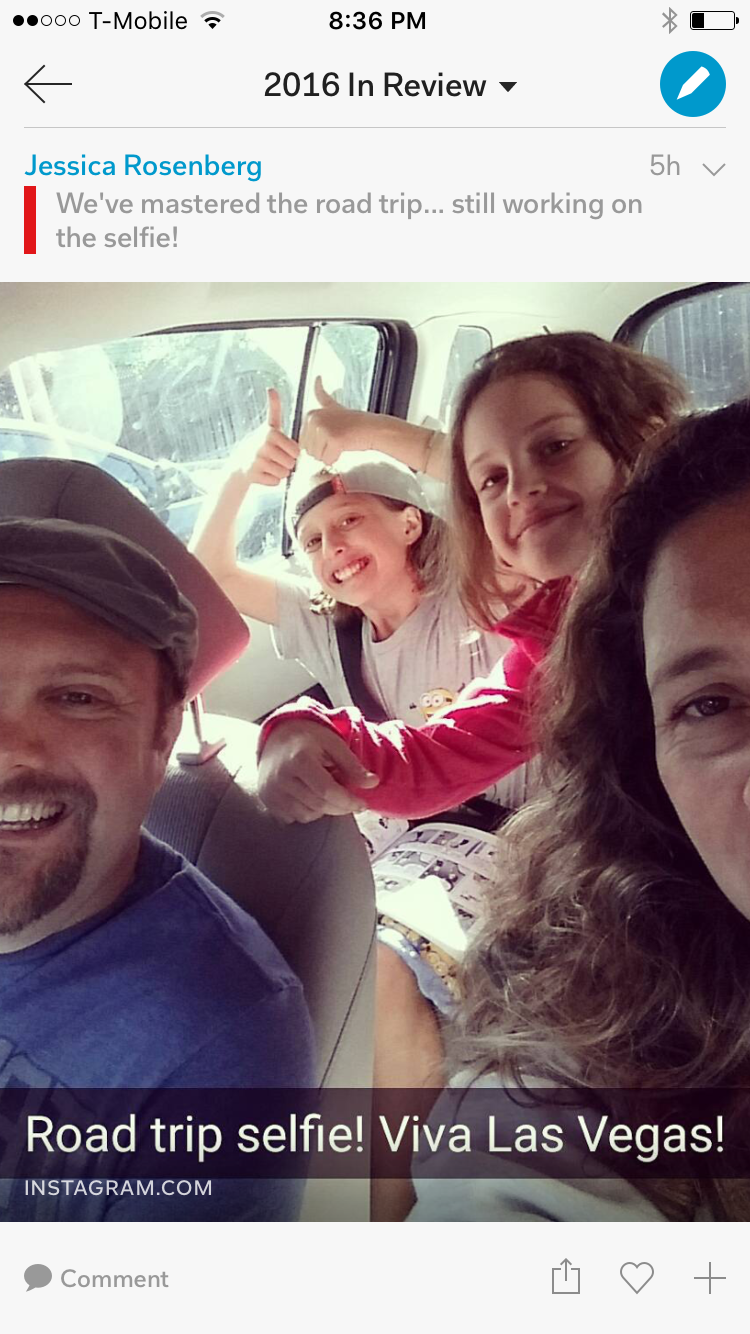 4. Edit Your Magazine to Perfectly Reflect Your Year
When you're flipping things into your modern holiday card, it makes the most sense to just flip everything from one app and then move on to the next. The problem is that the end result is a mish-mash of items that aren't in the proper chronological order. To fix that, you can edit your magazine either on the Flipboard website or directly in the app.
To edit on the Web, open the magazine and click the "edit" button under the magazine's header image. You can then move flipped items to the perfect spot, add or change comments, and select the cover image you'd like for your magazine. To edit on the app, simply open the magazine and click the little gear at the top of the screen. To move items around, press down on the flip you want to move and drag it to the spot you want it to hold. To promote an image to the cover or to change the text, tap on the flipped item.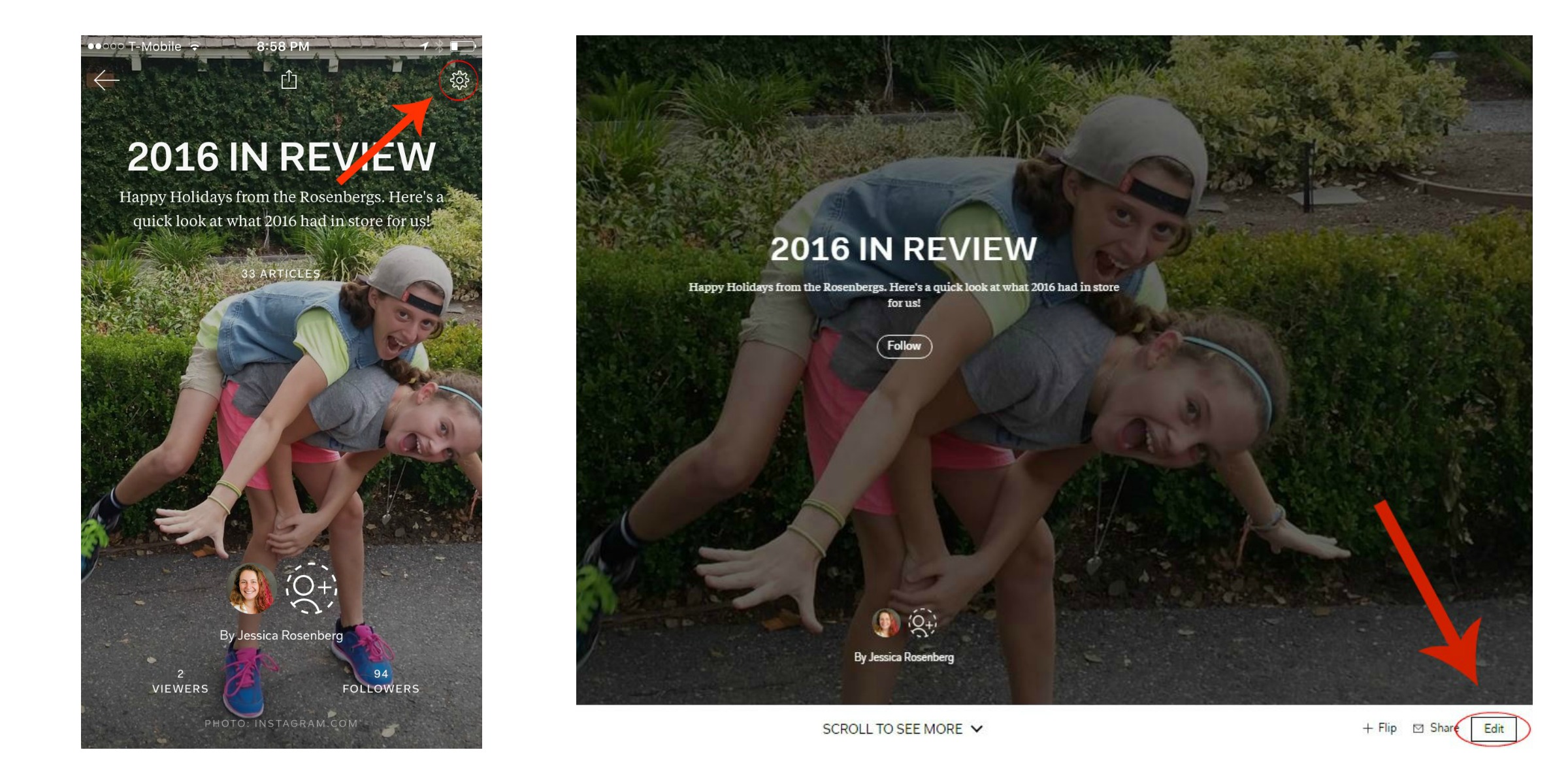 5. Add a Holiday Greeting or a Note
No holiday card is truly ready to be sent until it features a nice note to your friends and family. By using the Flipboard compose feature you can write a note that's as long or as short as you'd like, and as braggy or as honest as you wish. Share the highlights of your year or just share a heartfelt greeting; we'll leave the details up to you. Once you've created your note, you can once again use the edit feature to decide whether it should live at the start or the end of your magazine.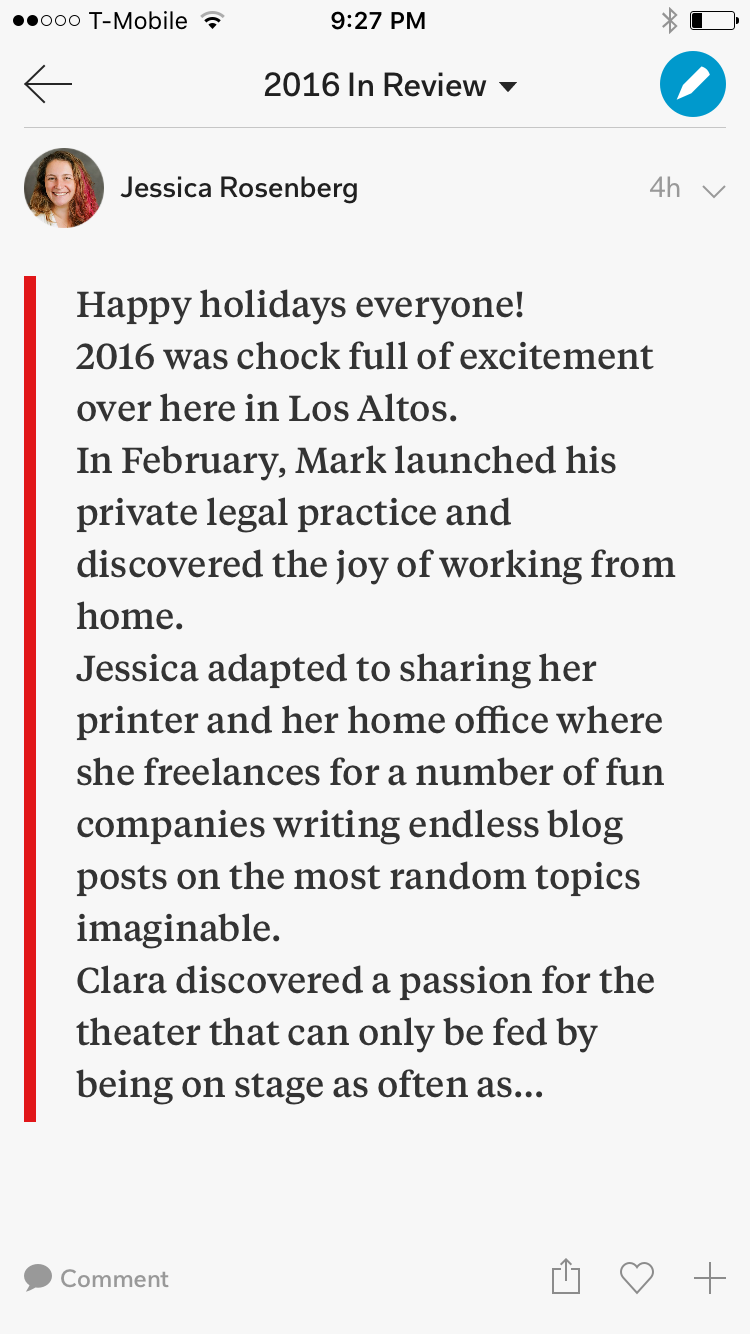 6. Send It to Everyone!
What good is a holiday card if you don't share it with your loved ones? Flipboard gives you a host of options for sharing your modern card with everyone who would love to see how your family has fared this past year. You can go very informal and text it to friends and family members, send out the link in an email, embed your holiday card magazine in a blog post, or even share it on your various social networks. Or, if you're also sending out a paper card, you can add the link to your digital card and give your recipients a chance to get even more holiday love from you. Whatever you choose, we hope you'll also share your magazine card with us by tweeting it with the #FlipBlogger hashtag!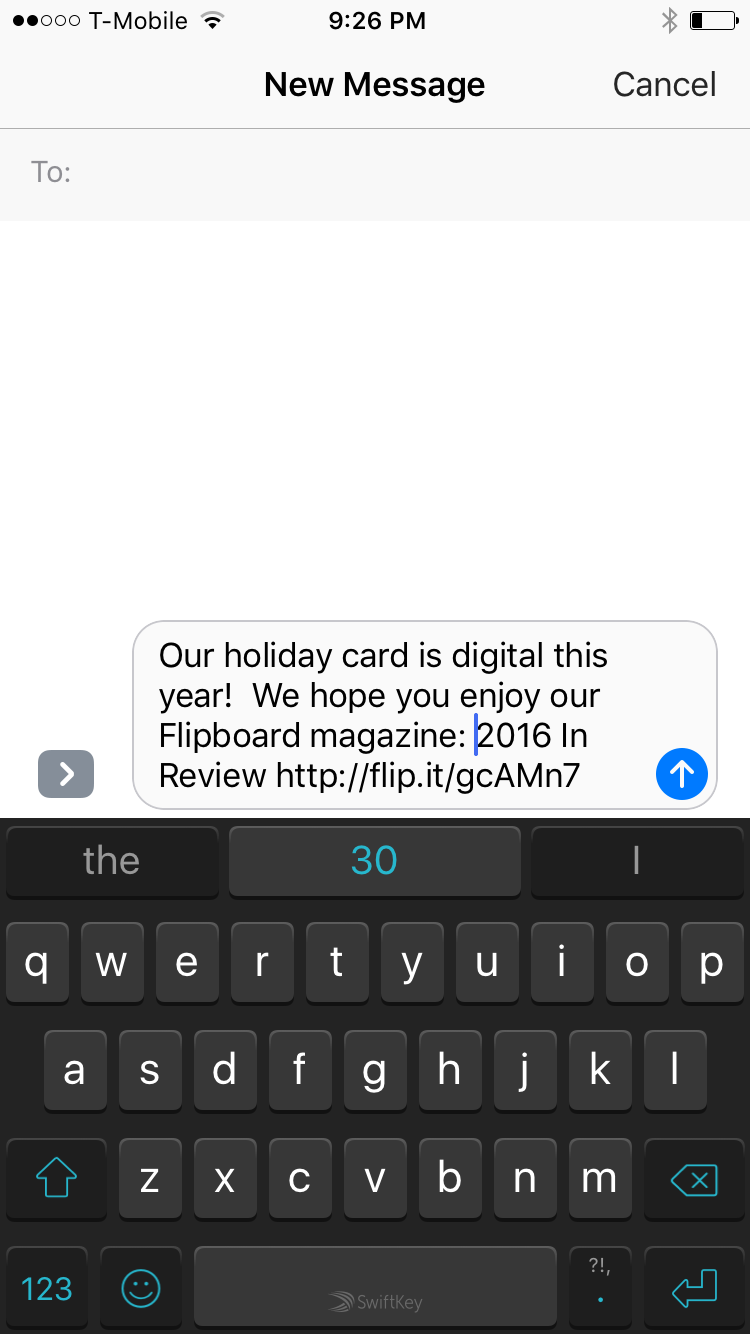 ~JessicaR is curating Geeky Finds