New Journalism in a New Form: Esquire Is on Flipboard
Inside Flipboard / December 16, 2011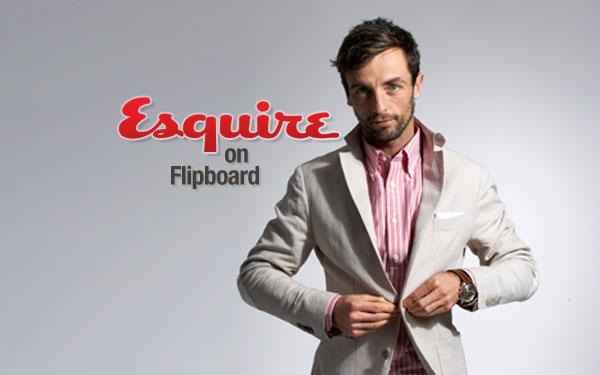 If you're looking for a riveting visual history of America, simply flip through the covers of Esquire Magazine. The covers, designed by iconic art director George Lois, pretty much defined the themes that, in turn, defined the United States from the early 1960s through the 1980s. The Vietnam War, the Kennedy assassination, campus strife, Richard Nixon—it's all there, month after month, in the most provocative, compelling form. Just like it is today, a notable day because you can now add Esquire to your Flipboard.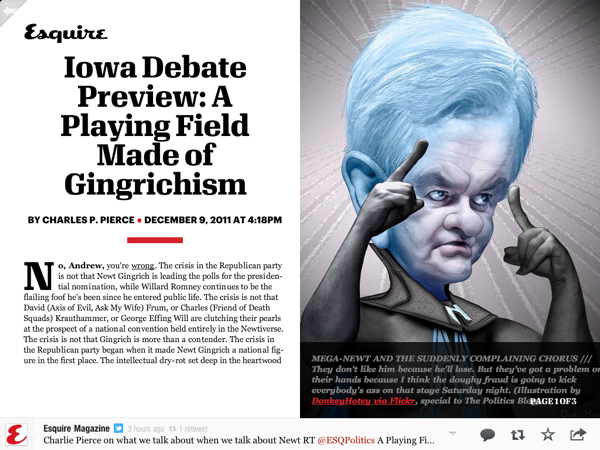 Arnold Gingrich co-founded the archetypal men's magazine in 1933, and remained its editor for nearly 30 years. (He named it for a piece of mail he received, which was addressed to "Arnold Gingrich, esq.") Gingrich published some of the best writers of his day—Hemingway, Fitzgerald, Faulkner, Dos Passos—creating in Esquire a legendary platform for world-class fiction writers that persists to this day. The magazine was aimed, unapologetically, at smart men and served up the sorts of things that many of them obsess about: politics, culture, sports, business, haberdashery and, of course, women. Some of the World War II pin-up "Vargas Girls," a mainstay of Esquire starting in the 1940s, were faithfully painted on the nose cones of fighter planes.
The magazine has always been at the forefront of the magazine business. "New Journalism"—a term coined by the writer Tom Wolfe to describe how the "main event" in writing was journalists using literary techniques to cover events—was born in the pages of Esquire in the 1970s, where it was practiced by writers such as Wolfe, Norman Mailer and Gay Talese. The style is commonplace in long-form writing everywhere today.
Tap below to read Esquire's New Journalism in an even newer way on Flipboard.




~JoshQ
featured@flipboard.com
facebook.com/flipboard
@flipboard