On the Red Couch with Country Music Singer Jerrod Niemann
Gabriella Schwarz / August 17, 2016
Country music singer-songwriter Jerrod Niemann describes his latest single, "A Little More Love," as the kind of "feel better" song the country needs right now. Niemann recorded the summertime hit with friend and fellow country star Lee Brice after they both "fell in love with the tune." It's the sixth album for the Kansas native, who's known for authenticity in his work and life.
Niemann's new Flipboard Magazine gives a behind-the-scenes look at the making of the "A Little More Love" video and includes some of the stories from around the country that represent the song's message as Niemann sees it—to spread the love. We spoke to him about his experience with the song, which artists are inspiring him right now, and why wearing his heart on his sleeve comes easily.
How is this album different than your previous ones?
I think every album is a snapshot of someone's moment in their life, whether that's their own personal experiences, stories they've heard, what's going on in the world. You just start finding new writers who move to Nashville that write songs…or you write them with them. Being able to produce in the studio my own records, it's always an evolution. You take bits and pieces of every album with you and mix it with wonderful steps forward. It's kind of like growing into the person that you are. Real life hits you and and it all comes out in the music.
You've said this was a "feel better" album. Was that something you needed or you felt your fans or the country needed?
I think the world—not that this album will be heard by everybody in the entire world—but it's one of those things where you kind of hope we're all headed in the right direction. Yes, instead of a feel good, it's a feel better [album]. I think anytime anybody can feel better, even if they're having a great day—why not? Also, being married now, I guess a couple more love songs found their way onto this record than the last few. For me, for sure it's feel better.
Has getting married changed your perspective on your music?
Yes, I think it changed my priorities in life. My priority has always been music, and it's owned me, it's consumed me, my whole life. I loved being in love with music, so when you finally find the person in your life that inspires you outside of just what your own personal goals have been, you see new colors in life, you hear new notes. If you're lucky they find a way of surfacing in the studio. I feel like that's totally what's happened here with me.
With "A Little More Love," how is recording a duet, let alone a duet with a friend, different than solo work?
[Lee] Brice and I have been friends for 15 years. We were buddies a couple of years before we really heard each other's music. We'd all just kind of moved to town and we sang together before we both had any songs on the radio. We'd play these acoustic shows for four hours. We sang together so much that we both kind of had a dream that one day we could record some music together. It's fulfilling on many levels for me just because of my history with Lee and my appreciation for him as a friend and as a musician, my respect for him as a father. The man he is and the husband he is.
It's always fun to get in the studio and collaborate with somebody, but with Lee it was special for me. He found the song and brought it to me. He loved the message of it, and we both just kind of fell in love with the tune and had just a blast in the studio trying to hopefully translate that into a recording.
Was there something in your head driving you during the recording or someone you were singing to?
Just that moment in the studio. A lot of times in the past when I've collaborated, you'll usually just send the tracks to wherever the person is, to L.A., Miami, and you're not even there with them. But we, who've sang so much together in the past, did it old school style where we stood in the same room, sang at the same time and hoped that it had the intangible so it would add something to the recording that sounded fun. But I can tell playing it live—and Lee's mentioned when he plays it live—we hear stories in our meet and greet [where somebody will] say it was a story they really needed to hear. Maybe a friend was going through something or they were personally. That's always a moment that blows you away: when you're in the studio just having a fun with your buddy then all of the sudden somebody says, "This song means a lot to me." That's the utmost ultimate compliment you can ever receive. I'm glad to know that there are people out there who felt the same way when they heard the song that we did when we heard it.
I know music helps you escape; it does the same for many of us. What artists are you leaning on for that right now?
I've been turning on those sattelite music choice channels and just listening to so many different things. I literally know so much about country music that I feel like I've heard every song in the history, so it's fun to branch out and listen to some indie rock. I like Alt-J, Vampire Weekend, MGMT. It's more the feel for me than the words. A lot of those other genres, the words aren't always as literal. Sometimes they're ambiguous and abstract. In country it's really literal. So for me, I'll get inspired listening to the reggae channel or something like that. You just feel like you're on vacation and it takes you somewhere. That inspiration, that feeling inside—once you have that then you try to pick up a guitar and translate it into country music where you can say something that someone can hear once and knows exactly the message you're trying to relay. For me, your ears are always on and hopefully your brain is always working. You're just soaking in every song and then it just kind of comes out as one.
Is there something you hope the younger artists will take away from listening to your music, like you did from listening to the older greats, like George Strait and Randy Travis?
You hope someone will come up and say, "Hey, your music influenced me." As a musician, that would be the ultimate. But I think now, when you write, you can hear all of these influences. There are times when one song will be huge in country music for somebody and everybody will try to follow it. That's not as cool as when someone moves to town and has something new to say.
I've never had someone come up to me and say, "Hey, you're the reason I moved to Nashville." But if that were to ever happen, my heroes stepped up and helped me, and it would be my honor to do the same for somebody else someday.
Why are you passionate about music education? What's inspired you most about the work you've done?
It wasn't until we were playing some of these fairs and really small towns and in small talk someone would say, "Next year is the first year we're not going to have a music program." I'm like, "What?" And you just realize that that's going to be the first thing to go away if finances are diminished. No one's going to get rid of sports. That's not fair. Even if you're not trying to be a professional artist or musician, just being able to play an instrument…maybe someone is introverted and really shy and that's their sense of community, being around people who love the same things they do. Maybe someday that will lead to taking the pressure off the families and having a scholarship for college.
For me, it was more the planting seed side of it. I know how exciting music is for me, and I can't expect everybody in the world to want to have music as part of their life at that level. But at the same time there are so many things that music can help you get to, so many goals you can achieve and accomplish and help you grow and shape the rest of your life. It's one of those things I was passionate about. If a little bit of money could help go a long way, then we could help pull that off. I just really enjoyed learning about it and also being able to contribute to some of these communities. It's been something really special, and every single time it feels just as good.
Your authenticity and commitment to being who you are—is that a result of your upbringing? Why is that important to you?
Everybody's got to be somebody; you might as well be yourself, right? I think as a musician, you try to be your heroes first. Then you realize as you get older and live life, you find your own voice. The echos of your heroes are always there and are the backbone of your music, but you have your own voice finally. But as a person just living life, I definitely think music is so inspiring on many different levels and it can cause so many different emotions for everyone. Wearing your heart on your sleeve to an extent is what all musicians do. And it's just easier to be who you are on the surface because you're used to speaking from your heart and saying things that you mean. I guess it all kind of goes hand in hand in a big cornucopia, a big mixture bowl of life and music.
Follow Niemann's Flipboard Magazine to listen to his music and read more about the message behind it.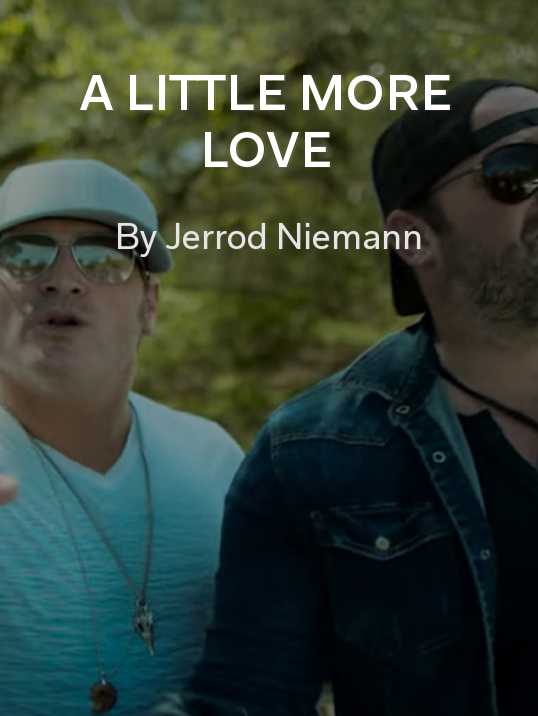 ~GabyS has her Flipboard tuned to country music