On the Red Couch with Designer, Stylist and Editor Rachel Zoe
Gabriella Schwarz / October 19, 2016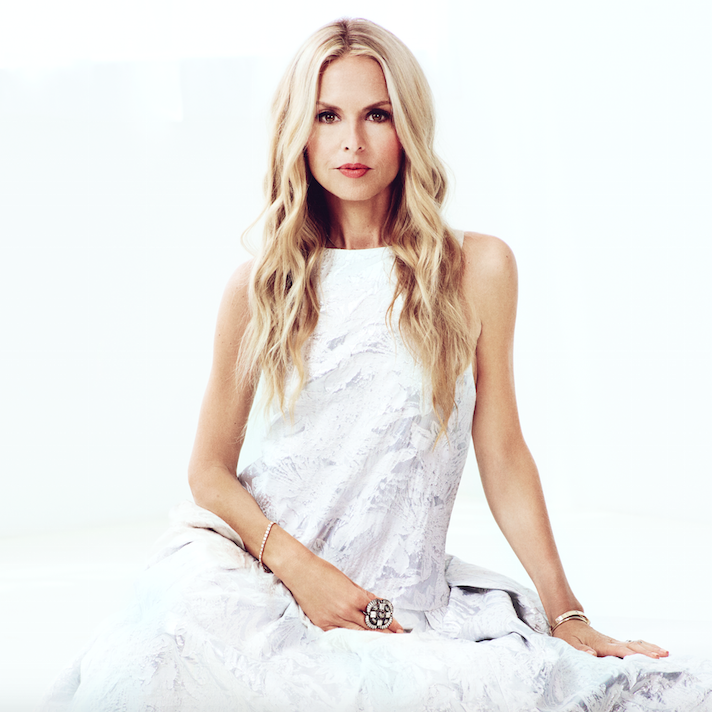 Rachel Zoe is a woman who wears many hats—and not just the kind of chic floppy ones she made fashion staples on her boho disciples. The New York-native transitioned from Los Angeles fashionista, to A-list stylist, to TV mainstay, to media mogul with The Zoe Report. Now she's all those plus fashion designer, salon owner and author.
Over her two decades in the fashion world, she brought back 70s chic, encouraged a generation of trendsetters to over-accessorize (if there is such a thing), and coined a collection of catchphrases or "Zoe-isms," including "bananas" as a way to describe something that's amazing; "I die" as a way to show extreme approval; and "shut the front door" as an expression of shock.
On the heels of opening her first brick-and-mortar clothing store, we spoke to Zoe about The Zoe Report's mission, which she describes as "the ultimate fashion, beauty and lifestyle destination," what's inspiring her right now and how she learned to follow her instincts.
"It can be easy to get caught up in the thoughts and opinions of outside influences, but at the end of the day, I believe I have been successful because I work hard and always follow my gut," Zoe told us.
You can read The Zoe Report on Flipboard for coverage of fashion, beauty and entertainment and more.
Why did you make the transition from stylist and designer to content creator with The Zoe Report?
This was a natural transition for me; I like to do new things and be challenged by my work. I have a constant need to diversify and grow in various directions and am excited by new ways to grow my business. We started The Zoe Report over seven years ago when the fashion world began moving towards social and digital media. I created The Zoe Report to communicate with my audience in a more direct way and provide them with the best fashion and beauty content on a daily basis.
What role do you hope The Zoe Report plays in the lives of your readers?
I wanted to curate the ultimate fashion, beauty and lifestyle destination for women who care about feeling stylish and want that information to be easily accessible. I love the idea that you can go on The Zoe Report and escape from your day-to-day, whether you want to shop for a new coat or learn about the latest in pop culture or lifestyle.
Why was it important to transition from style to covering entertainment, lifestyle and beauty?
The worlds of fashion and pop culture, through social media, have become interwoven. I think by having all of this content live in one place, we help connect the dots between what's happening in entertainment and what's happening in fashion and beauty—there are absolutely parallels.
Curation is a big part of what we do at Flipboard, as it is at The Zoe Report and Box of Style, where you curate fashion and beauty items for delivery. What makes curation good or appealing for a reader?
Curation has always been very important to me and a large part of my career has involved curating looks or styles for other brands. I think the digital world, as it pertains to fashion and lifestyle sites, can be very overwhelming. We work hard at The Zoe Report to streamline and edit our content to provide the best selection of all things fashion and lifestyle. We took curation to a whole new level with Box of Style, carefully selecting items that we deliver to our readers' doorsteps every season. The fall 2016 box is our most valuable box to date and it's always so rewarding to see our members wearing their new items on Instagram.
In looking at your own collection, what are the biggest lessons you took from the fashion houses with whom you work(ed) as a stylist?
I have been so fortunate to work alongside and learn from some of the best in the business. I think the biggest lesson I have learned through the years is to design clothes that are wearable and not unobtainable. At the end of the day, it is a business. It took me a little while to fully understand how to design my collection in a way that stayed true to my vision and aesthetic, but also met the needs of what my customer wanted from me. It is a definitely a delicate balance.
Your advice to entrepreneurs recently was "follow your instincts." Have you always followed your own or was that something you learned?
I had to learn to follow my instincts as it pertains to business. It can be easy to get caught up in the thoughts and opinions of outside influences, but at the end of the day, I believe I have been successful because I work hard and always follow my gut.
How can fashion empower people?
I always find that fashion choices are indicative of your mood and how you're feeling. I have always said: Style is the best way of expressing who you are without having to speak.
Who or what is inspiring you right now?
I'm very inspired by music of the 70s: The Beatles, The Rolling Stones, Stevie Nicks, etc. And I'm always inspired by the group of women in my life—working moms and entrepreneurs—I'm surrounded by empowering women.
What are five items (or more) every woman should have in her closet for fall?
A big chunky cozy sweater, a pair of over the knee suede boots, a wool mini skirt, a long overcoat and a faux fur jacket.
~GabyS is celebrating the color black in her Best Color…By Far Flipboard Magazine