On the Red Couch with Graffiti Blogger Jowy Romano
Inside Flipboard / April 10, 2013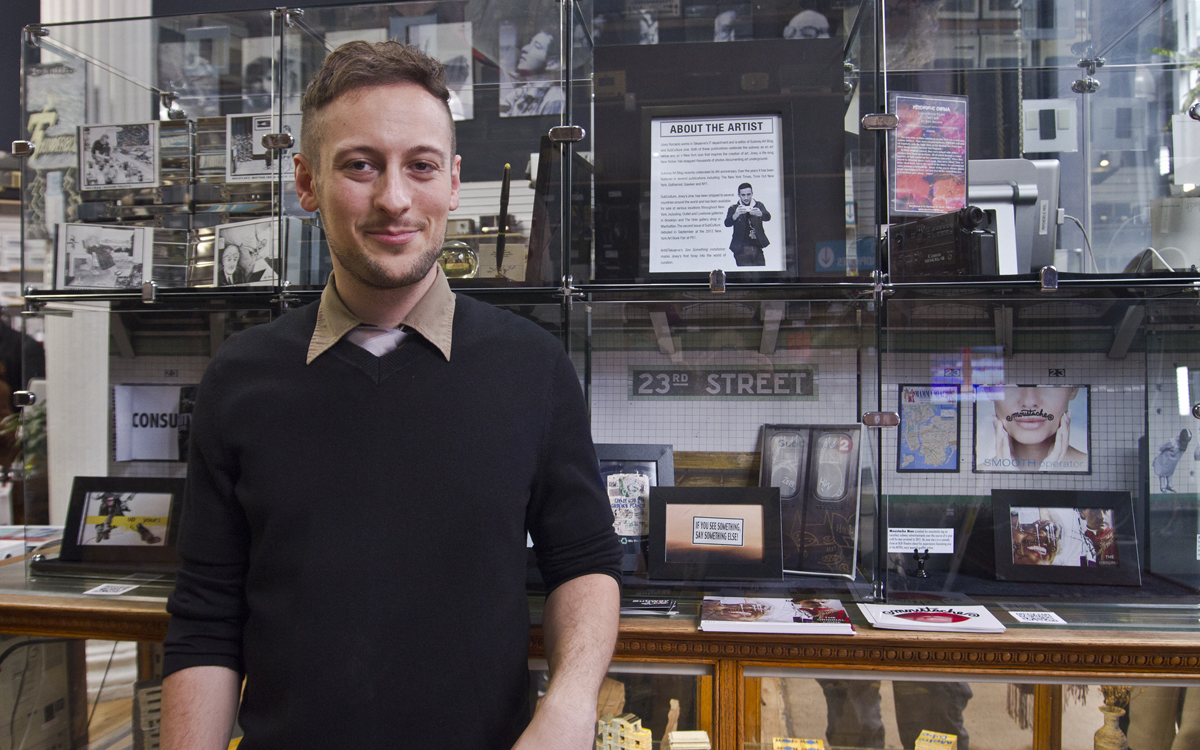 Besides its primary role of transportation, the New York City subway system is a moving gallery. However, its form is subtle. To the average person, the graffiti etching over an ad or scribble on a map might not be much, but to a large subculture, it's a growing art.
Jowy Romano has spent the past four years curating the best of what he's seen on his blog, Subway Art Blog. Before he started, he didn't have much interest or knowledge behind the art. As his blog grew, from a scrapbook of everyday subway muse to a carefully crafted selection of New York City's best graffiti, the New York native quickly became an expert on the scene, able run down a list of trending artists, styles and history. We spoke to Romano, who was one of the first magazine curators on Flipboard, about what got him into following graffiti, the subway art scene, and where he goes to find eye-catching art.
Why is graffiti art important?
Because it is art in its rawest form; it's free from the influence of money and galleries.
Why'd you start a graffiti blog?
It was kind of by accident. It basically started with a silly idea where everyone and their mothers took a photo of something funny they've seen on the subway—like a wet paint sign that was ripped up to say " 'aint wet."
So the blog was meant to be a place for that. It was a place for me to post funny photos from my cell phone, things I took photos of in the subway and at some point I ran out of photos. I was looking for other content and so I started taking photos of graffiti on the subway. It kind of just snowballed from there.
Why'd you keep doing it?
I had no incentive, no vision, no grand scheme of things, it just grew naturally.
It's kind of addictive in a way, especially with the Internet. There is instant feedback of the photos you've taken, the places you've been and from the people inside the culture.
It started out with just that and then became a place for actual art work that led to interesting graffiti interviews, podcasts and being featured in the New York Times. Eventually I made a zine out of it.
Do you do create any graffiti art yourself?
Most of the people that appreciate what I do wonder how I could possibly be so into it yet not do it. I'm interested in just documenting and viewing and not necessarily creating.
What is it about the subway scene that attracts this unique art culture?
I interviewed Poster Boy and I think he described it best. He said the subway has everything an artist needs. It has patrons, a canvas, galleries, a studio. It's all down there.
If graffiti art were legal, would it be as enjoyable?
It certainly wouldn't be as enjoyable for the people who do it. Part of the appeal is the endorphin rush you get while doing it. I also think the illegality filters out the people who aren't serious about it. You would see a lot more crappy graffiti if it were legal.
What is the community or art scene like?
The graffiti community is really mysterious and exclusive from an outsider's perspective. Once you get your foot in the door, it's actually really small and tight-knit. Everyone pretty much knows everyone.
What kind of art catches your eye?
It's hard to always define but my favorite stuff is the really gritty chaotic graffiti, like the kind you might find on a truck on the street. I'm also looking at letterform, style and also how often I see the tag.
What's the craziest or most memorable art work you've seen on the subway?
Has this social age helped the graffiti art scene?
It definitely has helped. Graffiti writers started hitting the subways in the 70s and 80s with murals on the sides of trains until the Metropolitan Transit Authority got good at cleaning it up. Now, a tag or piece of art wouldn't last that long.
But today, you could do something like that and take a photo of it and it lasts forever on the Internet. Now you could do one tag and a million people can see it. So I think it we're in the 2.0 of this culture.
How has your commute changed now that you're a lot more aware of the art around you?
It's way more interesting now that I've opened my eyes to all the artwork down in the subway. Discovering work and taking photos has become a bit of a game.
Some of Jowy's Favorite Artists:
Some of Jowy's Favorite Graffiti Photographers:
Luna Park: In my opinion, her Flickr page is one of the web's premier sources of contemporary graffiti photography. She's the next Martha Cooper. She inspired me to start posting my photos on the web.
Ray Mock: Does a phenomenal graffiti zine called Carnage. He inspired my first zine.
Some of Jowy's Favorite Blogs:
Fresh Paint NYC: A great source for photos of all the graffiti that only graffiti writers and urban explorers see.
BK Street Art: Another strong street art blog, focused on Brooklyn.
Don't forget to check out the magazines Jowy has been curating on Flipboard:
SubCulture: A magazine about art in NYC's subway and beyond.
Jowy's Blackbook: A zine focusing on graffit and street art in NYC and around the world.
~NajibA
/flipboard
@flipboard
+flipboard