On the Red Couch with OZY's Carlos Watson
Gabriella Schwarz / August 2, 2017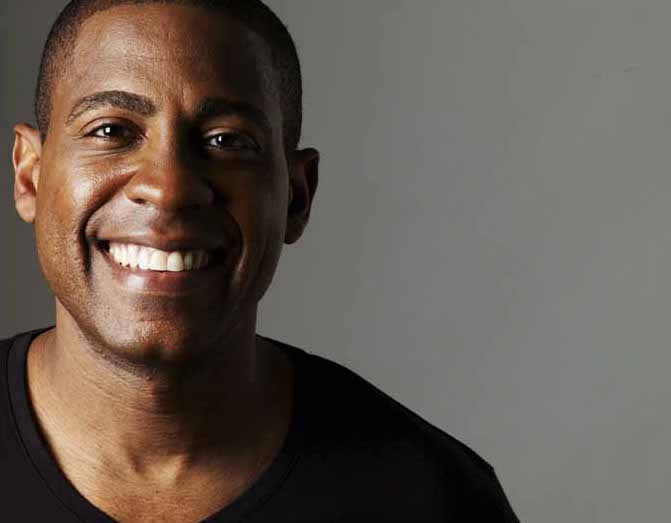 After stints on political campaigns, graduating from law school, time at McKinsey & Company, starting his own college prep company and anchoring on MSNBC, Carlos Watson channeled his skills toward building Silicon Valley based-OZY, a media company focused on the future.
The site, which launched in 2013 and now reaches over 25 million people, aims to cover what's coming, including "new people, new place, new trends, new ideas." That mentality has manifested itself in a diverse team of reporters who are at times fanned out across America to shine a light on stories in all corners of the country and find the next must-know person, must-experience place and must-enjoy trend.
We spoke to the Miami native about how he stays ahead of the curve, when to take risks, and about the power and importance of curation.
"You need me to help curate the best and really to do it from a place of love," Watson said. "If you love me, you're really going to go out of your way to give me the best stuff on earth."
What was missing from the media landscape you wanted to fill with OZY?
I thought there was a lot good out there but much of it is focused only on the now. There wasn't really a news source that both focused on what was happening today and also looked ahead to what would emerge tomorrow. Whether that meant new people, new places, new trends, new ideas—I really wanted to be part of building a new kind of news organization that put a lot of energy in profiling the new and the next.
How do you figure out what's new?
It is hard. We start first of all by having the ambition. A lot of places don't really have the ambition—they have the same four or five stories over and over again along with everyone else. So I think first it starts by fundamentally having a desire to do what we do.
And then second I think you have to hire the very best people. They have to be open to visiting new places and talking to a wide set of people and taking small clues and blowing those out and figuring out who will become the new host of "The Daily Show" six months before [the person]'s named, or who will become the No. 1 pick in the NFL Draft before he's played his first college football game, or how so-called ugly fruit becomes the new trend for people to eat and use.
It's definitely hard work, and I think the best part of it has been having a really creative team that's willing to be very entrepreneurial reporters.
Do you think creativity is the unifying theme around the people you hire? Or is it something else?
It's a real mix. We probably interviewed over 750 people to hire our first 50. Some of those came from classic places like you might expect, whether that's The New York Times, The Economist, The Wall Street Journal or CNN. I would say a second group of them came from more alternative places, maybe a Vice or a GQ. And then a third group—I'm proud to say we've just taken some complete risks. We, for example, hired a bored lawyer in North Carolina, who's turned into one of our best reporters, even though he's never done it before. We took a chance. We just a couple months ago hired a former accountant who had been writing for us on a freelance basis and is doing amazing work.
How do you know when it's the right time to take a risk on somebody?
I think it's always the right time. So much has to do with the person. Is that person willing to take a chance on him- or herself? That's a big piece of it. Are they hungry? And the other thing I would say: are they also humble? Because none of us know perfectly what to do, right? So the real question is are you going to be OK learning? Are you going to be OK when things don't go exactly how you expected? That's really important.
I know you've talked about the importance of being able to tell a good story. Is that something you're born with or something you can learn?
Have you ever read the novelist Paulo Coelho, who wrote "The Alchemist"?
I have not.
He's a great Brazilian author. At the beginning of that book he said that most of us spend most of our lives running away from our dreams and our True North. He said we either literally run away or we try to bury it. Instead, we let what mom or dad thinks we should do dominate our spirit. But you can tell when someone's willing to take a chance on themselves. They still may be a little bit tentative, but if they're willing to take a chance on themselves, and they're both hungry and humble, then we can get excited about them too. It's not going to work out every time; that's not the metric of success in my mind. We don't have to bat 100 percent for this to have been a good idea—or even 1,000 percent. But if we get a couple people like Sean [Braswell] and others whom we took chances on, who turned out to be terrific folks, then I'm just going to feel appreciative and lucky each time.
You've made an effort to get out into the country, I'm particularly thinking about the States of the Nation Series. What has most inspired or surprised you about the Americans profiled?
I am just reminded again that what's happening in real life all around the world, whether it has to do with pipelines or the kind of pie that people are baking and eating, is just far ahead of what the experts think and often what our fellow journalists report on. I'm constantly blown away, from a small black church in North Carolina filled with Trump supporters and how that has changed the church, to new industry in Louisiana. As one of our investors is always reminding us, you have to do the work. She's like, "there's no substitute. You have to do the work." I hope we're delivering.
What do people expect from their content now? And have you seen that shift since you started the company?
In some ways, they expect the same [as they always have]. I think a lot of our audience is filled with curious people, be they millennials, Gen Xers or Boomers. They expect to be consistently bonked in the head—that simply repeating the same handful of headline stories, they're like why do I need that? I've got a million places I can get that from. So if we aren't giving them fresh, cutting edge work, there's clear frustration.
One of the [shifts] is that they are hungrier for us to do the storytelling in different ways, not just in written pieces. They not only want to be able to read OZY, but they want to be able to watch OZY, listen to OZY, flip through OZY, get immersed in OZY. We have to do our best to make sure we are being cutting-edge, versatile storytellers and make it easy for people to enjoy OZY in any way they want.
Do you think there's a difference between millennial reading habits versus Gen X versus boomer?
Because OZY targets a mindset and less an age or demographic, I think that the 80-something year-old retired air traffic controller in Ireland and the 25-year-old YouTube filmmaker in L.A. in many ways have the same expectation that OZY's not just going to be smart but that it's going to be sexy and that the way we write has got to be loaded with flavor. The way we build and edit and sweeten with music has got to be distinctive and flavorful as well.
You're doing some curation—we see it especially with the Presidential Daily Brief. What role should curation play in today's media companies?
I think it's incredibly important to curate. That's one of the reasons OZY never went in the direction of HuffPost, BuzzFeed and all the others who kind of do 1,600 stories a day. Even The New York Times does 300 stories a day. Slate does 50. And I think our bet from the beginning was that the world is on information overload. The last thing you need me to do is give you mass. You need me to give you class. You need me to help curate the best and really to do it from a place of love. If you love me, you're going to go out of your way to give me the best stuff on earth. You're not going to make me sort through thousands of things in order to find the magic. Isn't that what people do when they cook for you? They don't give you a million things; they ask you what you love, what's going to make you happy. Gabriella, you deserve the best, let's go get it for you.
Talk about the balance between being a tech company in the Valley and a media company…are those two things at odds?
No, and in fact I think among the big winners in the next decade will be those media companies that are media and technology companies. Really very few of the classic "media companies" have really leveraged technology in a meaningful way. BuzzFeed did briefly as they gained social media and SEO in terms of building their audience. The New York Times, to their enormous credit, has been doing it in interesting ways. But for the most part, none of the media companies—Vice, Vox, yada yada, Mic, Skimm—none of them really use technology to dramatically reshape and accelerate what they can offer their audiences.
In what ways do you think they should be using more technology? Or are there trends that they're missing?
There are but I'm not going to tell them. They can watch OZY; we're going to be doing them all.
Read stories of Americans across the country, see who'll be our next rising stars, and what OZY thinks is 'good sh*t' through their profile on Flipboard.
~GabyS is reading about Entrepreneurship