On the Red Couch with StyleWatch Executive Editor Bethany Heitman
Gabriella Schwarz / May 26, 2016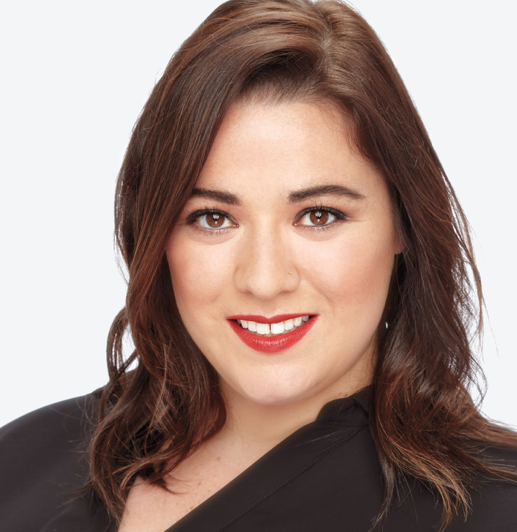 Bethany Heitman is basically living every style- and celebrity-obsessed woman's dream. In my mind, her role as executive editor of StyleWatch magazine makes her part Jenna Rink (Jennifer Garner's character in 13 Going on 30) and part Andy Sachs (Anne Hathaway's character in The Devil Wears Prada). I may be editorializing slightly, but it's certainly true that Bethany, Jenna and Andy all share enviable drive and a love of fashion journalism. It was that love and Heitman's belief in the power of print that caused her to abandon her pre-med college path and chart a course in magazines.
For a curvier girl in California, "magazines were always sort of my escape and my entrance into the world beyond just my small town," she said. Now she's bringing that escape to women and girls of all body types and backgrounds who turn to StyleWatch and its digital arm The Outfit for inspiration.
"You're not going to open the pages of StyleWatch and just see one vibe," Heitman told us.
Read more about the magazine (which is now on Flipboard), its commitment to diversity and the trends that will take over the summer.
Why did you decide to make the jump to StyleWatch?
I started my career at Cosmo. I was there for over 10 years and then went to Seventeen, which was a great learning experience, and I loved the teen girl. But I was ready to speak to grownups again. StyleWatch has always been one of my favorite magazines because I think that it makes fashion and beauty really accessible to all women. I felt like I could come here and sort of help that goal.
How has your background at a magazine targeting younger readers impacted your leadership at StyleWatch?
I always like to think that teen girls are a year or two ahead of the rest of us. I was learning about Snapchat before anyone over 18 had downloaded it. It certainly set me up for success when it came to StyleWatch expanding its digital presence, just because I knew the Bethany Motas of the world. I knew the Dulce Candys and all of the Snapchat stars. But StyleWatch is its own wonderful beast, and our readers are very loyal so it's obviously a very different experience but one that is so fun.
Who is the average StyleWatch reader? When you think about your target audience, who do you see?
We're lucky at StyleWatch that we have readers of all ages, spanning from very young adult women to women who are all the way into their 50s. But our kind of key girl is a millennial. She's style-obsessed. She loves fast fashion, she wants to know the trends, she wants to try the trends, she wants to know exactly what she should be shopping for, she's savvy. You can't just present her with anything. She knows what looks good and definitely has an opinion.
How have the fashion and entertainment worlds changed in terms of diversity during your career? Diversity of body type, skin color, etc?
I'm plus size myself—and one of the things I love is that our editor who came on board last year, Lisa Arbetter, has made a huge huge effort to make sure that all women are represented in the pages of StyleWatch. Growing up as someone who was curvier, I didn't see that a lot in magazines. I grew up in a small town and magazines were always sort of my escape and my entrance into the world beyond just my small town. But not seeing yourself in those magazines can be tough. One of the things that we've really worked hard to do over the last year is to make sure that all different types of bodies and other kinds of diversity are represented. And also just other kinds of style. You're not going to open the pages of StyleWatch and just see one vibe. You're going to see the girl that's a little edgier, you're going to see the girl that's maybe a little more feminine and flirty, you're going to see a more kind of preppy classic girl. I love that.
What do you see as your role in the larger conversation around body type and confidence? Is it a feeling of responsibility?
I feel a huge responsibility, but it's fun. It doesn't feel like a task. It's so fun to go out there and that's a little bit how The Outfit ties in too because we're out there talking to real women and talking to all of these fashion bloggers. What you quickly realize is that there isn't just one type of look or style or body. So it's so fun getting to talk to all of these other women—our readers, these bloggers, our community members—to find out what they're passionate about and how they dress and what they like to see.
What are the most unexpected trends you see coming down the pike?
The Baja look for summer. I grew up initially in Southern California, so I grew up wearing ponchos and the baja bracelets, those threaded bracelets. So to see that come back has been so fun and a little surprising because I think we have been a little bit almost dressier in the past couple of seasons. That Baja California look is so surfer girl casual, so that's been fun.
What's contributing to the causal sense of the summer? Is the trend mirroring where we are as a country?
I think there are so many different fun trends. Off the shoulder is a huge trend too and that has a tendency to feel a little bit flirtier and feminine. I think what we're seeing is that there's not just one look, which is so fun for us because that's exactly what we're trying to prove in the world. You might have this very feminine off the shoulder shirt and you turn the page and it's all about this Baja kind of board short type of look. People want a little bit of everything and they mix and match it. What I love is that we see all of our readers really taking different pieces of different stories in the magazine and creating totally unique looks.
Where do you turn for inspiration? Who are your style icons?
I turn to the StyleWatch fashion closet for most of my style inspiration. One of the perks of my job is that I get to see stuff pretty far in advance. I joke that I spend a lot of my day shopping. I go as far as to make notes in my calendar that will alert me like, that Kate Spade shoe is coming out today. Get online. So that's my biggest source of what's coming in.
In terms of style icons, I like an edgier look. I love Zoë Kravitz. I think she is the coolest girl in the world. I love a good moto jacket. I'm very, very into like a sneaker, a pair of joggers. Like my goal in life is to always look like I'm either Zoë Kravitz or Beyoncé's backup dancer. That very cool athleisure style.
Did you always know you wanted to be a fashion editor?
I didn't. I studied pre med. But I found myself in college pretty miserable with that track, and I spent a lot of time thinking about what made me happy. I went back to being a kid and kind of using magazines as an outlet and as a place to transport me and take me some many different places. So I started going down the magazine path, and then I fell in love. My parents probably would have liked the pre-med path, but they're very happy and proud now.
What are the biggest challenges in reaching readers in a digital age? How has your model changed and how will it change?
What has been a really interesting and humbling shift is that there are so many different places to reach readers. I think for many years people in the magazine industry really stuck with print only and really wanted to push this print product. I think print is still incredibly important, and we take incredible care with and have incredible pride for our magazine. But one of the things that's very freeing and great about StyleWatch is that at the end of the day we just want to reach the reader. However we reach her makes us happy. So we spend time on Snapchat; we really take care with our Instagram posts. We created The Outfit as another outlet just to reach more people because we know we have fun fashionable stuff to offer and we just want to offer it wherever they are and go to them. They don't always have to come to us; we're happy to go to them as well. And that I think is really why we have such a loyal fantastic readership: it's mutual. They come to us, we go to them, and it feels like a very stylish conversation that we're having at all times.
Get style, beauty and accessory inspiration from StyleWatch on Flipboard.
~GabyS is reading the Festival Style topic