Publisher Spotlight: Lonely Planet
Gabriella Schwarz / October 27, 2015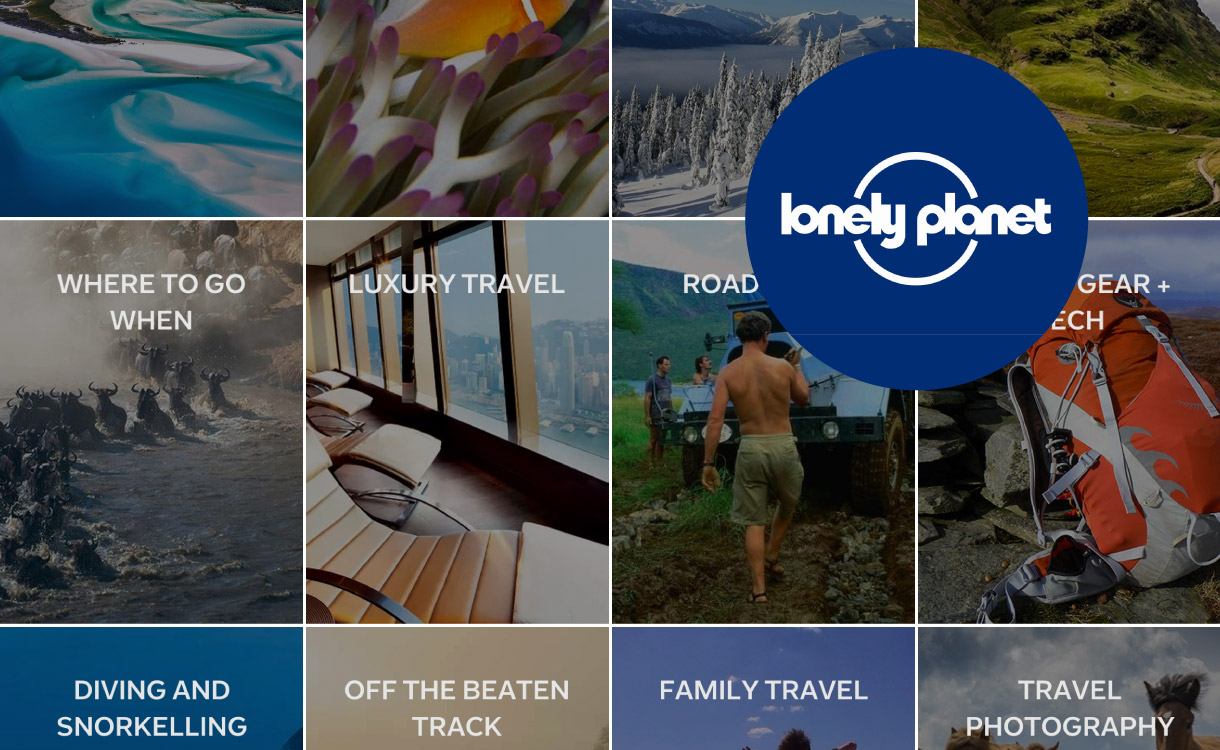 # of Flipboard Magazines: 34
# of articles flipped: 1,215
Top Flipboard Magazines: Coasts and Islands, Road Trips, Beaches and Adventure Travel
Interviewee: Lonely Planet Editorial Director Tom Hall
Where do you get travel inspiration?
The spark of travel inspiration comes from many places: a great photo, an account of an amazing journey, a tip from someone who knows what you like. As I work in Lonely Planet's London office rather than on the road, I tend to travel quite opportunistically, adding extra bits onto planned journeys. For these, I start with a map and see how much I can cram in, then hit our guides and online for the specifics.
What do you hope Lonely Planet readers gain from your magazines on Flipboard?
Firstly, we hope they're inspired to travel. Lonely Planet exists to fan the flames of your wanderlust, and so we want to get people thinking about their dream trips, then help to make them a reality. On our Flipboard Magazines, we present travel by theme as well as destinations and planning. We also try to spotlight other more timely material, such as a destination in the news for hosting an event or festival, and also to show the world through the eyes of our writers.
What is the hardest part about choosing the annual collections of the world's best trends and destinations?
Getting us all to agree on what should be in there! Our annual Best in Travel event is the collective travel intelligence of Lonely Planet's writers, staff and community, so what gets in is always keenly fought over. After that, the fun part is the debate our choices cause in the media and among travelers. There's a real buzz about Best in Travel day, which lands on October 27 this year, when we reveal our choices.
How important is the diversity on your staff and how does that manifest itself in the content you produce?
It's hugely important to our voice, authenticity and integrity. Lonely Planet is a global operation, and our large pool of contributors by its nature is international in origin and contains a diverse mix of voices. We publish content in 15 languages, and cover subjects from family travel to nature and wildlife to emerging off-the-beaten-track places like Ethiopia and Myanmar. Also, this June, we were thrilled to launch Lonely Planet's Guide to Pride, a free guide exclusively on iBooks highlighting cities around the world with the biggest and best LGBT Pride celebrations.
Read our interview with Lonely Planet travel writers.
During your time at Lonely Planet, are there stories that still stick out in your mind? If so, which and why?
The one I always think of was the chaos caused by the Eyjafjallajökull volcanic eruption in Iceland in 2010, which grounded flights across Europe. Our phones went into meltdown as the world's media wanted to know how stranded travellers could get home. We responded by making our mobile city guide apps free to get our advice to as many people as possible, and millions were downloaded. I spent a lot of my time being interviewed at London's Heathrow Airport by TV and radio stations. It was a very busy but ultimately rewarding time.
Many of my favorite stories concern the experiences of our authors in the field rather than my own. We've had writers getting stuck in unusual locations like remote Ethiopian valleys, going off the grid and then checking in with tales of spending the night locked in shipping containers in Papua New Guinea and being the first travel writers in destinations like Somaliland and South Sudan. Of course, not every day is as exciting as that, but covering the globe brings plenty of excitement.
Read all of Lonely Planet's Flipboard Magazines here and check out some of our favorites below.
~GabyS is reading World Series 2015
GET FLIPBOARD ON:
iOS / ANDROID / WINDOWS / WEB
FOLLOW US ON:
FLIPBOARD / TWITTER / INSTAGRAM / FACEBOOK / GOOGLE+ / TUMBLR / YOUTUBE / SOUNDCLOUD / PINTEREST / MEDIUM