<![CDATA[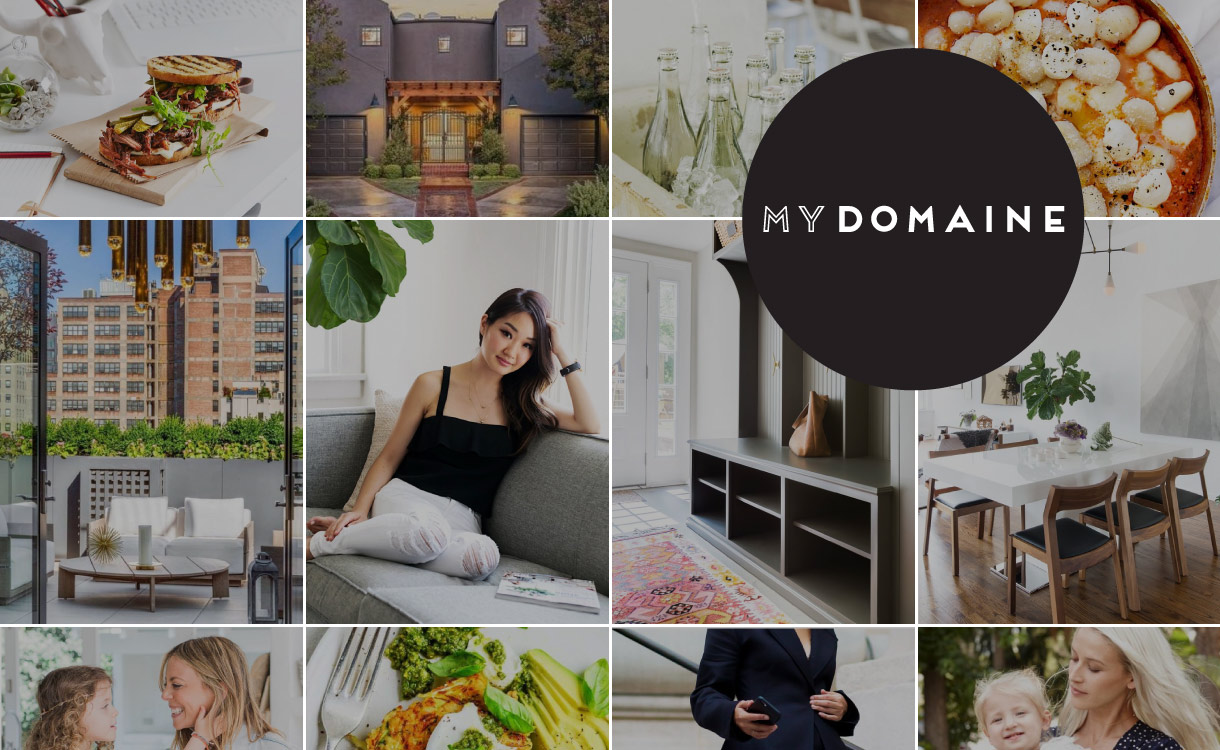 # of articles flipped into the MyDomaine Flipboard Magazine: 970+
Interviewee:
Sharon Yi, Editorial Director
MyDomaine's tagline is "the modern woman's guide to life." How do you define the "modern woman"?
A woman isn't just one thing. This is the first generation of women where we're making just as much as men and are leaders in the workplace
and
equal partners at home. The modern woman today is not
just
a wife, or a new mom, or the boss lady. She's all of these things and she's constantly evolving. The idea of a work/life balance has been thoroughly shattered and we all know now (after painstaking trial and error) that you can't have your cake and eat it too when it comes to being the mom 100% of the time and the career woman 100% of the time—something's gotta give. And that's where MyDomaine comes in. As she pursues various aspects of her life and evolves from one life stage to the next, MyDomaine is that lifestyle destination that can give you gritty career advice along with a practical guide on how to paint your bedroom with the
latest Pantone 2016 color for fall
(shark skin gray is a fab choice).
There's a strong aspirational aspect to MyDomaine's content. Why do you think these stories resonate so much with your readership?
Our content isn't pretty for the sake of being pretty. Every single one of our stories, from home décor to food to career, has aspirational recommendations and the practical way to achieve them. That's why we have stories that tell you
how to make your studio feel like a 5-star hotel
and stories that
don't
tell you to cook a 3-course meal when you're getting home at 10 p.m. after a 12-hour shift in the office. When you're stretched thin, that doesn't mean you want to eat or live like a slob. It means you can have your beautiful, curated, organized life but in three steps with our brilliant hacks than 10. The aspirational becomes in reach.
What are some of the most popular articles you've published?
Oh, there are so many, but the ones that are traffic killers time and time again are
the experiences everyone should have by the time they're 30
, what the latest baby names trends are, and how to elevate IKEA pieces, naturally. Our runaway story that struck gold this past month was a story on how
people who are often late
tend to be more creative and successful. It spoke to a common experience (being late) and spun it for the positive, which made it highly shareable. That story received double the amount of shares than views, which means that many people were sharing it just based on the headline.
Do you conduct any kind of research, informal or otherwise, to determine your editorial strategy? If so, what kinds of things have you learned? If not, what do you perhaps already know about your audience?
We conduct regular surveys with our audience to gather what kind of content they would love to see, but we also closely analyze content performance based on the platform. Each week, we find that we're honing in on the makeup of our audience based on where they find us, whether it's our newsletter, our Facebook page or our homepage. For example, our newsletter audience gravitates towards the straightforward décor stories while the Facebook audience wants self-improvement articles that provide life cheats like
the only 8 TED Talks you need to watch
. We also pay close attention to analyzing the behaviors of the audience that we
don't
have so as to create content that continues to gain mass appeal.
Speaking of editorial strategy, what's an editorial meeting at MD like?
We have an hour every week, but we're always running out of time. The weekly meetings begin with a rundown of the top 10 performers from the previous week and we go through analytics and provide takeaways to our team to make sense of the numbers. The audience development team shares how we're pacing against the monthly traffic goals and our most shared stories for us to get a better sense of who our reader is. We do a brainstorm at the end of every week that speaks to a tentpole coming up or ask a fun question to spark debate.  
What do you strive for in a successful piece of sponsored content?
That it echoes the voice and visual aesthetic of our editorial content, and above all else that it maintains the journalistic integrity that we apply to every story that goes live. Never would I want to publish a story (sponsored or not) that says something factually incorrect, even if it's republishing a tagline or copy point provided and paid for by the sponsor. Branded content should provide service to the reader, as much as any other editorial story, and ladder up to an editorial tentpole that our readers have come to love and expect from us. A true marker of a
successful
sponsored story, however, is if it served as the introduction of MyDomaine to a new reader and conveyed not only the MyDomaine mission statement and voice but converted the new reader into a return visitor.
That
is a metric I'd love to be able to tout.  
Which 3-5 stories should someone relatively unfamiliar with MD read right now?
Easy!
This Is What Happens When You Quit Social Media for 40 Days
How to Pick the Perfect Avocado (You're Doing It Wrong)
Here's Where You Could Honeymoon If You Saved on an Engagement Ring
How to Arrange Your Bedroom Furniture for Every Room Size
6 Things Successful Women Never Do in the Morning
The Financial Questions You Should Ask Your S.O. Before Getting Serious
How do you see the site evolving?
We'll continue to invest and grow in the categories of food, career, travel, finance and relationships. These are all areas that make up a woman's life and I'd like to say that we can address them all thoughtfully and thoroughly. Our next step is to create content not for a pan-generic MyDomaine reader, but for each specific platform, catering content just for our Facebook audience, our newsletter audience, and more.
Read MyDomaine on Flipboard.
~CarolynG is also reading MyDomaine