Shop Smarter with Curated Product Reviews from Trusted Publishers
Brad Read / February 16, 2021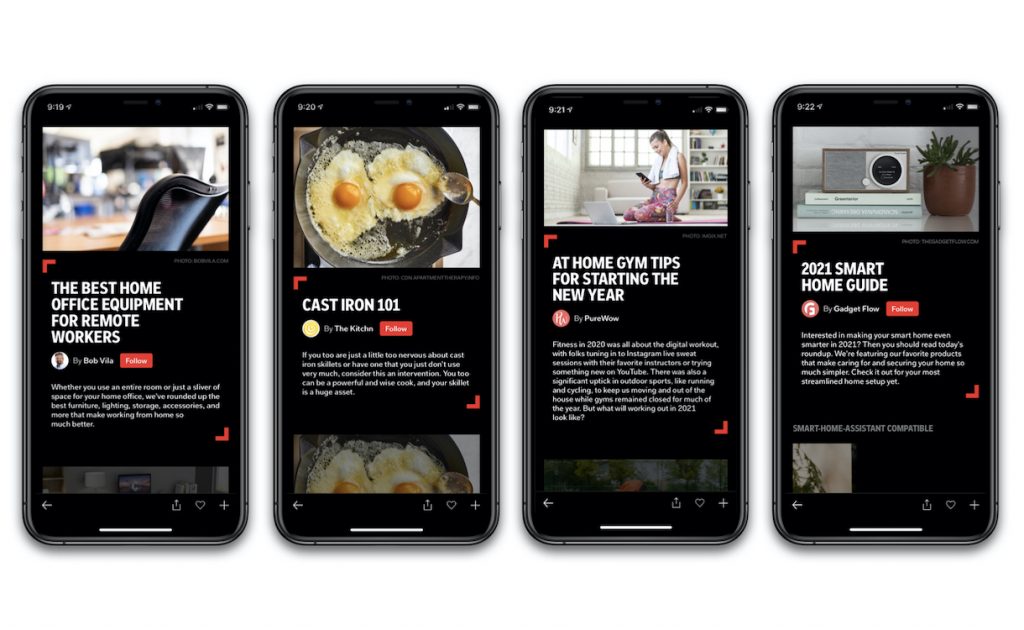 Have you ever wondered which standing desk is the most cost effective, what tools are best to clean cast-iron cookware, where in the world you can find dumbbells, or how to make your home smart? With online shopping becoming a necessity (thanks, COVID-19) and too many search results to count (thanks, Google), it can be overwhelming to research the best products to meet your needs. Luckily, some of the most informed and reputable publishers have started to apply their research and editorial skills to products. Many of them are curating shoppable collections on Flipboard that will help you make smart decisions on your next online purchase of home, cooking, fitness and tech goods.
Home Finds
In order to make your house more functional during these unprecedented times, some of our favorite publishers, such as Hunker, PureWow and Spy, give tips on how to build a home office, upgrade your audio system and find products to effortlessly organize your home.

Kitchen Necessities
Whether you are looking to redesign your kitchen, join the cast-iron craze, find ways to make your food last longer or discover useful kitchen gadgets, publishers like Ideal Home and The Kitchn can help you take the stress out of cooking.

Health & Fitness Supplies
Cooking can also help you lead a healthier lifestyle. EatingWell shares proven ways to meal plan and save time throughout the week. On top of eating better, try Gear Patrol's tips on how to exercise outdoors and follow PureWow's guide to create a space for at-home workouts. Or maybe it's time to incorporate some of PCMag's tips on high-tech smart gym equipment into your workout routine.

Tech Gadgets
It can sometimes feel like you have to be an IT expert in order to know what you're purchasing when it comes to electronics. Lean on trusted publishers like CNET when it comes to buying your next phone or making your home "smart". Gadget Flow and Mashable will also help you stay on the cutting edge of innovative gadgets and groundbreaking devices.

If you're interested in staying up to date on all the latest shopping curation from publishers on Flipboard, be sure to follow the Shopping Topic.

— Brad Read, commerce editor, is inspired and mesmerized by The Photo Desk