Special Event – Super Bowl on Flipboard
Inside Flipboard / February 4, 2011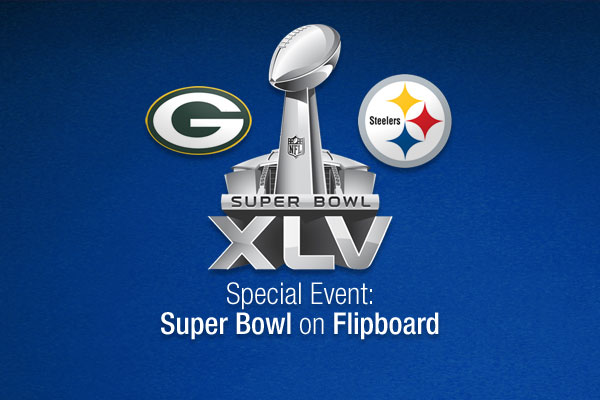 As if being featured on Oprah, premiering a new MC Hammer track, and launching a Hammer channel on Flipboard was not a big enough week, we've put together a Special Event package of content for the SUPER BOWL! The iPad is an excellent companion to watching sports and we've put together some great stuff to enhance your Super Bowl experience.
Fox Sports is the television broadcast station for the Super Bowl and they have provided a list curated for Flipboard. It include the feeds for Nancy Gay, Jay Glazer, Alex Marvez, Adam Schein, Adam Caplan, Jason Whitlock, Peter Schrager, and more great Fox Sports content from the big game.
CBS Sports also provided us with an exclusive feed for Flipboard, made up of their correspondents reporting from the game and other key sources. This curated list includes feeds Pete Prisco, Mike Freeman, Will Brinson, Josh Katzowitz, and more CBS Sports Super Bowl coverage.
SB Nation is the largest and fastest-growing network of fan-centric online sports communities. They are also a Flipboard Pages partner and all around good guys. They have created three unique feeds for us:
SB Nation, Super Bowl: The source for Super Bowl XLV on Flipboard, powered by SB Nation
SB Nation, Green Bay Packers: SB Nation's essential feed for Green Bay Packers fans and Super Bowl XLV
SB Nation, Pittsburgh Steelers: SB Nation's essential feed for Pittsburgh Steelers fans and Super Bowl XLV
MC Hammer is at the game and will no doubt be posting his own unique take on the game. Hammer grew up around professional sports, having worked for the Oakland A's from the age of 11. He knows a thing or two about sports. You can listen to his new track, "See Her Face" Share it with your friends at your Super Bowl party.
There you have it, Flipboarders. Super Bowl. Hammertime. At your fingertips. Enjoy the game!
~ JonV
community@flipboard.com
facebook.com/flipboard
@flipboardCM