Spotlight: Digital Content Producer Christophe Buffet
Shona Sanzgiri / May 11, 2016
My name is Christophe Buffet. I'm French and I now live in São Paulo. I have lived in London and Paris, and have also spent a few months in other cities before settling down in São Paulo. It's a very dynamic city! When I first visited I thought I had been teleported to New York in the 70s or 80s. I'm a creative technologist and digital content producer.
My work specializes in helping museums tell and preserve their stories, choosing the right digital tools and formats to do so.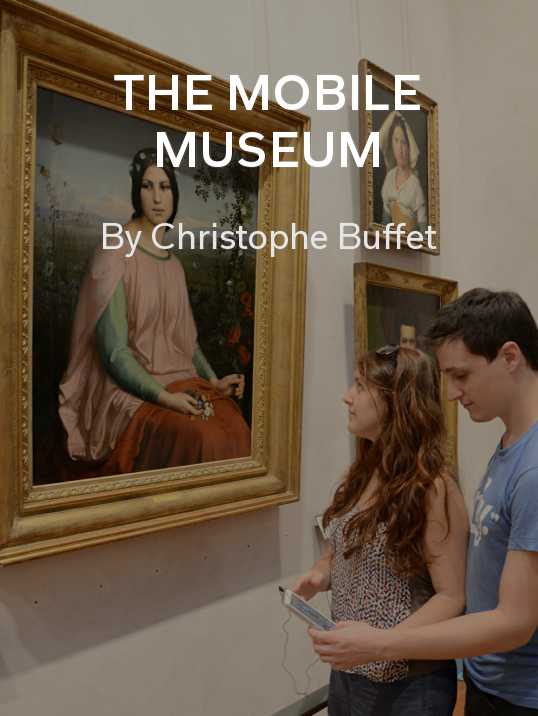 I have a passion for far too many things. Travel, food, architecture and photography are on the top of that list. Japan and Brazil too.
I use Flipboard because I love flipping interesting stories in my magazines. It's a great, easy way to gather the articles I want to find or show to clients.
The first few sites I read in the morning are news podcasts, actually: France Culture's "Les Matins" and BBC Radio 4's "Best of Today."
The purpose of my work is to help museums, historic sites and cultural institutions with their mobile interpretation technology and digital strategy. That's about mobile content and ways to deliver it, be it apps or other platforms.
What makes my work different is that each museum is unique. There isn't a single solution—it's a case-by-case process. You get to interview lots of people: visitors, curators, sometimes the artists when they're still alive. Plus you often get in when the museums are closed, just like Jay-Z and Beyoncé did at the Louvre!
The best article I read all week was about my latest project, recording stories with 93 kids at São Paulo's Museum of Art, MASP, in Folha de São Paulo (in Portuguese). The kids really have no limits. They'll say anything that comes to their mind, ask true questions that adults or curators won't dare to ask, will make you see details in the art works and make you think.
For example a 9-year-old looking at a Renoir painting of two rich girls hung side by side with a picture of two black Brazilian boys, said: "Perhaps the girls would like to be at the beach too. Or perhaps the girls like to play football too; I have girlfriends who do. You shouldn't judge a book by its cover!" It was such a fun project.
My favorite topic on Flipboard is flipping through my Cover Stories when I have some spare time.
Someone I admire from a different discipline is Radio France's Matthieu Conquet because of his eclectic musical taste and pedagogical skills to talk about music.
Innovation often appears in music before it does in other art forms, that's why I'm interested in people who can explain music and musical trends. But there's also something totally arbitrary about music: you hear it, feel it, like it or don't. It's very personal and yet it has such a huge influence on our societies.
There are many other eclectic DJs or radio presenters.
When I first lived in London in 1996, I was really into Gilles Peterson's Worldwide show (on Pirate radio Kiss FM!). He would explain in a simple phrase the influence of Duke Ellington on drum and bass and play one right after the other.
More recently I spent time in LA, driving around the Mojave desert, where I discovered Jason Bentley's Morning Becomes Eclectic on KCRW. He also has this kind of attitude and plays just about anything that sounds good, plus some incredible live sessions.
My "media diet" includes a lot of radio, podcasts, online newspapers, following too many people on Twitter in French, English and Portuguese.
A unique productivity tip of mine is in this age of distractions and notifications, to recharge my cell phone in another room when I need to focus. Also, to visibly turn my phone off at meetings to devote 100% attention to the people I'm meeting.
On Flipboard, I have saved a few Twitter hashtag searches, as well as the handles of people who always post interesting things, like MoMA's design curator Paola Antonelli or science writer and media theorist Steven B. Johnson. Flipping tweets into Flipboard is a great way to scan content and let serendipity strike.
One issue that needs more attention is accessibility. Not just online, everywhere: on the streets, at schools, universities and museums, and for people with all kinds of disabilities, of course. And more generally, things should be more accessible to everybody, the poor and the rich, locals and tourists, etc.
If I could offer one piece of advice to my younger self, it would be go explore the world. If possible, travel and work for one gap year before starting university. Many young people do in the UK and Scandinavian countries, but it's not so common in France. I wish I had done it!
~ShonaS is curating Proof of Experience