Tech's 2020: COVID-19, Misinformation, TikTok, and the Antitrust Saga
Ken Yeung / December 11, 2020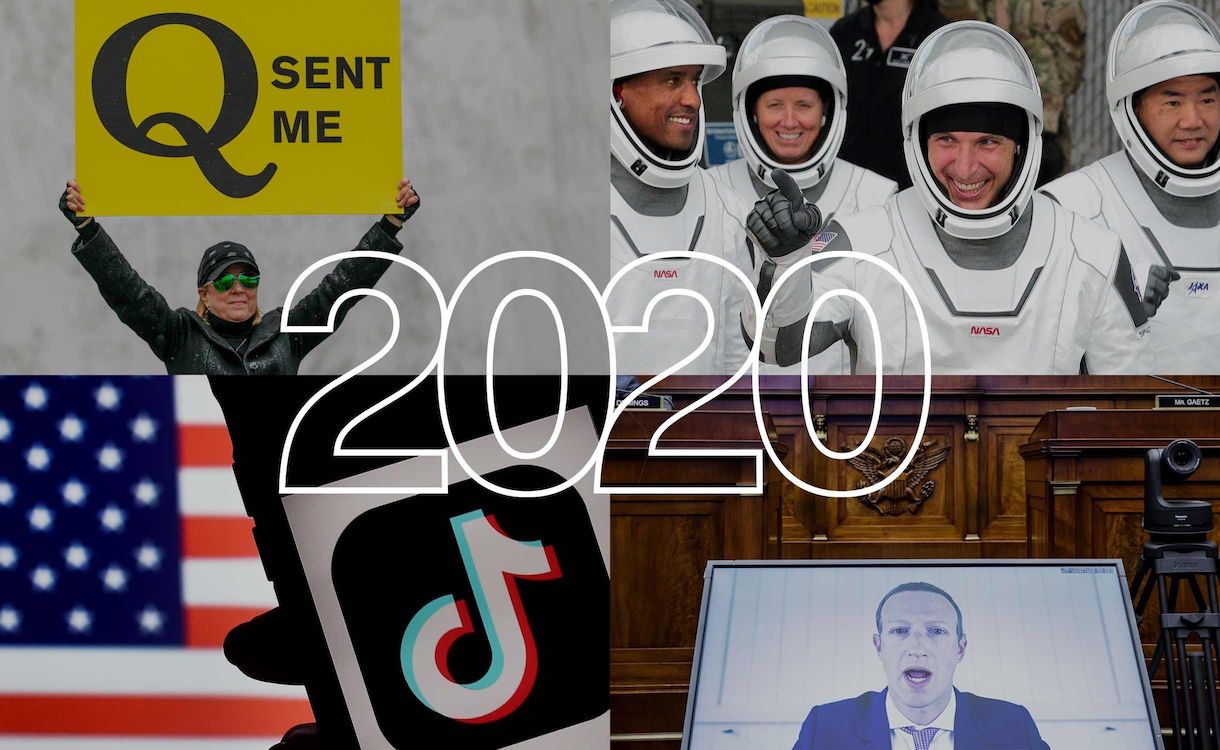 As we prepare to bid adieu to another year, it's time for our third annual Year in Tech Review, where we explore the 10 themes that summed up 2020 for the industry. This year, tech was not only shaped by the coronavirus pandemic but also by uncertainty caused by regulators and lawmakers eager to try and rein in the enormous power that "Big Tech" — namely Google, Amazon, Apple and Facebook — has over what we think, do and buy. Regulators threatened to break up tech companies, eliminate a major legal protection and even use executive powers to ban apps from the U.S.

Here are the themes that defined 2020 for tech:
How did the tech industry adapt to COVID-19? Read this Storyboard to learn how companies responded by forcing employees to work remotely and why some may never return to offices when things get back to normal, how tools and products such as Zoom and Peloton flourished, the partnership between Google and Apple to help in the contact tracing effort, and more.
The CEOs of Facebook, Twitter, Apple, Amazon and Google made multiple appearances before Congress in 2020 to testify on a host of topics, but really it was to help lawmakers decide on their approach to regulating the tech industry. The House Judiciary Committee would ultimately release a detailed report declaring that "Big Tech" held what they called "monopoly power."

The Department of Justice would eventually file an antitrust lawsuit against Google over multiple violations while the FTC and 48 state and territorial attorneys general would sue Facebook over anticompetitive practices, seeking to unwind the social media company's acquisition of Instagram and WhatsApp. More action is expected in 2021.
In the world of private space travel, Elon Musk's SpaceX was the first to make history, ferrying NASA astronauts into space not once, but twice from American soil. It's been nearly a decade since the last space shuttle blasted off into the heavens from Cape Canaveral, Florida. There are more launches to come not only from SpaceX but from spacecraft belonging to BlueOrigins and Virgin Galactic, reigniting a new space race that'll likely result in advanced research in space travel and maybe a trip to the moon and beyond.

Created in 1996 as part of the Communications Decency Act, Section 230 is the internet's legal protection, providing immunity for website publishers such as Twitter, Facebook and Google from third-party content. Proponents say that it's helped with innovation, but in 2020, Republicans and Democrats in Congress sought to repeal or reform the law, arguing that tech companies weren't doing enough to moderate content, whether it's to prevent child exploitation, curbing misinformation or stopping perceived conservative censorship.

Mark Zuckerberg, Jack Dorsey and Sundar Pichai testified on Capitol Hill on Section 230, arguing that some changes are needed but not a full repeal. President Trump has called for the elimination of the law, threatening to veto a national defense spending bill if legislative action wasn't taken.
With the highly-contested U.S. election and the coronavirus pandemic to deal with, Twitter, Facebook, YouTube and other social media platforms had their work cut out for them trying to stop the spread of misinformation. In this Storyboard, read about the steps they took — applying warning labels to posts, removing accounts, banning political ads, and more — and why the job is far from over.
Supporters of this viral pro-Trump movement believe in the baseless conspiracy theory that Democrats are pedophiles, while also supporting anti-vaccine policies and other activist causes. Their growing influence has resulted in two followers being elected as representatives to Congress. Here's more about the role this once-fringe movement is having on society today.
Though it didn't dominate the news cycle like others on this list and it isn't anything new, internet privacy was something people continued to worry about. More local governments put a halt to the use of face recognition technology and Europe enacted stricter rules around surveillance tech, but the pandemic has created a new worry about what's happening with our data. From using our phones to monitor the spread of COVID-19 to having entire sets of public data and websites blocked, and even using emergency health laws to censor online critics, there is legitimate worry about our internet freedoms.

2020 also saw government agencies buying cell phone location data on millions of Americans without warrants. Businesses such as Amazon and Verkada are using technology to spy or even harass their workers. If the year taught us anything about privacy, it's that we need to be more protective of our data.
President Trump spent much of the year trying to remove Chinese technology from the U.S., warning that it's a threat to national security. One of his administration's biggest targets: TikTok. Though he claimed the social media app was capturing the location and data of its users for the Chinese government, President Trump ultimately gave TikTok's parent company Bytedance an ultimatum: Divest from its U.S. operations or risk being banned. Oracle wound up acquiring only 20 percent of TikTok, but the company's status in the country still remains unclear.
The coronavirus pandemic didn't seem to have a significant fundraising impact on tech companies. 2020 saw many raising millions off of high valuations while dozens went public. One thing that defined the year was the use of so-called special-purpose acquisition companies (SPACs) in which "blank check" shell companies take startups such as Virgin Galactic, OpenDoor and DraftKings public without having to go through the Initial Public Offering (IPO) process. Ultimately, the year saw big-name firms such as Airbnb, Snowflake, OneMedical, Lemonade, Unity and Palantir go public.
The pandemic did little to preventl tech companies from releasing a dearth of gadgets and devices. And while the usual cast of characters — Apple's iPhone 12, Google Pixel 5, Samsung Galaxy S20 — came out this year, 2020 also saw the release of the next-generation game consoles from Microsoft and Sony. But while many hoped to be playing games on the Xbox Series X and PlayStation 5 this holiday season, a shortage of supplies will undoubtedly cause many to be sad when looking under the Christmas tree. Read our Storyboard for some of the biggest devices we saw hit the market this year. Which one was your favorite?

You can see all of these Storyboards in our Year in Tech Review 2020 magazine. And if you're interested in reading more news, entertainment, sports, business headlines from this year, be sure to check out our big Year in Review collection.
— Ken Yeung, Flipboard's Technology and Science editor, is currently curating Technology.