Tech's 2021: The Web3 Era Begins, Apple's Antitrust Woes Worsen and the Private Fight over Space Travel
Ken Yeung / December 17, 2021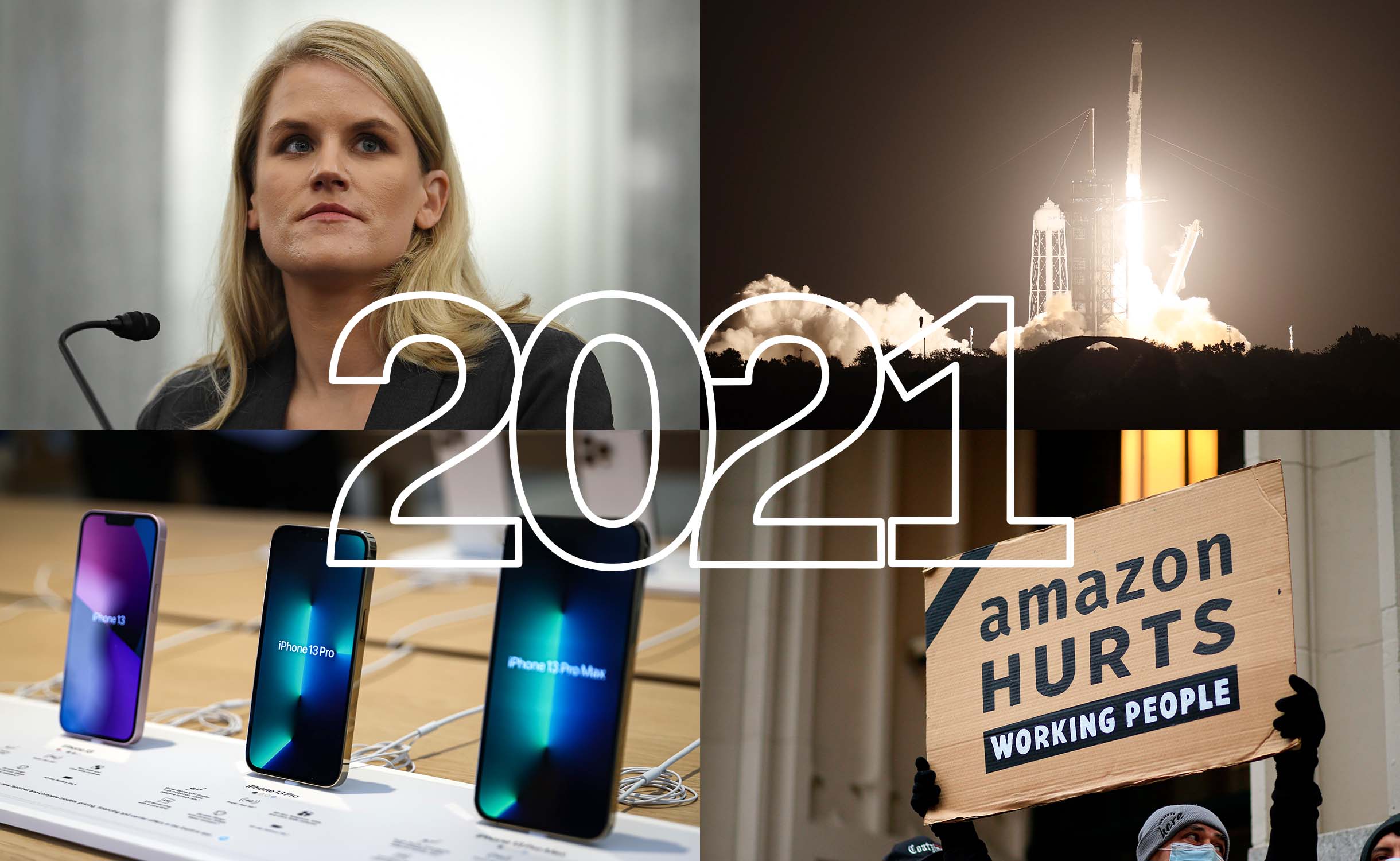 Looking back at the past 12 months, tech innovation appeared to be alive and well…for the most part. Perhaps the thing that largely defined the year was the move towards the decentralized Web, or Web3. There were many headlines around the blockchain, cryptocurrencies, NFTs, Ethereum and privacy related to Web3. We also witnessed a new era of space travel, led by SpaceX, Blue Origin and Virgin Galactic, the fascination with a new reality called the metaverse, and welcomed the release of new gadgets, phones and devices.

Unfortunately, not all tech news was positive: There were issues around diversity and inclusion and workers fought for the right to unionize. And then there were the seemingly never-ending antitrust probes of Big Tech, though the spotlight on Facebook got bigger thanks to whistleblower Frances Haugen. Apple's tight control over its App Store could be in jeopardy after catching the attention of regulators.

Take a closer look at ten themes we think defined tech's year and why they matter:
Decentralized technology was possibly the most talked-about this year, spurred by the record-setting rise in the price of Bitcoin and the obsession with non-fungible tokens (NFTs). This next-generation tech has become colloquially known as Web3 and is no longer just a passing fad.

Bitcoin is the most famous of cryptocurrencies and one moment this year a Bitcoin was worth as much as $68,000. It also became the official currency of El Salvador, a first for the token. But its use is not without controversy as critics argue that producing the crypto harms the environment. While China was the leader in global Bitcoin mining at the start of 2021, it has since banned it and the U.S. now owns the largest market share. Along with Bitcoin's rise, fellow tokens such as Ethereum, Dogecoin and Shiba Inu gained in value.

As for NFTs, these digital art pieces have soared in popularity, with a work of art being auctioned off for a record $69 million. The term even made Collins Dictionary's Word of the Year!

Let's not also forget about the crypto investors who tried to buy an original copy of the U.S. Constitution at auction using a decentralized autonomous organization (DAO). After raising $47 million, ConstitutionDAO lost the bid to Citadel hedge fund CEO Ken Griffin.
We can't do a year-end tech wrap-up without looking at the gadgets that came on the market. Looking at phones, we saw the iPhone 13, Google Pixel 6, Microsoft Surface Duo 2, Samsung Galaxy S21, Z Fold 3, and Z Flip 3 all launch. New iPads, MacBook Pros (without a touch bar!), Microsoft Surface Laptop Studio, Nintendo Switch with OLED display also hit store shelves. And we can't forget about the smart glasses from Facebook and Snap. Check out our roundup of the year's gadgets that made us think about opening up our wallets.
In recent years, Facebook and Google raised the ire of regulators, and executives from these tech companies were asked to appear before Congress. This year, however, Apple caught the attention of not only U.S. lawmakers, but also those in the European Union, Germany, Russia, Japan, India and other parts of the world. Critics accuse Apple of engaging in anticompetitive behavior with its App Store.

Multiple legal cases in 2021, including a lawsuit brought by Fortnite maker Epic Games, eventually began whittling down Apple's defenses and opening up the marketplace. Next year could see more changes coming to the iOS ecosystem as it faces further scrutiny.
Last year, Elon Musk's SpaceX became the first commercial company to send a crewed rocket into space and dock with the International Space Station, a major milestone in America's return to outer space. Richard Branson's Virgin Galactic followed suit in 2021, along with Jeff Bezos' Blue Origin. Those launches underscored the race among these billionaires to privatize space travel. However, critics argue that instead of aiming for orbit or beyond, Musk, Branson and Bezos might find a more meaningful investment in helping to improve things here on Earth.
Still reeling from the major SolarWinds hack that impacted businesses and many federal agencies in 2020, the U.S. wasn't quite out of the woods yet. This year, the country witnessed hackers take down a major oil pipeline, go after computer systems belonging to COVID-19 vaccine drug makers, launch devastating ransomware attacks against IT software provider Kaseya, stealing source code from Amazon's Twitch live streaming service, and just recently, exploiting a vulnerability in a popular Apache logging software. The Biden administration has taken steps to shore up the country's cyber defense, but is it enough to get the hackers to stop?
Mixed-reality is the future of the internet, with Facebook, Epic Games, Roblox, Microsoft all saying this year they plan to support the technology. Though the metaverse has generated a lot of hype, it's important to know that there's not just one single instance of it — there could be many metaverses, all shaped in the image of the creator. The space is receiving quite a lot of interest beyond Big Tech as investors are eager to open their wallets to make the metaverse a reality. Take a closer look at what's being done right now and how it could impact our future experiences online.
Another year, another controversy the company formerly known as Facebook finds itself embroiled in. Former employee-turned-whistleblower Frances Haugen released internal documents that critics allege the firm knew about the negative impacts the social network had on people — misinformation, hate speech, violence, etc. — but did nothing to stop it. The massive cache of files, known collectively as the Facebook Papers, also purportedly reveal Instagram had harmful effects on teen health.

Haugen has since testified before both houses of Congress as well as the European Union Parliament and the U.K. Parliament. She has called for chief executive Mark Zuckerberg's resignation.
China's tech industry seemed to be booming, led by Jack Ma's Alibaba Group's initial public offering in 2014. Then Beijing put the company under a microscope and accused it of monopolistic practices, fining it $2.75 billion, ousting Ma, and threatening to break up the company. Regulators also targeted other red-hot firms, including online tutoring startup ​​Yuanfudao and ride-hailing service Didi, forcing the latter to withdraw its listing on the New York Stock Exchange and instead list on the Stock Exchange of Hong Kong.

The idea behind all this was for Chinese regulators to remind entrepreneurs who is in charge while purportedly protecting both China's middle class and children. Along those lines, China implemented policies that banned cryptocurrency mining and limited how long children can play video games during the week.
Organized labor in tech is rare — only a handful of venture capital-backed firms have unions — but 2021 saw more employees fight for the right to unionize. Amazon warehouse workers in Bessemer, Ala. were the most notable, capturing the attention of progressive lawmakers such as Senator Bernie Sanders. Though that effort initially failed, another vote was ordered after a federal labor official ruled Amazon had improperly pressured workers.

Still waiting in the wings: A union drive at another Amazon U.S. warehouse, along with similar efforts at Activision-Blizzard, Google, HelloFresh and others.
Jeff Bezos ran Amazon for nearly 30 years but passed the torch to his lieutenant Andy Jassy in July so he could focus his energy on space travel and fighting climate change. Take a closer look at the next chapter for one of the world's richest billionaires, plus what's next for the company that's become an important part of the internet's infrastructure.

You can view the entire yearly roundup collection in our 2021 Year in Tech Review Magazine on Flipboard. Interested in seeing more recaps of what happened outside of tech? Check out our overall Year in Review collection.

— Ken Yeung, Flipboard's senior editor, technology and science, is curating the "Year in Tech Review"