The Daily Edition Top 10 (Week of June 15, 2015)
Gabriella Schwarz / June 19, 2015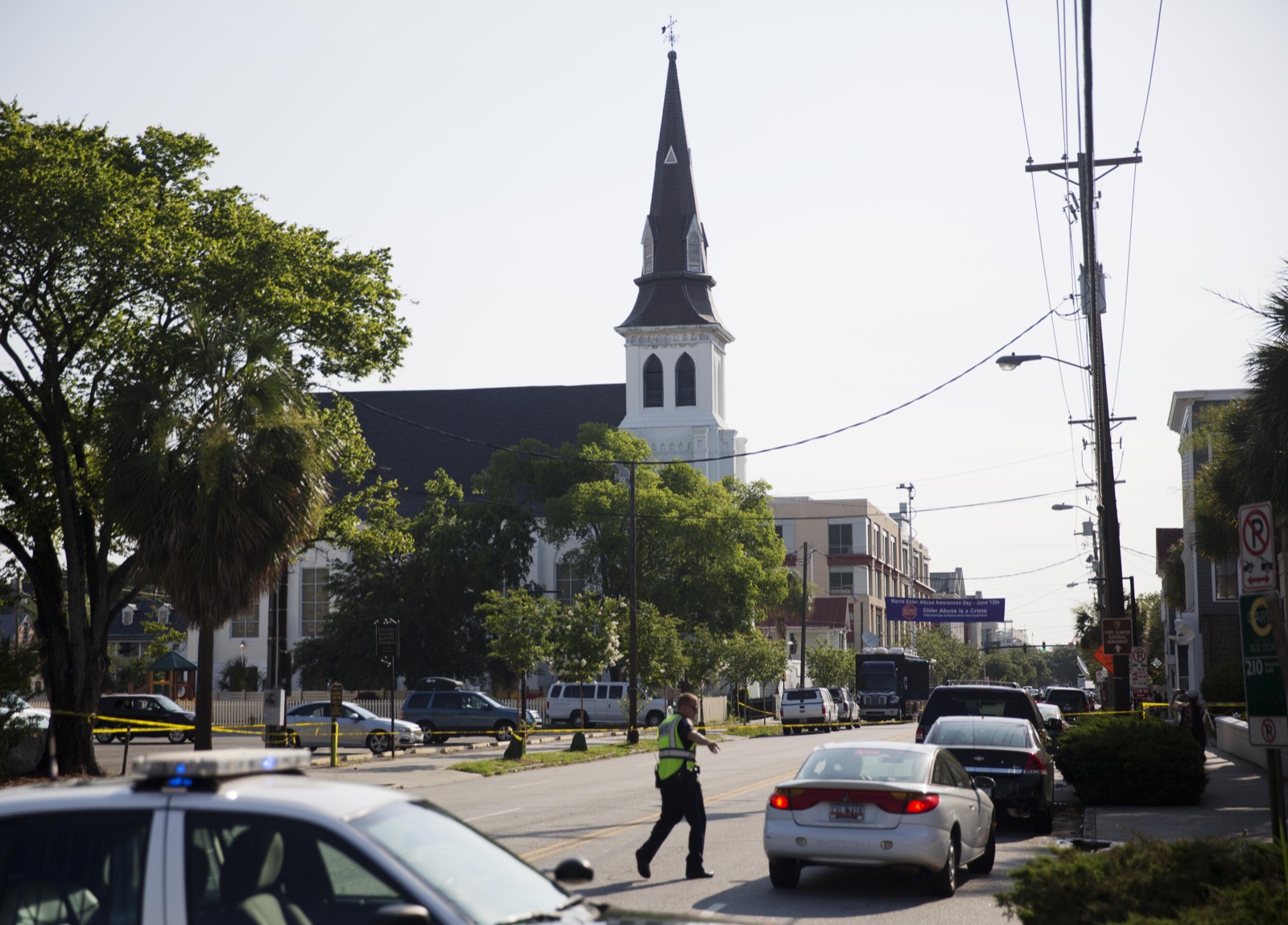 Nine lives were lost this week during a shooting at Emanuel African Methodist Episcopal Church in Charleston, South Carolina. The most important story in The Daily Edition this week is the first on this list – the one that pays tribute to the those who were taken.
1. Charleston victims: 9 lives lost to family and community – CNN, Don Melvin, Steve Almasy and Greg Botelho
Top line: "They gathered at the Emanuel African Methodist Episcopal Church to study the Bible — a small group, 13 people. Many were familiar faces. One was a stranger. But it was unfathomable that this stranger was a killer lying in wait, a man who would kill nine churchgoers and church leaders in cold blood. Police say Dylann Roof went to the church in Charleston, South Carolina, two hours from his home, and shot dead the pastor, other ministers and people who had come Wednesday to learn more about the Word of God.
Topics to follow: Charleston Shooting
2. Black like her: Is racial identity a state of mind? – The Washington Post, Amy Ellis Nutt
Top line: "Given that our brains are continually being re-shaped by experience,it should come as no surprise that cultural habits and behaviors can shape brain pathways. In a number of experiments researchers have found that in people who believe that individuals are judged by God, the part of the brain associated with self-judgment decreases in activity while the part associated with taking someone else's point of view, increases in activity…No one knows at this point why Dolezal needed to say she was black, but certainly her early experiences with African-American siblings may have led to a closer identification with them than her white parents."
Topics to follow: Race & Ethnicity, Identity
3. New York prison escape puts staff-inmate relationships in the spotlight – CNN, Jethro Mullen and Dan Simon
Top line: "Hundreds of consensual sexual relationships between guards and inmates are documented each year in U.S. prisons, according to the Bureau of Justice Statistics. More than half of all substantiated incidents of staff sexual misconduct in U.S. prisons and jails were committed by female members of staff, according to a study by the bureau released last year."
Topics to follow: Prison Breaks, Prison Reform
4. Golden State Warriors Win NBA Finals: By the Numbers – CBS Sports, Matt Moore
Top line: "641 3-pointers: The Warriors set an NBA record for most 3-point attempts in the playoffs, the most made 3-pointers in the playoffs, and the most makes and attempts in the Finals. Nothing proves that the league has changed more than this. The 3-pointer is not a gimmick. It is not a trick. It is not something you die by, it is something you live by and something you die without. The Warriors shot 3's and shot a ton of them, and made a huge amount of them and there was nothing anyone could do to stop them."
Topics to follow: NBA Playoffs, Golden State Warriors
5. The Pope's Moral Case for Taking On Climate Change – The Atlantic, Emma Green
Top line: "Though Church leaders have long spoken up for the environment, Francis has made environmental issues a priority of his papacy. This is the first encyclical that is fully his, and the Catholic Church's first-ever dedicated entirely to this topic. The pope is offering the world a moral vocabulary for talking about climate change, shifting global attention from the macro solutions of policy summits to the personal ethics of environmental stewardship. In the book of Luke, Jesus looks at the birds and says, 'Not one of them is forgotten before God.' In writing Laudato Si, Francis has taken this parable and turned it back on humankind: Policymakers and scientists may try to stop the warming of the earth, but ultimately, we are each responsible for the destruction of creation."
Topics to follow: Pope Francis, Climate Change
6. Woman's face will be added to $10 bill in 2020, Treasury says – Chicago Tribune, Tiffany Hsu
Top line: "One lucky lady — yet to be chosen — will become the first woman in more than a century to join an esteemed coterie of dead presidents and statesmen featured on American paper currency, Treasury Secretary Jacob J. Lew said. The new note will be issued in 2020 during the 100th anniversary of the passage of the 19th amendment, which gave women the right to vote."
Topics to follow: U.S. Treasury, Women Leaders
7. Jeb Bush Seeks a Bigger Tent a Campaign Launch – Time, Philip Elliott
Top line: "'I will campaign as I would serve, going everywhere, speaking to everyone, keeping my word, facing the issues without flinching and staying true to what I believe,' Bush said at a kickoff event that was stage-managed with a finesse typically reserved for incumbent Presidents. It perhaps came naturally to a candidate who is the son of one President and brother to another.
'I will take nothing and no one for granted,; Bush continued, anticipating questions over whether the country needs a third Bush as President. 'I will run with heart. I will run to win.'"
Topics to follow: Jeb Bush, 2016 U.S. Presidential Election
8. Philae and the Rosetta mission: everything you need to know about the quest to catch a comet – The Telegraph, Sarah Knapton
Top line: "When it reached the crucial speed in July 2011 the spacecraft was put into deep-space hibernation for the coldest, most distant leg of the journey as it travelled some 497 million miles from the Sun, close to the orbit of Jupiter as the comet headed into outer Solar System…In January 2014 the spacecraft was woken up by an internal alarm clock when it was within 214 million miles of the Sun. It finally reached the comet on August 6 2014. The lander Philae was set down on November 12 2014."
Topics to follow: Comets, Space
9. Pentagon's YouTube war with Russia – Politico, Philip Ewing
Top line: "Defense officials have concluded it's no longer enough to lodge formal complaints when Russian bombers probe U.S. air defenses off Alaska, fighters barrel-roll around American reconnaissance aircraft over Eastern Europe, or attack jets buzz American warships at sea — especially since Russia's state-funded media commonly claims the moves are justified. So in recent weeks the U.S. military, which tends to be judicious about releasing video of military operations in the air or at sea, has taken to social media in an effort to shape international public opinion."
Topics to follow: US Department of Defense, Russia
10. The strange expertise of burglars – BBC, David Robson
Top line: "'In the past, people thought of offenders as impulsive, indiscriminate, opportunistic – they didn't think they were very clever because they usually aren't well educated,' she [Claire Nee, a forensic psychologist at the University of Portsmouth] says. And that has been a mistake. Nee has found that burglars have a complex cognitive toolbox of advanced, automatic skills – much like a chess player or tennis star. If we are to prevent future crimes, we've got to appreciate that expertise."
Topics to follow: Burglary, Psychology
Check out The Daily Edition throughout the week for your news updates.
~GabyS is curating "The Finest Opinions"
FOLLOW US ON:
FLIPBOARD / TWITTER / INSTAGRAM / FACEBOOK / GOOGLE+ / TUMBLR / YOUTUBE / SOUNDCLOUD / PINTEREST / MEDIUM