The Power of Flipboard in Your Pocket
Inside Flipboard / December 7, 2011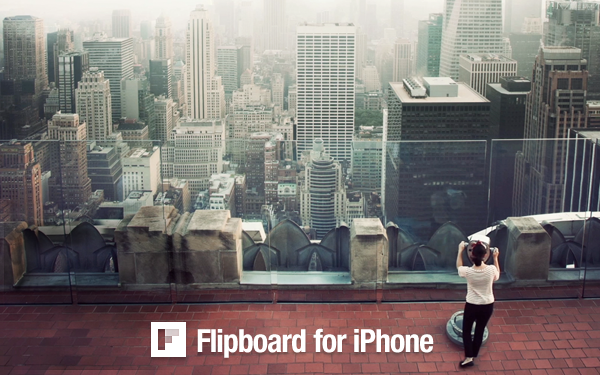 UPDATE (4:45PM PT): We're starting to slowly open back up to new users, who should now be able to set up their Flipboard on iPhone. Once you've downloaded Flipboard from the iTunes App Store, select "Get Started," choose topics of interest, hit "Done" and create your Flipboard. Select the red ribbon and tap Accounts to create your own Flipboard Account.
Existing users who already have a Flipboard Account on their iPad can launch Flipboard for iPhone and sign in to get all their favorite Flipboard content.
UPDATE (12:30PM PT): As a quick update from this morning, all existing Flipboard iPad users are able to enjoy Flipboard and anyone who has created a Flipboard Account on their iPad can launch Flipboard for iPhone and sign in to get all their favorite Flipboard content. For brand new Flipboard for iPhone users, we are still seeing server load issues that cause an error message when people try to set up. We are working on the server balancing and expect to have another update soon. Thank you for your patience.
UPDATE (11AM PT): Existing Flipboard users for iPhone and iPad should still be able to enjoy their Flipboard. For new users trying for the first time to set up their Flipboard on iPhone, there is a server load issue that we are working on right now. Please try again later today. Sorry again for the inconvenience.
UPDATE (9AM PT): Due to high demand, Flipboard is experiencing service issues. We are currently working as quickly as possible to resolve the situation. We have turned off account creation for now to restore the service and ensure existing users have a great experience. Please follow us on Twitter @Flipboard for updates as the day progresses. We apologize deeply for this inconvenience and thank you for your patience.
+++
The moment so many Flipboard readers have asked for is here: Now you can get Flipboard for iPhone. It's got everything you know and love about Flipboard, but now designed especially for the way you use your iPhone.
With Flipboard for iPhone we're introducing Cover Stories — one place to quickly catch up on some of the most interesting news, updates and photos being shared with you right now. The more you interact with your friends and the stories being shared, the smarter Cover Stories gets. You can refine what appears here by adding content to your Flipboard, muting anyone you'd rather not hear from, and connecting to your social networks. Cover Stories will be coming to your iPad in the near future.
If you'd like to bring everything you have on your Flipboard to your iPhone, create a Flipboard Account on your iPad, download Flipboard to your iPhone, and then sign in. Creating a Flipboard Account also gives you access to All Timelines, a single section containing all the articles and photos being shared across all your social networks.
Finally, Flipboard for iPhone is fast. Scan through pages as quickly as you can with just a flick of a thumb. If you find something interesting, just tap to slide it open.
We can't wait to hear what you think. Please tweet feedback to @flipboard, and have a very happy holidays.
~The Flipboard Team
facebook.com/flipboard
@flipboard