The Week in Review: Aung San Suu Kyi's Party Victory Ushers in New Era in Myanmar
Gabriella Schwarz / November 13, 2015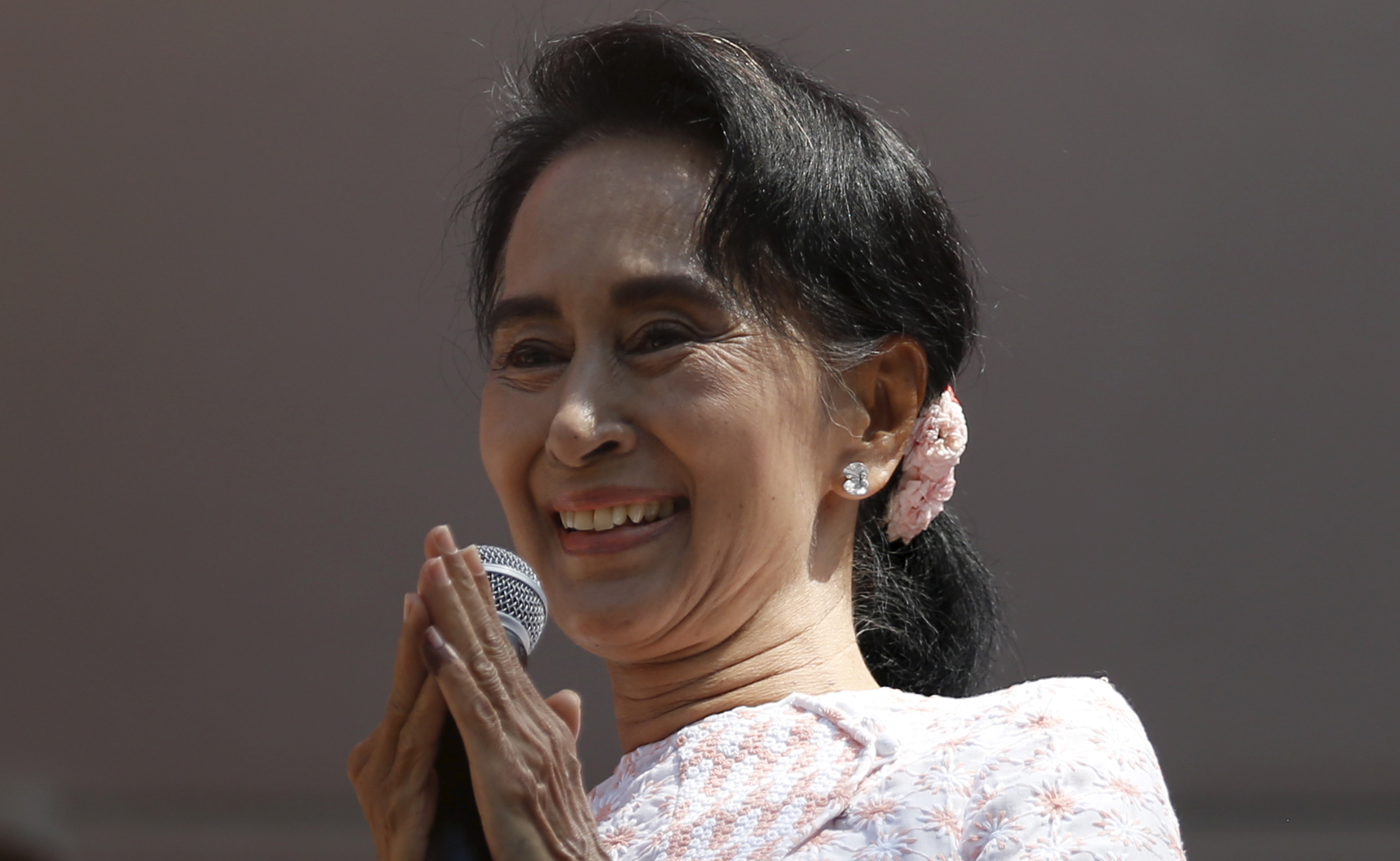 Aung San Suu Kyi's National League for Democracy party won more than two thirds of the parliamentary seats in Myanmar's historic election this week, 26 years after Suu Kyi was first placed under house arrest. Although she is not constitutionally allowed to serve as president (because her sons were born in a different country), the democratic icon insisted she will lead her country. Her expected ascent is seen as an important step in the difficult history of Myanmar and an inspiring story of personal strength.
Suu Kyi, the 70-year-old daughter of independence hero Gen. Aung San, spent 15 years under house arrest between 1989 and 2010. In 2012, she won a parliamentary seat by election, as the country adopted more democratic reforms, including freeing political prisoners, allowing peaceful demonstrations, removing names from its blacklist and allowing privately owned newspapers in the country. The United States and other countries responded by lifting sanctions and in 2012 President Barack Obama became the first U.S. president to visit Myanmar, also known as Burma.
During his visit, Obama, speaking to university students, said Myanmar should strive for true democracy, including "freedom of speech, freedom of worship, freedom from want and freedom from fear."
"I stand here with confidence that something is happening in this country that cannot be reversed, and the will of the people can lift up this nation and set a great example for the world," he said at the University of Yangon.
And on Thursday, Obama called Suu Kyi to congratulate her on her party's impending victory, which was "an important step forward in Burma's democratic transition."
As Myanmar navigates the tricky politics and road ahead, particularly as it pertains to relations with China, dig deeper on Asian politics, human rights and leadership with Flipboard Magazines.
Confusion in South-East Asia by Ryo Uchinomiya: News about the latest election in Myanmar and changing dynamics in Southeast Asia.
Human Rights by Cory Zacharia: The fight for human rights across the globe, from Myanmar to Mexico.
Leadership by Brendan Ho: Learn more about the leadership needed in Myanmar now and other leadership qualities exhibited across the world.
Inspiring Women by Nazneen Rahman: Read more about female leaders, innovators and humanitarians. And see what Rahman is reading.
Breaking Asia by JMarni: News and lifestyle stories from China, Korea, Japan, Vietnam and other Asian countries.
The Rise of China and Tension in Asia by The Wall Street Journal: A collection of stoires about the broader political and economic issues in Asia.
~GabyS is reading Women Who Tech
GET FLIPBOARD ON:
iOS / ANDROID / WINDOWS / WEB
FOLLOW US ON:
FLIPBOARD / TWITTER / INSTAGRAM / FACEBOOK / GOOGLE+ / TUMBLR / YOUTUBE / SOUNDCLOUD / PINTEREST / MEDIUM