Vote 2018: Consequential Curation for a Consequential Election
Gabriella Schwarz / October 2, 2018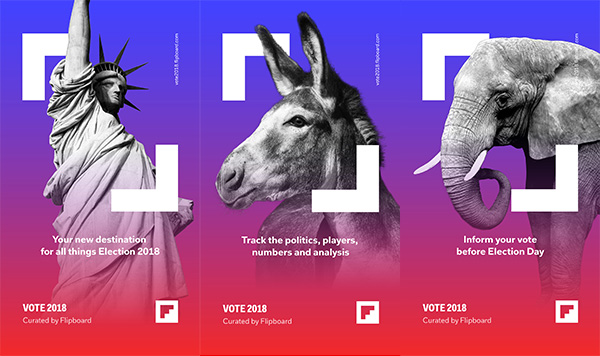 Midterm elections are a reaction to the current occupant of the White House, influenced greatly by current events and predictive of the political tide. It's usually the president's party that takes a hit, setting the stage for future fights in Congress and laying the battle lines for the next presidential election.
Making informed choices on Election Day requires trusted sources and trusted curation to prepare. Flipboard's new Vote 2018 package takes that responsibility seriously. It's a carefully crafted destination that breaks down the politics, the candidates, and the numbers, with analysis on both sides of the aisle and expertise from leading political publications, including The New York Times, The Washington Post, and Axios.
The stakes are high for this year's election. Both chambers of Congress are in play, which only increases the stakes for both parties and the broader electorate. More than 30 Senate races and all 435 House seats are up for election. Democrats only need to flip 24 seats in the House and two in the Senate to take control of both chambers.
Will Democrats, riding a wave of anti-Trump sentiments, retake the majority? Or will Republicans, capitalizing on the GOP agenda, stave them off? Will 2018 really prove to be the "year of the woman"? Will people of color make history assuming office in states throughout the country? Will Kavanaugh's nomination swing Election Day votes or impact turnout on either or both sides of the aisle?
Follow Vote 2018 for updates throughout the cycle and to receive our weekly email, with guest curation from leading experts.
— Gabriella is curating Vote 2018, The Daily Edition and more