Year in Review: Biggest Stories of 2015
Gabriella Schwarz / December 15, 2015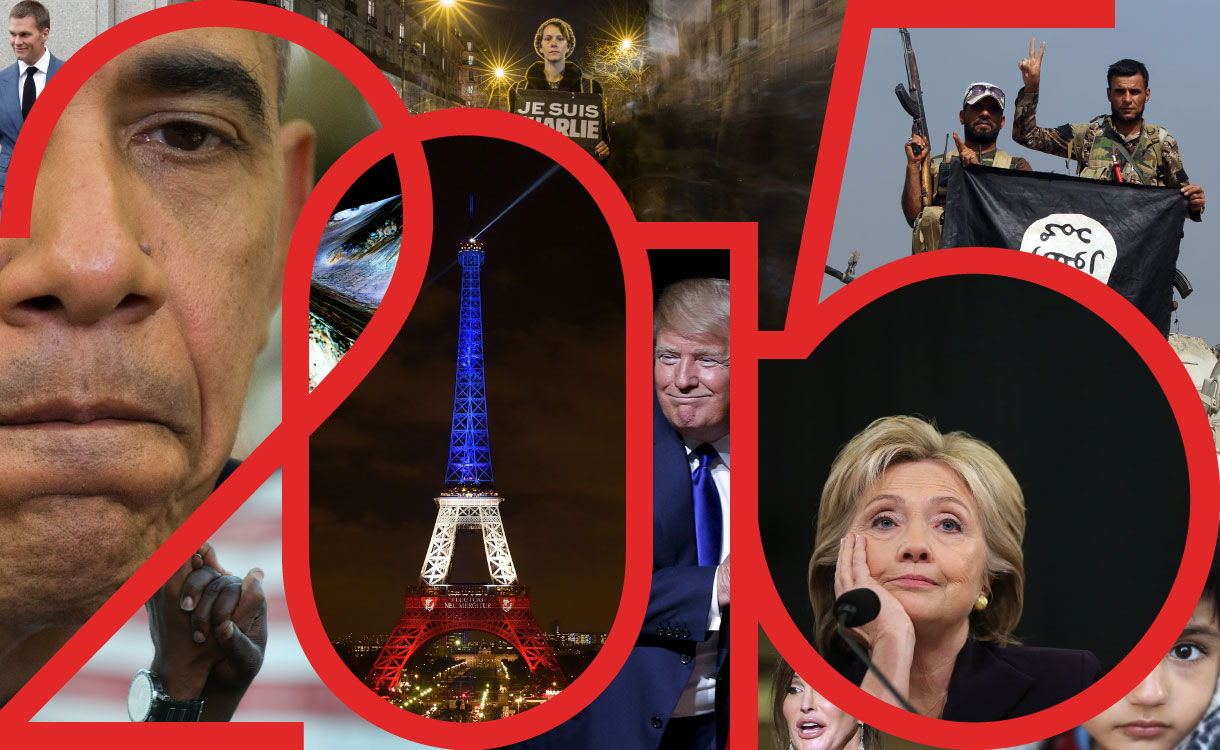 As 2015 sees its last days, it's time to look back at the news that defined the year. There is so much to cover, but at a high level these issues and events stand out: Terrorism struck communities and individuals across the globe, from Paris and Nigeria to San Bernardino, California. Race relations came to the fore through the #BlackLivesMatter movement, sparked by protests in Charleston, Minneapolis, Baltimore and others. Gun violence plagued U.S. cities and a migration crisis crept to the borders in Europe and North America. Hacks hit businesses and government agencies, scandal surrounded FIFA, and the confederate flag came down in South Carolina. Mt. McKinley became Denali. Cuba and the U.S. reestablished diplomatic relations; Bill Cosby's accusers spoke out; and "El Chapo" escaped, as did two prisoners from a New York prison.
In more positive news, world powers came to an agreement on climate change, the presence of water was found on Mars and a new species of human was discovered in South Africa. The U.S. women's national soccer team won the 2015 FIFA Women's World Cup. Mayweather vs. Pacquiao became the most watched fight. Caitlyn Jenner ushered in renewed attention around transgender rights.
Real estate mogul Donald Trump and political veteran and former Secretary of State Hillary Clinton dominated 2016 election polling and news from the trail, giving us a window into the political year ahead when we'll choose a new commander in chief.
Remember the year in conflict and tragedy, business and tech, scandal and controversy, unions, politics, sports, big ideas, gaming, TV, music, film, books & culture, break-ups and goodbyes in our 2015: Year in Review magazine.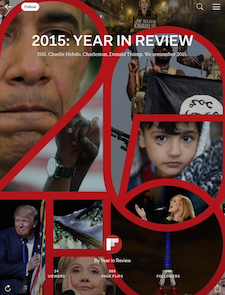 Also, explore the biggest stories of the year in other countries through magazines for the U.K., India, Brazil, Latin America, Spain, Japan, Korea and Turkey.
~GabyS is reading The Daily Edition
GET FLIPBOARD ON:
iOS / ANDROID / WINDOWS / WEB
FOLLOW US ON:
FLIPBOARD / TWITTER / INSTAGRAM / FACEBOOK / GOOGLE+ / TUMBLR / YOUTUBE / SOUNDCLOUD / PINTEREST / MEDIUM