Year in Review: The Biggest Stories of 2016
Gabriella Schwarz / December 6, 2016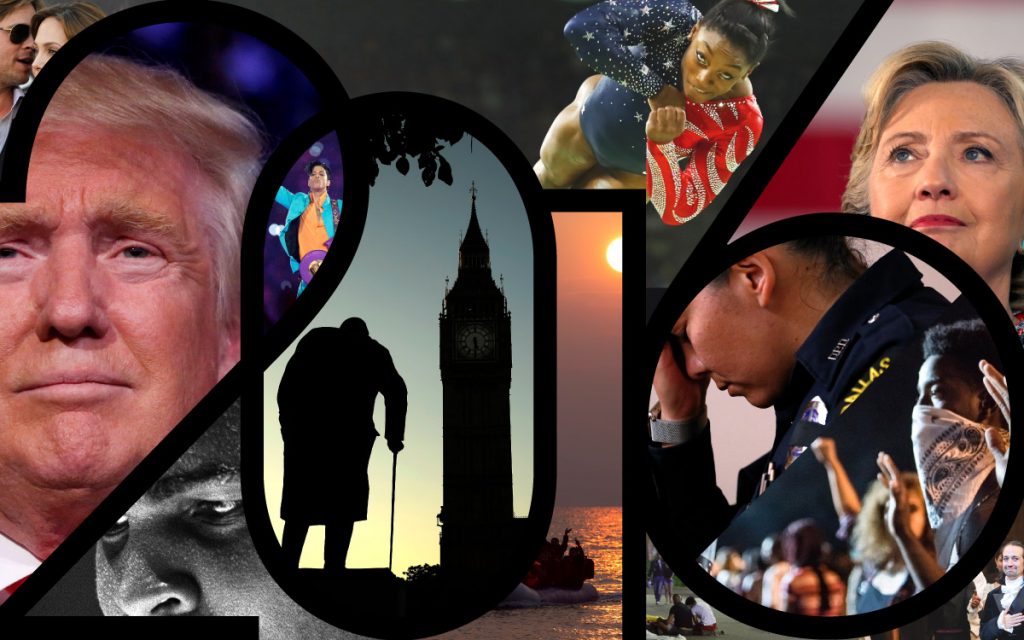 As 2016 comes to an end, it's time to look back at the stories and news that defined the past year. There is much to cover, but at a high level these are the issues and events that stand out to us: Donald Trump became President-elect after a hard fought and vitriolic campaign that ended with his defeat of Hillary Clinton, the first woman at the top of a national ticket. The November election also resulted in Republicans keeping control of both houses of Congress. President Barack Obama made a historic trip to Cuba, the first by a U.S. president since 1928. The UK voted to leave the European Union, in support of Brexit, sending ripples across the world.
A shooting at the Pulse nightclub in Orlando was the deadliest mass shooting in U.S. history, leaving 50 dead. Eight hundred and eighty four people to date were shot by police in 2016. A sniper attack in Dallas took the lives of five police officers. Terror attacks in Brussels, Nice, Ankara and other cities raised concern throughout the world. The conflict in Syria continued, resulting in a refugee crisis of thousands. A water crisis in Flint, Michigan, plagued the city's residents.
Team USA won 121 medals during the Summer Games, the most of any country, led by the standout performances of the "Final Five" women's gymnastics team and swimming sensation Michael Phelps. Olympian Ryan Lochte was forced to apologize after he fabricated a robbery story in Rio.
Samsung recalled its Galaxy Note 7 after fires were reported. Microsoft acquired LinkedIn for $26.2 billion, and AT&T merged with Time Warner. Scandal surrounded Mylan Pharmaceuticals, the maker of the EpiPen, and Theranos, a consumer healthcare technology company. Self-driving cars became a reality, astronaut Scott Kelly spent 340 days in space, and Solar Impulse completed a historic trip around the world.
Beyoncé's Lemonade album took the music world by force, while Drake became the most streamed artist of the year. Pokémon GO broke Apple download records and sent people chasing characters in all corners of the world. "Stranger Things," "Making a Murderer," "This Is Us," "The People vs. O.J. Simpson," "Gilmore Girls," "The Walking Dead" and "Westworld" were among the TV shows that received the most attention. Broadway musical Hamilton became a sensation, and the separation of Angelina Jolie and Brad Pitt was greeted with surprise and continuous flashbacks to "the way they were."
We bid farewell to Muhammad Ali, Fidel Castro, Prince, David Bowie, Antonin Scalia, Shimon Peres, Alan Rickman, Janet Reno, Garry Shandling, Gene Wilder, Harper Lee, Arnold Palmer, Nancy Reagan and too many others.
Remember 2016 in full in our Year in Review magazine that includes the year in politics, conflict and tragedy, business and tech, scandal and controversy, sports, big ideas, gaming, TV, music, film, books and culture, break-ups and goodbyes.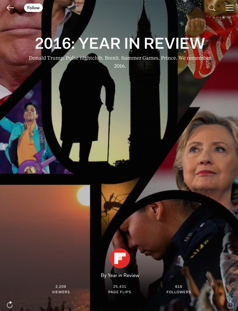 Also, explore the biggest stories of the year in other countries through magazines made for Brazil, Germany, India, Italy, Korea, Latin America, Russia, Spain, Turkey and the UK.
And when you're done with all of that, use our 2017: The Year Ahead magazine to guide you through what's to come.
~GabyS is curating The Daily Edition