Year in Review: The Biggest Stories of 2017
Gabriella Schwarz / December 6, 2017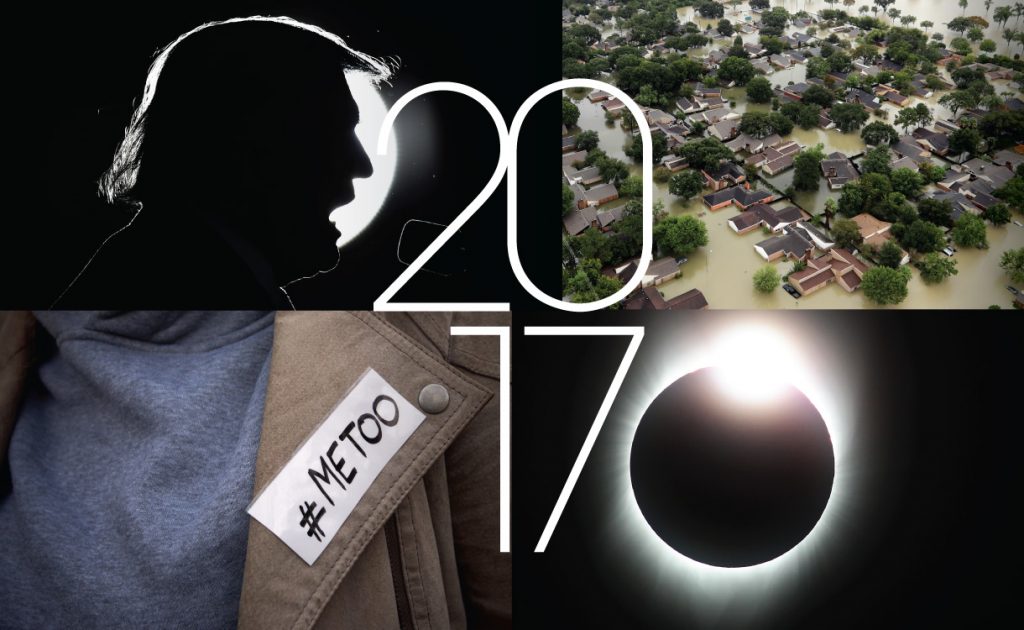 As 2017 comes to an end, it's time to look back at the stories and news that defined the past year. There is much to cover, but at a high level these are the issues and events that stand out to us:
• The first year of Donald Trump's presidency was marked by high tensions as the country and world reacted to a new man in the Oval Office. Trump's proposed travel ban spent months being litigated in court, a push to repeal Obamacare failed, Republicans rallied around a tax bill, Neil Gorsuch was sworn in as the newest Supreme Court justice, the U.S. exited the Paris climate accord, and a court blocked Trump's transgender military ban. Those policy ups and downs were at times overshadowed by the turmoil in the White House that included the departure of 12 high-level staffers during his first six months in office and an ongoing investigation into Russia's involvement in the 2016 presidential election that resulted most recently in former Trump national security adviser Michael Flynn pleading guilty to lying to the FBI.
• Terror at home and abroad: The October shooting into a Las Vegas music festival was the deadliest mass shooting by an individual in the United States—58 people died and 546 more were injured. The small town of Sutherland Springs, Texas, was rocked when 25 were killed in a church shooting. Eight lost their lives when a truck driver drove his vehicle into a crowd in lower Manhattan. Terror attacks were also carried out in Manchester, Barcelona and other cities across the globe.
• Accusations of sexual harassment hit leaders in nearly every industry, most notably Harvey Weinstein, Matt Lauer, Charlie Rose, Louis C.K., James Levine, Roy Moore, John Conyers, Al Franken and so many others. #MeToo became a symbol for the scores of women (and men) who came forward to tell their stories of mistreatment, harassment, abuse and rape.
• High-profile protests by NFL players, against racial inequality, and a debate over Confederate monuments took place in many of the cities where the controversial statues stood.
• In tech and business, Amazon continued its domination, which included acquiring Whole Foods. Snapchat went public, and Travis Kalanick resigned from Uber amid allegations of sexual harassment and discrimination. CVS announced plans to buy Aetna in a massive deal that could transform healthcare, and the AT&T-Time Warner merger was intensely debated.
• Natural disasters plagued communities across the world. In the U.S., it was Hurricane Harvey, Hurricane Irma and the wildfires in Northern California that caused some of the most devastation to Americans..
• In the world of sports, the Astros achieved World Series glory, Tom Brady led the Patriots to a historic comeback win in Super Bowl LI, and the Golden State Warriors captured the NBA title.
• Medical advancement and scientific discoveries resulted in: gene editing in human embryos, the first gene therapies for leukemia, and the first double-hand transplant. The rare total solar eclipse also captivated the world.
• In entertainment, Game of Thrones, Will & Grace, The Handmaid's Tale and Insecure made waves on the small screen, while La La Land, Wonder Woman, Lady Bird, Beauty and the Beast and Guardians of the Galaxy Vol. 2 did the same on the big screen. Taylor Swift returned with Reputation, Cardi B upended Swift on the charts, and Jay-Z's 4:44 sparked a larger cultural conversation. Books by Joe Biden, Hillary Clinton, Roxane Gay and Kazuo Ishiguro were widely acclaimed, while a 500-year-old painting believed to be by Leonardo da Vinci sold for a record $450m. The illusive Banksy decorated more public spaces and Yayoi Kusama's polka dots were mesmerizing.
• And finally, this year we bid farewell to Hugh Hefner, Roger Ailes, Jerry Lewis, Mary Tyler Moore, Fats Domino, Chuck Berry, Tom Petty, Bill Paxton, Sam Shepard and too many others.
Remember 2017 in full in our Year in Review magazine that includes the year in politics, conflict and tragedy, scandal and controversy, business and tech, natural disasters, sports, big ideas, TV, music, books and culture, film, gaming, celebrity weddings and break-ups and goodbyes.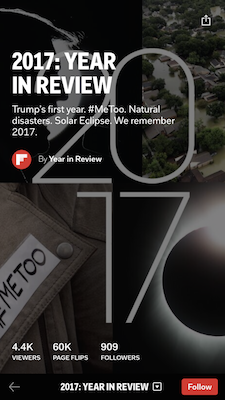 ~GabyS is reading TIME's Person of the Year