Year in Review: The Biggest Stories of 2018
Gabriella Schwarz / December 4, 2018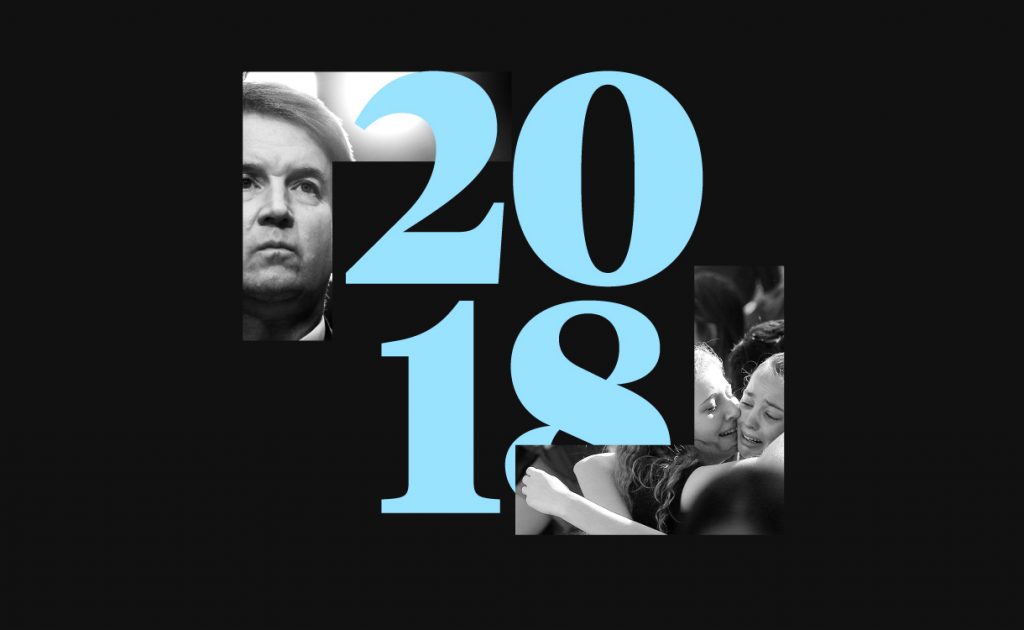 We, the editors at Flipboard, spent the last few weeks looking back on 2018. It was a year of storylines that rocked our beliefs, people and leaders that challenged us, innovations that amazed us, moments that changed the face of popular culture, beautiful acts of courage, and great loss.
Seventeen students and staff were killed when a gunman opened fire at Marjory Stoneman Douglas High School in February. The students of the Parkland, Florida, school rose up in opposition to gun violence in America, sparking a national debate and a flooding of the streets by thousands during the March for Our Lives.
That activism carried through to the 2018 midterm elections, which broke a myriad of diversity records, including: a record number of women to win House seats, the first Native American woman elected to Congress, the first Muslim woman elected to Congress, and the first openly gay man elected governor. While the 2018 election made news throughout the year, so too did the Russia investigation led by Special Counsel Robert Mueller. Indictments were sprinkled throughout the year as incremental news and consistent reaction from President Donald Trump ensured the spotlight remained on the inquiry.
In addition to the news made by Trump and his administration, a number of other figures remained front and center, such as Brett Kavanaugh for his nomination to the Supreme Court that was mired in accusations of sexual misconduct; Facebook CEO Mark Zuckerberg for a litany of developments pertaining to user data, "fake news," and business practices; and former USA Gymnastics national team Larry Nasser, who was convicted on child pornography, sexual assault of minors, and sexual assault charges.
Great steps forward were taken in science and innovation, proven by the discovery of water on Mars, the launch of NASA's Parker Solar Probe on a mission to "touch the sun," and a controversial effort to create the first children with altered DNA.
Popular culture made significant strides in terms of representation. Black Panther celebrated black culture on the big screen, Crazy Rich Asians signaled a major step forward for Asian representation in Hollywood, Kendrick Lamar became the first rapper to win a Pulitzer, and Robin Wright ceremoniously took control of the White House in "House of Cards," a role previously held by Kevin Spacey, who was removed following allegations of sexual abuse.
While there was much to celebrate throughout the year, we also said goodbye to political, artistic, business and literary giants. We lost former President George H.W. Bush, musician Aretha Franklin, former first lady Barbara Bush, former Sen. John McCain, scientist Stephen Hawking, designer Kate Spade, Microsoft co-founder Paul Allen, author Philip Roth and too many others.
As Flipboard's editorial team, we sit at the center of the world's best content, and it's our collective responsibility to keep a pulse on developments, shifts and trends worldwide. The results of that work is our 2018 Year in Review destination. You can explore the stories mentioned above and so many more in the 14 categories we've created to explain the biggest phenomena of the year:
1. 2018 in Politics
2. 2018 in Conflict & Tragedy
3. 2018 in Business & Tech
4. 2018 in Scandal & Controversy
5. 2018 in U.S. Foreign Policy
6. 2018 in Big Ideas
7. 2018 in Books & Culture
8. 2018 in Sports
9. 2018 in Global Trends
10. 2018 in Music
11. 2018 in Movies & TV
12. 2018 in Good News
13. 2018 in Celebrity Babies
14. 2018 in Goodbyes
Please enjoy the full package, carefully curated by the team at Flipboard. You can also dig deep on the year in review in tech here and some of the versions created around the world, including in Spain, Germany, the UK, Korea, and Italy.
—Gabriella Schwarz is preparing for the holiday season with Holiday 2018