Your New Flipboard: Instagram. Social Search. Speed.
Inside Flipboard / March 9, 2011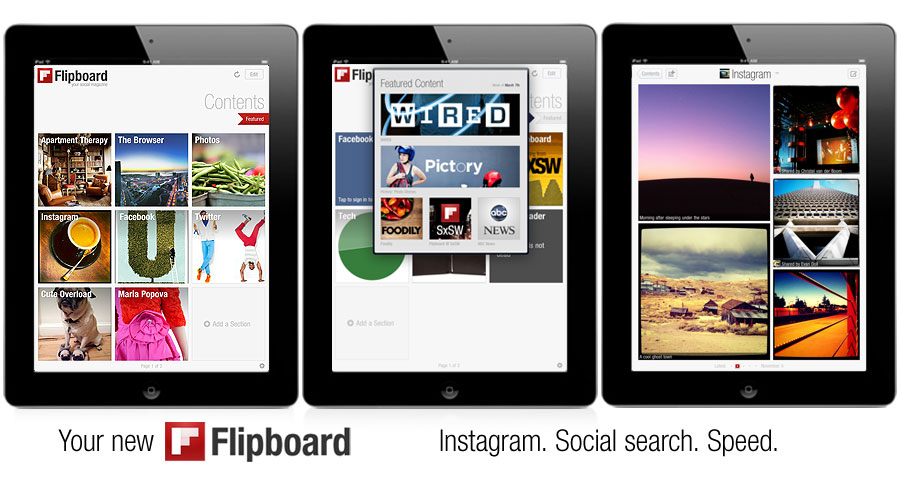 We just released a new edition of Flipboard!
We're now bringing you social search to find great content across social networks. We have added support for the wildly popular photo sharing social network Instagram. The newest edition of Flipboard is also twice as fast and has been refined for an even more beautiful, cleaner look. We think you will love it.
"We're thrilled that Flipboard has chosen to integrate with Instagram using our new API." says Kevin Systrom of Instagram. "It's becoming increasingly apparent that Flipboard is on the cutting edge of consuming social information on touch devices. It's only natural, then, that Instagram's first fully functional presence on the iPad be within Flipboard. The fact that you can now follow, like, and comment on your friends' photos directly from your iPad makes Instagram more ubiquitous and Flipboard that much more addictive."
Search across social networks
We made it easier to find stuff by being the first to offer search across social networks. Just type any word into the search box. For instance, a search for "Egypt" will deliver photos on Flickr and Instagram, Facebook Pages and Groups, and tweets that mention Egypt. You can also search for hashtags and use Flipboard to follow conversations on Twitter.
More of everything in one place, including Instagram
You can now add your favorite new social network for photos Instagram to Flipboard. Instagram makes it easy to create and see beautiful photos from people around the world, which makes it perfect for viewing in Flipboard.
Twice as fast with a cleaner, more beautiful layout
Flipboard now loads two times faster with a cleaner layout. The table of contents now has the much anticipated refresh button and a general settings button, which puts more control in your hands. The contents page also includes a shortcut to featured content our team recommends, making finding great content even easier.
Please let us know what you think of the latest edition of Flipboard.
You can send us feedback and suggestions via twitter @flipboard and on our Facebook Page. If you have any technical issues, please contact us via Flipboard Support or support@flipboard.com. We can't wait to hear your reaction and to begin collecting suggestions for the next round of development. We hope you love this update as much as we do.
If you don't see the update right away, it will take a few hours to roll out through the App Store, please be patient.
~ JonV
community@flipboard.com
facebook.com/flipboard
@flipboardCM