Flipboard Rolls Out Storyboards in France, Germany, Italy, Spain and U.K.
Curator Pro Access Expands to European Publishers and Content Creators
July 1, 2021 — Starting today, publishers, bloggers and influencers in Europe can create Flipboard Storyboards, unique packages of articles, images and videos curated to tell a story and provide perspective. Storyboards are designed to feature a series of stories, both old and new, that shed light on a particular issue or event. After a beta period in Europe and initial success of Storyboards in the United States, Flipboard will start inviting publisher partners in Germany, France, Italy, Spain and the United Kingdom.
Now, the desktop view of enabled accounts displays a new module titled "Create Storyboard," which gives access to Curator Pro, the tool that builds Storyboards. This web-based tool also includes an analytics dashboard that provides insights into the number of views for each Storyboard as well as for individual stories contained in them. The dashboard also shows audience demographics and social engagement, such as likes, comments and "flips", providing self-service insights for publishers and influencers interested in understanding their audience on the platform.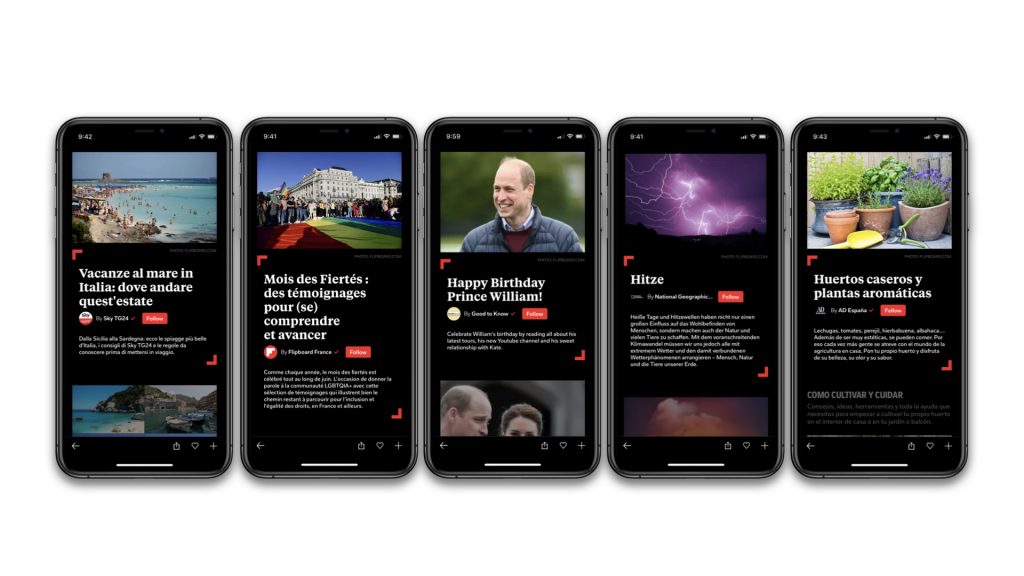 Since the launch of Storyboards in the United States, publications are seeing this form of curation help attract new followers on Flipboard while others are having success using them to drive traffic to their site. Enthusiast publications like Points and Travel and The Collector have been able to use evergreen content to grow their audience. 
Unlike Flipboard Magazines, which are curated on an ongoing basis and create an infinite feed of stories, Storyboards are finite. Their brevity makes Storyboards suitable for roundups, digests, and lists of stories, videos, songs, podcasts, products and literally anything else that is available on the Internet. Additionally, Storyboards have a publication moment on Flipboard and are designed to be shared. They allow curators to structure the content and use curation as a form of storytelling.
The Curator Pro tool guides curators through a step-by-step process, which includes entering a headline, description, main image and URLs to include in the Storyboard. The URLs included in Storyboards can be links to articles, videos, livestreams, products, photos, Flipboard magazines, social posts as well as newsletter sign-up pages and anything with a URL. These items can be organized into "sections" that can each contain up to nine stories. Before publishing a Storyboard, the curator can choose up to five topics that are relevant to the content in the Storyboard, which will improve its discoverability in Flipboard.
Once a Storyboard is published, the creator is given an option to share the entire package through Flipboard Magazines, Twitter, LinkedIn, Facebook and email; there is an embeddable widget that is available on Flipboard's tools page. Storyboards will be displayed to people who follow related topics, as well as the user's Flipboard followers, who can also easily share the Storyboard. This unique curated package of stories is an asset that can live on and off Flipboard and is giving publishers a way to grow their audience in new and innovative ways.
About Flipboard
Flipboard is an award-winning curation platform, where people go to understand our time and share the stories that are worth our time. On Flipboard quality articles, videos, podcasts and products are curated every day for millions of people around the world. It is a platform that lets people spend time on their interests, develop deeper understanding and share the best ideas with others by collecting them into their own Flipboard Magazines and Storyboards. Download Flipboard for free in any app store or visit flipboard.com.
###