Flipboard Releases World's First Smart Magazines
New Machine Learning Architecture Blended with Editorial and Influencer Input Organizes Stories Around a Person's Passions
Today Flipboard is rolling out its fourth generation experience for mobile phones with its most sophisticated machine learning architecture, expanded editorial features and a modern magazine look and feel that packages stories around people's passions into Smart Magazines. Pulling from the thousands of topics as well as the sources a person follows on Flipboard, Smart Magazines are automatically filled with content relevant to a person's specific interests. Unlike having a single news feed that mashes everything together, the new Smart Magazine structure creates a separate feed for each passion.
"The new Flipboard is all about helping people discover great stories curated by people who share a passion, including editors, influencers and fellow enthusiasts," said Mike McCue, Flipboard's CEO. "Smart Magazines represent a major breakthrough in how content can be personalized, curated and organized by passion, enabling us to take a new and important step toward our vision of modernizing the magazine experience for a mobile, social world."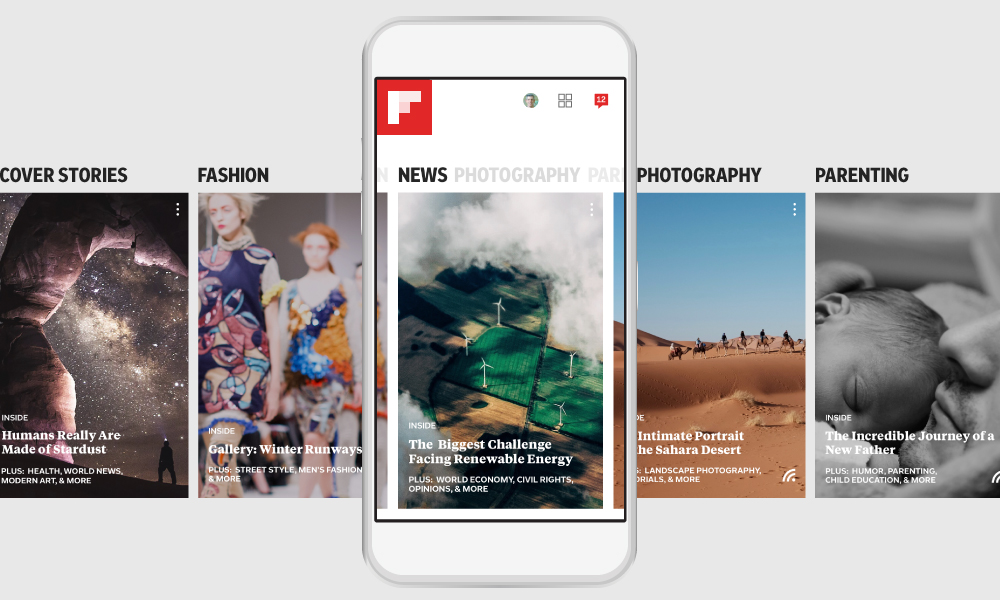 Prior to this release, different people reading the same topics on Flipboard, like technology or cooking, would get the same general content. Smart Magazines also allow people to deeply personalize Flipboard, making it more meaningful to their work, life or hobbies. For example, it is now possible to select technology with a focus on venture capital, drones or cloud computing. Cooking can be refined to focus on vegan or Indian cuisine. Every person can have Smart Magazines tailored to his or her interests.
Smart Magazines are built on a completely reimagined information architecture. Flipboard's topic classifier has indexed millions of RSS feeds and billions of articles shared by the community of more than 100 million monthly active users to achieve diversity and depth in thousands of passions. Organizing articles by topic allows Smart Magazines to pull content from across the Flipboard ecosystem and surface stories according to a person's personalization preferences.
Additionally, thought leaders on Twitter have been picked by Flipboard's editorial team so that their tweets and stories shared on Twitter are included, adding important perspectives to each Smart Magazine. Tweets are topically indexed to ensure they appear in relevant Smart Magazines. This unique blending of curated sources, indexed content from the Flipboard community, custom editorial packages and topically organized tweets has never been done before.
Known for its magazine-influenced aesthetic, this release of Flipboard modernizes the layouts, streamlines the actions on the page and makes personalization just one swipe away, so it's easy to edit or add as a person's interests evolve. The core new features in Flipboard include:
For the iPhone and Android user there's a new "swipe through" Home carousel that can accommodate up to nine magazines for quick access to favorite Smart Magazines, user magazines or individual sources. After nine slots are filled, magazines will be saved under the Magazines tab on a users Profile.
Easier personalization has been one of the top requests from our community and so we designed a new Passion Picker as a single page where people can search or select a passion to add to their Flipboard. It is always available at the end of a user's Home carousel so people can add more to their Flipboard at any time.
A single place for stories on any passion, Smart Magazines pull together content from across Flipboard's ecosystem of topics, user curation, editorial features and Twitter experts to create a custom package of stories based on a persons area of interest.
A Custom Smart Magazine lets Flipboard users bundle specific sources into one magazine. Sources that can be added include RSS feeds, Flipboard user magazines, Flipboard Topics, and social sources such as Twitter handles or hashtags, YouTube feeds and Google+. Over the years this has been one of the most requested features.
Social Actions: Heart and Add
The two main actions on each story are now the Heart (like) and + (add). By tapping the Heart, readers signal to the network that it's a story others may like. These stories also show up under "Likes" in a user's profile. By tapping the +, readers can add the story to their own user magazine. These stories also show up under "Added" in a user's profile. Additionally, social sharing and feed fine-tuning are accessible in the new "Dot Menu" on each story.
Everything related to a person's account is now accessible in one place. In the -1 screen users can find everything they follow, their likes, magazines they've created and their followers. Here they can also edit their profile using the gear icon.
To learn more about the design, engineering and editorial packages that have gone into creating the new Flipboard, see all of today's news here. See the new video here.