Tech's 2021: The Web3 Era Begins, Apple's Antitrust Woes Worsen and the Private Fight over Space Travelhttps://about.flipboard.com/inside-flipboard/techs-2021-the-web3-era-begins-apples-antitrust-woes-worsen-and-the-private-fight-over-space-travel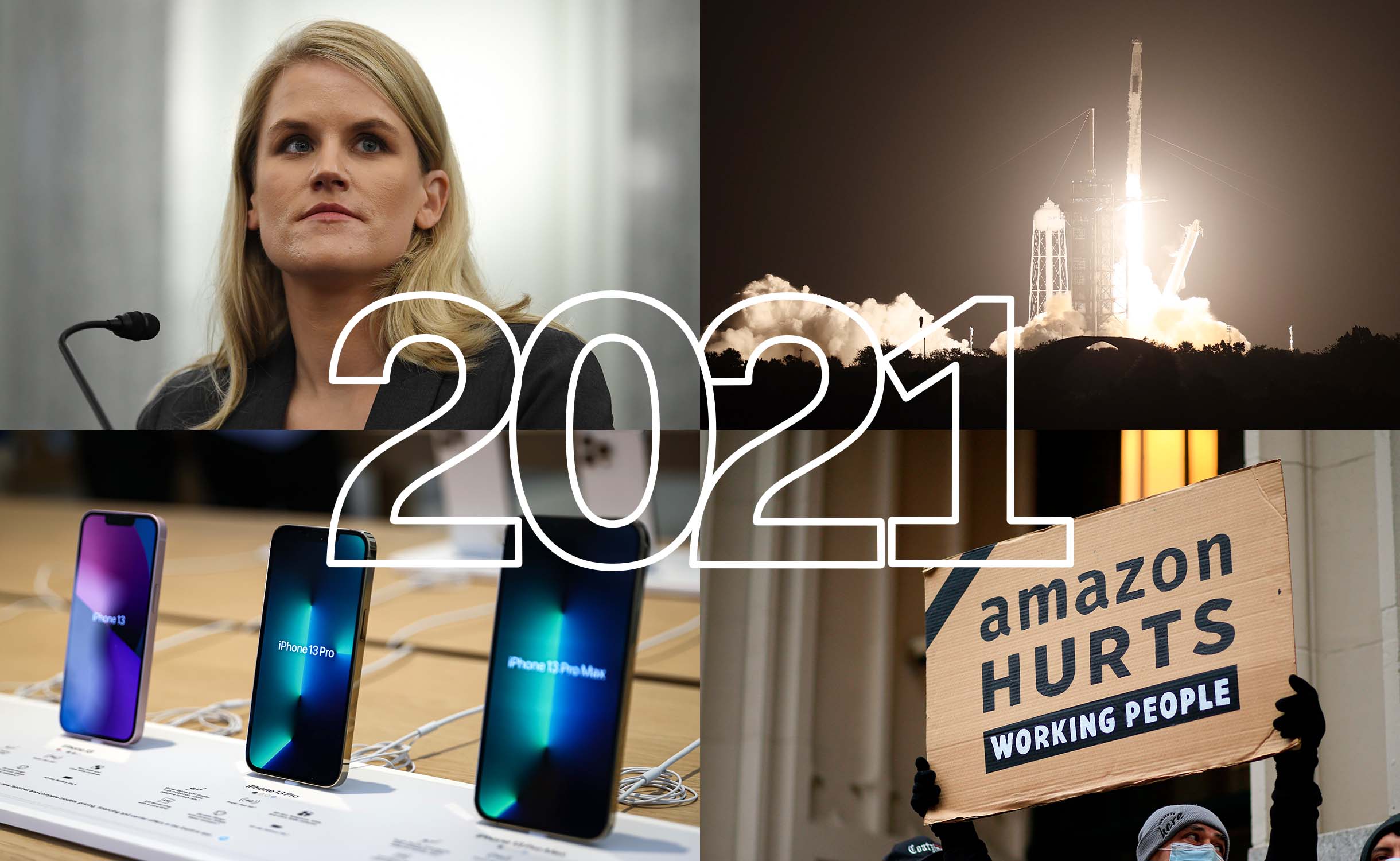 Looking back at the past 12 months, tech innovation appeared to be alive and well…for the most part. Perhaps the thing that largely defined the year was the move towards the decentralized Web, or Web3. There were many headlines around the blockchain, cryptocurrencies, NFTs, Ethereum and privacy related to Web3. We also witnessed a new era of space travel, led by SpaceX, Blue Origin and Virgin Galactic, the fascination with a new reality called the metaverse, and welcomed the release of new gadgets, phones and devices.

Unfortunately, not all tech news was positive: There were issues around diversity and inclusion and workers fought for the right to unionize. And then there were the seemingly never-ending antitrust probes of Big Tech, though the spotlight on Facebook got bigger thanks to whistleblower Frances Haugen. Apple's tight control over its App Store could be in jeopardy after catching the attention of regulators.

Take a closer look at ten themes we think defined tech's year and why they matter:
Decentralized technology was possibly the most talked-about this year, spurred by the record-setting rise in the price of Bitcoin and the obsession with non-fungible tokens (NFTs). This next-generation tech has become colloquially known as Web3 and is no longer just a passing fad.

Bitcoin is the most famous of cryptocurrencies and one moment this year a Bitcoin was worth as much as $68,000. It also became the official currency of El Salvador, a first for the token. But its use is not without controversy as critics argue that producing the crypto harms the environment. While China was the leader in global Bitcoin mining at the start of 2021, it has since banned it and the U.S. now owns the largest market share. Along with Bitcoin's rise, fellow tokens such as Ethereum, Dogecoin and Shiba Inu gained in value.

As for NFTs, these digital art pieces have soared in popularity, with a work of art being auctioned off for a record $69 million. The term even made Collins Dictionary's Word of the Year!

Let's not also forget about the crypto investors who tried to buy an original copy of the U.S. Constitution at auction using a decentralized autonomous organization (DAO). After raising $47 million, ConstitutionDAO lost the bid to Citadel hedge fund CEO Ken Griffin.
We can't do a year-end tech wrap-up without looking at the gadgets that came on the market. Looking at phones, we saw the iPhone 13, Google Pixel 6, Microsoft Surface Duo 2, Samsung Galaxy S21, Z Fold 3, and Z Flip 3 all launch. New iPads, MacBook Pros (without a touch bar!), Microsoft Surface Laptop Studio, Nintendo Switch with OLED display also hit store shelves. And we can't forget about the smart glasses from Facebook and Snap. Check out our roundup of the year's gadgets that made us think about opening up our wallets.
In recent years, Facebook and Google raised the ire of regulators, and executives from these tech companies were asked to appear before Congress. This year, however, Apple caught the attention of not only U.S. lawmakers, but also those in the European Union, Germany, Russia, Japan, India and other parts of the world. Critics accuse Apple of engaging in anticompetitive behavior with its App Store.

Multiple legal cases in 2021, including a lawsuit brought by Fortnite maker Epic Games, eventually began whittling down Apple's defenses and opening up the marketplace. Next year could see more changes coming to the iOS ecosystem as it faces further scrutiny.
Last year, Elon Musk's SpaceX became the first commercial company to send a crewed rocket into space and dock with the International Space Station, a major milestone in America's return to outer space. Richard Branson's Virgin Galactic followed suit in 2021, along with Jeff Bezos' Blue Origin. Those launches underscored the race among these billionaires to privatize space travel. However, critics argue that instead of aiming for orbit or beyond, Musk, Branson and Bezos might find a more meaningful investment in helping to improve things here on Earth.
Still reeling from the major SolarWinds hack that impacted businesses and many federal agencies in 2020, the U.S. wasn't quite out of the woods yet. This year, the country witnessed hackers take down a major oil pipeline, go after computer systems belonging to COVID-19 vaccine drug makers, launch devastating ransomware attacks against IT software provider Kaseya, stealing source code from Amazon's Twitch live streaming service, and just recently, exploiting a vulnerability in a popular Apache logging software. The Biden administration has taken steps to shore up the country's cyber defense, but is it enough to get the hackers to stop?
Mixed-reality is the future of the internet, with Facebook, Epic Games, Roblox, Microsoft all saying this year they plan to support the technology. Though the metaverse has generated a lot of hype, it's important to know that there's not just one single instance of it — there could be many metaverses, all shaped in the image of the creator. The space is receiving quite a lot of interest beyond Big Tech as investors are eager to open their wallets to make the metaverse a reality. Take a closer look at what's being done right now and how it could impact our future experiences online.
Another year, another controversy the company formerly known as Facebook finds itself embroiled in. Former employee-turned-whistleblower Frances Haugen released internal documents that critics allege the firm knew about the negative impacts the social network had on people — misinformation, hate speech, violence, etc. — but did nothing to stop it. The massive cache of files, known collectively as the Facebook Papers, also purportedly reveal Instagram had harmful effects on teen health.

Haugen has since testified before both houses of Congress as well as the European Union Parliament and the U.K. Parliament. She has called for chief executive Mark Zuckerberg's resignation.
China's tech industry seemed to be booming, led by Jack Ma's Alibaba Group's initial public offering in 2014. Then Beijing put the company under a microscope and accused it of monopolistic practices, fining it $2.75 billion, ousting Ma, and threatening to break up the company. Regulators also targeted other red-hot firms, including online tutoring startup ​​Yuanfudao and ride-hailing service Didi, forcing the latter to withdraw its listing on the New York Stock Exchange and instead list on the Stock Exchange of Hong Kong.

The idea behind all this was for Chinese regulators to remind entrepreneurs who is in charge while purportedly protecting both China's middle class and children. Along those lines, China implemented policies that banned cryptocurrency mining and limited how long children can play video games during the week.
Organized labor in tech is rare — only a handful of venture capital-backed firms have unions — but 2021 saw more employees fight for the right to unionize. Amazon warehouse workers in Bessemer, Ala. were the most notable, capturing the attention of progressive lawmakers such as Senator Bernie Sanders. Though that effort initially failed, another vote was ordered after a federal labor official ruled Amazon had improperly pressured workers.

Still waiting in the wings: A union drive at another Amazon U.S. warehouse, along with similar efforts at Activision-Blizzard, Google, HelloFresh and others.
Jeff Bezos ran Amazon for nearly 30 years but passed the torch to his lieutenant Andy Jassy in July so he could focus his energy on space travel and fighting climate change. Take a closer look at the next chapter for one of the world's richest billionaires, plus what's next for the company that's become an important part of the internet's infrastructure.

You can view the entire yearly roundup collection in our 2021 Year in Tech Review Magazine on Flipboard. Interested in seeing more recaps of what happened outside of tech? Check out our overall Year in Review collection.

— Ken Yeung, Flipboard's senior editor, technology and science, is curating the "Year in Tech Review"

Daily Edition Top 10 (Week of March 4, 2019)https://about.flipboard.com/inside-flipboard/daily-edition-top-10-week-of-march-4-2019
The House of Representatives passed H.R. 1, a package of reforms to elections, campaign finance and ethics. Changes include more early voting, automatic voter registration and an automatic federal holiday on Election Day, as well as redistricting and requiring presidential candidates to disclose 10 years of tax returns. The bill now goes to the GOP-controlled Senate, where Sen. Mitch McConnell has said he does not plan to move it forward for a vote.
House Democrats also launched an expansive new probe into President Donald Trump's business and political dealings in order to investigate potential corruption, obstruction of justice, and abuse of power.
Former Trump campaign chairman Paul Manafort was sentenced to 47 months in federal prison for financial fraud convictions. And in Alabama and across the South, powerful tornadoes devastated communities, killed 23 people, and left hundreds homeless.
Health and medical issues made headlines this week when a second person showed signs of being HIV-free after receiving new stem-cell therapy.
Actor Luke Perry, of "90210" and "Riverdale" fame, died at age 52, and "Jeopardy" host Alex Trebek, 78, revealed his stage 4 pancreatic cancer diagnosis.
Arizona Sen. Martha McSally, the first female fighter pilot to serve in combat, revealed she was raped by a superior officer early in her career, but did not report it because "like so many women and men, I didn't trust the system at the time. I blamed myself. I was ashamed and confused. I thought I was strong but felt powerless. The perpetrators abused their position of power in profound ways."
Read more about these stories and the other biggest news of the week, as they appeared in The Daily Edition.
1. House passes sweeping election reform bill – POLITICO, Zach Montellaro
Top line: "The bill, known as H.R. 1 and dubbed the For the People Act by Democrats, was approved on a party-line 234-193 vote. The measure makes far-reaching changes to the country's electoral and campaign-finance system, along with ethic reforms that target President Donald Trump and his administration. The legislation includes a national expansion of early voting, redistricting reform, making Election Day a federal holiday, automatic voter registration and stricter disclosure rules for a bevy of political activities. One particular ethics provision would mandate presidential and vice presidential candidates to publicly disclose 10 years of tax returns — a measure taken after Trump has refused to do so despite decades of precedent."
Topic to follow: U.S. Congress
2. House Democrats launch aggressive new Trump probe – Associated Press, Mary Clare Jalonick
Top line: "House Judiciary Committee Chairman Jerrold Nadler said his panel was beginning the probe into possible obstruction of justice, corruption and abuse of power and is sending document requests to 81 people linked to the president and his associates. The broad investigation could be setting the stage for an impeachment effort, although Democratic leaders have pledged to investigate all avenues and review special counsel Robert Mueller's upcoming report before trying any drastic action."
Topic to follow: Russia Probe
3. Paul Manafort sentenced to 47 months in prison – CNN, Katelyn Polantz
Top line: "Lobbyist and former Trump campaign chairman Paul Manafort learned on Thursday that he will serve almost four years in prison — far short of what had been expected and recommended — for financial fraud convictions obtained by special counsel Robert Mueller as he investigated Manafort's alleged collusion with the Russian government in 2016. The crimes, though serious among white-collar offenses, did not relate directly to Manafort's work as Trump's 2016 campaign chairman. Manafort, 69, had been facing up to 25 years in prison, a sentence that could have essentially kept him in jail for the rest of his life. Even at just under four years, the sentence is the longest given yet to any defendant in the Mueller probe."
Topic to follow: Paul Manafort
4. Alabama tornado victims revealed; area braces for weekend storms – and possible severe weather – USA Today, John Bacon, Trevor Hughes
Top line: "Lee County authorities on Tuesday released the names of the victims of a monstrous tornado that killed at least 23 people, including seven in one family, as meteorologists warned that another blast of severe weather could roar through the region in coming days. President Donald Trump also said Tuesday that he will visit the storm-battered area on Friday, five days after the deadly twister left a mile-wide path of destruction. Sheriff Jay Jones said the number of people unaccounted for was down to seven or eight, and he hoped the number would decrease as more of the missing contact friends and family."
Topic to follow: Weather
5. Second patient free of HIV after stem-cell therapy – Nature, Matthew Warren
Top line: "A person with HIV seems to be free of the virus after receiving a stem-cell transplant that replaced their white blood cells with HIV-resistant versions. The patient is only the second person ever reported to have been cleared of the virus using this method. But researchers warn that it is too early to say that they have been cured.The patient — whose identity hasn't been disclosed — was able to stop taking antiretroviral drugs, with no sign of the virus returning 18 months later. The stem-cell technique was first used a decade ago for Timothy Ray Brown, known as the 'Berlin patient', who is still free of the virus."
Magazine to follow: HIV and AIDS: Possible Cure in Sight
6. Luke Perry Dies; Former '90210' Actor Was 52 – NPR, Bill Chappell
Top line: "Luke Perry, who rose to fame as bad-boy Dylan McKay on the TV series Beverly Hills 90210, has died at age 52. Perry's publicist announced Monday that the actor "passed away today after suffering a massive stroke" in Los Angeles. Perry reportedly suffered a stroke last Wednesday, when TMZ and a number of media outlets reported that an ambulance took him from a house in Sherman Oaks, Calif., to a hospital. When he died, Perry "was surrounded by his children Jack and Sophie, fiancee Wendy Madison Bauer, ex-wife Minnie Sharp," and other close relatives and friends, his publicist said."
Topic to follow: Luke Perry
7. FDA Commissioner Scott Gottlieb, who raised national alarms about teenage vaping, is resigning – Washington Post, Laurie McGinley, Lenny Bernstein, Josh Dawsey
Top line: "Food and Drug Commissioner Scott Gottlieb, who used his post to tackle difficult public health issues from youth vaping to opioid addiction – surprising early skeptics worried about his drug industry ties – resigned Tuesday, effective in about a month. Gottlieb, who has been commuting weekly to Washington from his home in Connecticut, said he wants to spend more time with his family. The 46-year-old physician, millionaire and cancer survivor known for a self-assured, sometimes brash, manner lives in Westport, with his wife and three daughters – 9-year-old twins and a 5-year-old. The resignation was not sought by the White House. A senior White House official said Gottlieb had spoken to President Trump, and that the president liked the FDA chief and did not want him to leave."
Topic to follow: FDA
8. Mark Zuckerberg says Facebook will shift to emphasize encrypted ephemeral messages – The Verge, Casey Newton
Top line: "Facebook will increasingly shift its focus away from public posts to encrypted, ephemeral communications on its trio of messaging apps, CEO Mark Zuckerberg said today in a significant new blog post. In a 3,200-word missive, Zuckerberg says that encryption will be one of the keys to Facebook's future — and that the company is willing to be banned in countries that refuse to let it operate as a result. Public social networks have their place, Zuckerberg adds, but he sees a large future opportunity built on "a simpler platform that's focused on privacy first." That would mark a sharp reversal for Facebook, which has grown into one of the world's wealthiest companies by inventing exotic new methods of personal data collection and allowing brands to sell advertising against it."
Topic to follow: Facebook
9. Sen. Martha McSally says she was raped by a senior officer while in Air Force – ABC News, Elizabeth McLaughlin, Luis Martinez
Top line: "Sen. Martha McSally, during an emotional congressional hearing on military sexual assault Wednesday, said a superior Air Force officer raped her. McSally, the nation's first female fighter pilot to serve in combat, told the Senate Armed Services Committee that she was "preyed upon and raped by a superior officer." "I also am a military sexual assault survivor, but unlike so many brave survivors, I didn't report being sexually assaulted," McSally said. "Like so many women and men, I didn't trust the system at the time. I blamed myself. I was ashamed and confused. I thought I was strong but felt powerless. The perpetrators abused their position of power in profound ways." McSally served in the Air Force for 26 years and mostly flew the A-10."
Topic to follow: Martha McSally
10. 'Jeopardy' host Alex Trebek reveals he has stage 4 pancreatic cancer – NBC News, Janelle Griffith
Top line: "Alex Trebek, the longtime "Jeopardy!" host, revealed Wednesday that he has been diagnosed with stage 4 pancreatic cancer. Trebek, 78, said in a video posted to YouTube he will attempt to finish out this season of "Jeopardy!" Trebek has hosted the show since 1984. He took a leave of absence in January 2018 after surgery to remove blood clots from his brain. In October 2018, he renewed his contract with Sony Pictures Television to continue as host of the quiz show through 2022."
Topic to follow: Alex Trebek
Check out The Daily Edition throughout the week for your news updates.
~ HeatherC is reading International Women's Day by Harper's Bazaar UK
The AI Will See You Nowhttps://about.flipboard.com/tech/is-ai-ready-for-its-close-up
AUTONOMOUS AGENTS FINALLY HIT A TIPPING POINT
Something odd is happening. More and more, I'm noticing people talking to, rather than on, their phones.
Further: Gmail, appears to be making better suggestions about whom to include and exclude on messages—and even what to reply. My phone pings me, just as I'm about to commute, with decent route advice. I've been using a virtual assistant—amy@x.ai, who is charmingly and ruthlessly efficient—to schedule meetings. I find myself increasingly asking Alexa for weather, news and Wikipedia lookups, not to mention jokes and Jeopardy games. (Best of all, my beloved Flipboard is getting weirdly prescient in its story suggestions.)
Clearly, we're reaching a tipping point. The daily churn of stories about AI applications flows heavy and without surcease.
AI is constantly touted as the next big thing. But how many of us are aware that AI is already here?—VentureBeat
During the last week alone, while Silicon Valley and the rest of the world were gawping with schadenfreude at the man-made Uber trainwreck, a raft of stories documented how AIs have learned to:
As a benchmark, during that same week, I learned how to play "Aaron and Maria" on the guitar, albeit, very clumsily.
We're still in early innings, of course. Last week, a Chinese AI powered by 11 servers, which engineers had worked on for three years, lagged behind many high schoolers in China who recently took the college entrance exam. It did OK, though, scoring a 105—just above the passing grade of 90.
Perhaps "lagged behind" was a poor choice of words. The AI was wicked fast: "It took only 22 minutes for the first test, and 10 minutes for the second—far ahead of the two-hour allotted time," Mashable reported.
All the big platforms—Google, Apple, Amazon, Facebook, Microsoft, Samsung—have been massively investing in AI, which received a lot of attention during Google's and Apple's recent press conferences. Just last week, Google open sourced its visual-recognition-based neural networks, known as MobileNets, which will help mobile phones "see" and identify things.
MobileNets can be used to analyze faces, detect common objects, geolocate photos, and perform fine-grained recognition tasks, like identifying different species of dogs.—TechCrunch
Meanwhile, artificial intelligence is eating the world. A friend of mine giddily told me about going to a $149-a-month doctor service in San Francisco called Forward the other day, which is partly powered by AI. (Good TechCrunch writeup here.) "The company uses AI to capture and organize member information from its body scanner, sensors, and exam room display screens in real time," a spokesman told me.
Yes, I know the dystopians among us worry that we're hurtling toward a Terminator-like singularity. And even more immediately, what about all the human workers AI will displace?
Since I'm a tech-utopian, I think that even as dumb as we are, we'll be able to build controls into autonomous agents, avoiding a human extinction event. As for job displacement, a number of stories last week claimed that AI will actually create more jobs than it will destroy and add $1 trillion to the economy. Sounds great—unless you stop to consider the possibility that AIs wrote those stories. And maybe, even, this one…
Quick Flips
Automattic, parent company of WordPress, is shuttering its San Francisco office because most of its 550 employees prefer to WFH…Everyone hates volume sliders—a fact celebrated by Reddit, whose users competed to make the worst one possible…Binky is an "anti-social media simulator"…
And finally: The big end-of-week news, that Amazon is buying Whole Foods, will only hasten Jeff Bezos's ascension to Richest Person in the World. The New York Times did a piece speculating on the philanthropic good Bezos might do some day. I spent a few weeks with Bezos in 1999, when I profiled him as TIME's Person of the Year. He said then that he intended to concentrate on philanthropy at the end of his career—and would focus on solving Amazon-sized problems whose solutions wouldn't be attained during his lifetime.
Say you want to solve world hunger. If you think in terms of a five-year time frame, you get really depressed; it's an intractable problem. But if you say, well, let's see how we could solve this in 100 years—it's a problem because you'll be dead by then, but the solution becomes more tractable.—Jeff Bezos, Amazon founder.
Keep flipping—
JQ
On the Red Couch with Nerdist Editor-in-Chief Rachel Heinehttps://about.flipboard.com/inside-flipboard/on-the-red-couch-with-nerdist-editor-in-chief-rachel-heine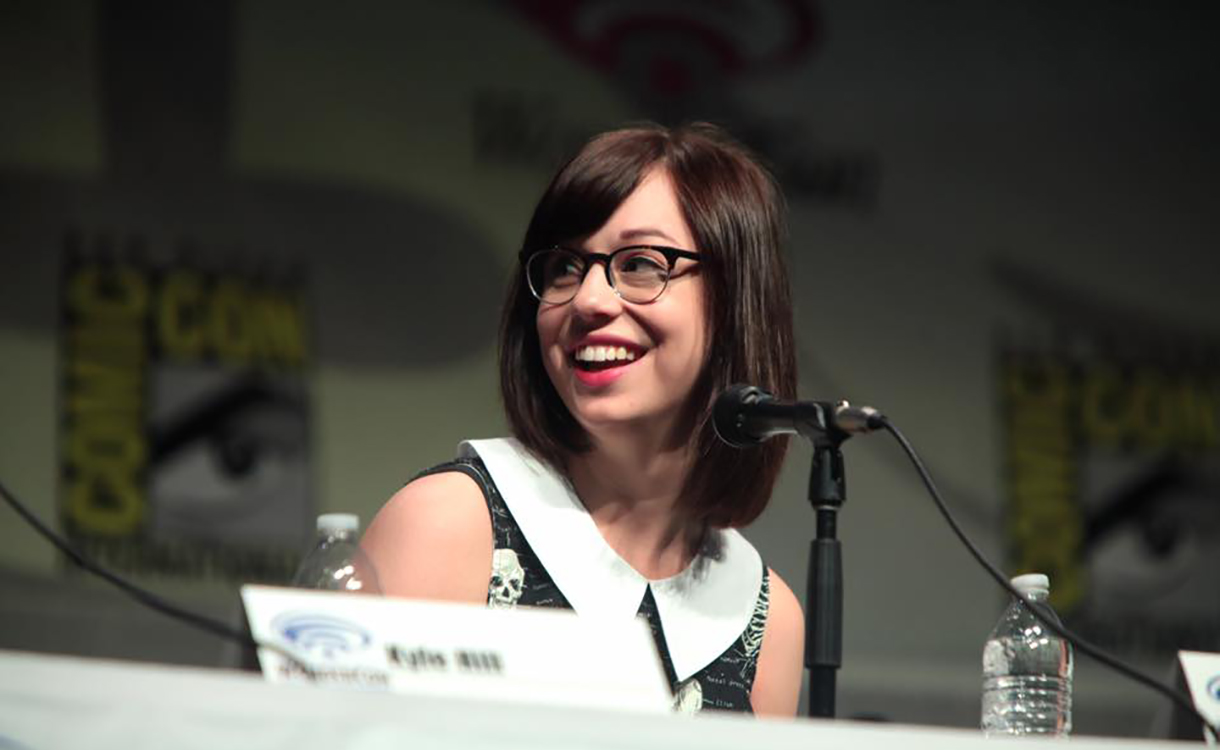 There are nerds and then there are Nerdists. When Chris Hardwick started Nerdist.com, he wanted it to be a place for "artful nerds" who don't just consume content but also create and innovate. It's a place to celebrate your remix and your tribute art and talk to fellow fans who just binge-watched shows like Stranger Things. You can also go deep with lessons on how to make a Ninja Turtles sushi pizza and discovering the purpose of beer foam.
At the helm of Nerdist editorial is Rachel Heine, who explores the nerd fabric of today's pop-culture landscape. We turned the tables on Rachel, who is usually the interviewer, to discuss the evolution of fandoms, meeting her favorite celebrities, what she's reading, and how important it is to keep writing.
What is the state of nerdom in 2016, and how has it changed for you?
Nerdom is different for creators, fans and for media. It has been evolving for a long time.
When I started at Nerdist in 2014, not as many people outside of its audience knew what it was. It's definitely evolved with superhero films and the inclusion of more sci-fi/fantasy storytelling.
It has grown to be so much more mainstream, which is a double-edged sword. It's really exciting to share the things you love with a bigger audience. We love it because we try to be as inclusive as possible. Anyone can love what they love or be nerdy about different things.
How many people went and saw Star Wars? How many people read about who gets cast in these Marvel movies? We're seeing more representation and big studios paying attention to the audience and hearing their requests of what stories they want to hear and who will be telling these stories. I think that a larger, more open space means that more stories are being told in a lot of different ways.
We get to watch, create and consume. We love to cover, write about, explore, unpack, and nerd out. There's more to play with now.
What's it like to helm a site that covers a wide range of subjects?
It has been really exciting and a huge challenge. There are people out there that know anything about everything (and they're usually on Jeopardy!) but there is so much out there. What's great is that I have such an incredible team. We have editors for music, film and tv, games, tech, and science.
It's a very small team of very smart, passionate, funny, awesome individuals whom I adore. It's really a team effort and a collaborative process. I'm always trying to learn more about the areas I'm less familiar with. We're all constantly learning and discussing; it's what Nerdist is all about.
What's your favorite fan community to engage with?
Buffy and the Battlestar Galactica communities. Those were big ones for me. Especially looking at how the Buffy fandom has evolved from forums. Over the past 20 years and in the '90s there weren't these online communities where you could talk about each episode, characters and your theories.
Joss Whedon characters and themes are so much fun to discuss over and over again. Buffy has evolved in the technological era to include podcasts and weekly discussions even though it was on so long ago.
I love the Agent Carter fandom right now. I love how much they love the show. I think it's been a bummer for everyone to have this strong, incredible, bad-ass, sexy character that we all fell in love with [get canceled]. I love seeing the passion there and how much they love that character.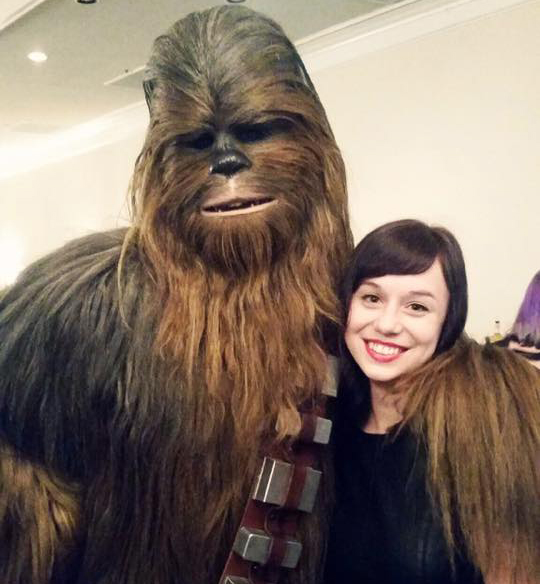 Do you get to meet celebrities? Who did you freak out about the most?
Yes, we do. It's a test of how much we can control ourselves because we are all big nerds and big fans. We usually maintain our professionalism and composure but as soon as they leave we're like, "OMG! They were just here!"
We had the Powers cast come in to do some fun videos. One of the new characters is played by Tricia Helfer from Battlestar Galactica. I got to interview her. I thought I was maybe going to cry or vomit because I watched [Battlestar] maybe six times through. I've played the board game; I'm even toying with being a character from it for Halloween this year.
If you could bring back any TV show from the dead, what would it be?
If we could get Veronica Mars as a continuation of the movie in a cool, adult Netflix style, I would very much like to watch that. I know Rob Thomas has his hands full but Veronica Mars is one of my favorites and I think it would do really well now. The TV landscape is so different.
I also think everyone wanted to see what Firefly could be. Could Buffy come back? Can we just bring her back?
As a writer, do videos where you have to be on camera come naturally or do they scare you?
They do not come easily to me! I worked from home before I worked here. I read all the time; I was a very shy kid. It was hard for me to adjust but I did it. Dan Casey said to me before my first Comic-Con panel: "This is our audience out there. They like what we do, they want to hear what we have to say. There couldn't be a better place to be yourself because these are our people." If you force yourself to do the things that scares you, it'll stop scaring you. And maybe you'll realize you enjoy it—that's what happened for me.
What are some of your favorite magazines or blogs to read?
Vulture, Birth Movies Death, HitFix. I read a lot of movie criticism and am trying to read more fiction when I'm not working. I read in the morning and before bed. I'm re-reading a lot of the books I read when I was younger to get a fresh eye on them. Right now I'm reading American Gods. The language is so beautiful, I can't put it down.
Do you have advice for writers out there?
I always wanted to write and edit. I thought I would find something, but never thought in my wildest dreams I would be in the position that I am in. For anyone who wants to write and be out there: keep doing what you're doing. Submit to places, start a blog, keep writing because there is a space for all of these incredible voices out there, and I think that Nerdist is a testament that people want to read and talk about these things. Keep going after your dreams!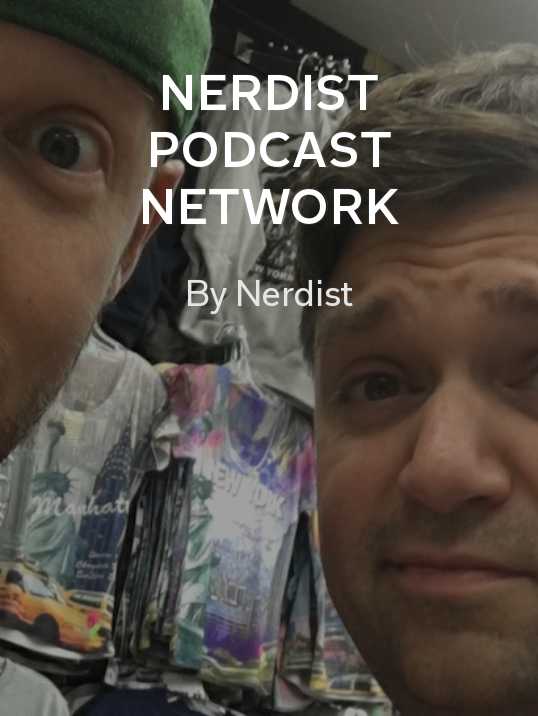 ~jdlv is geeking out out about graphics interchange format
On the Red Couch with The Daily Beast Columnist Arthur Chuhttps://about.flipboard.com/inside-flipboard/on-the-red-couch-with-the-daily-beast-columnist-contestant-arthur-chu
Arthur Chu came to fame in 2014 after winning Jeopardy 11 times in a row, becoming the fourth highest-earning winner in the game show's history. But it wasn't his brains that made him into a cultural icon—it was his big mouth.
"I think a part of me going viral was that I was very talkative—much more talkative than Jeopardy expected me to be," the 31-year-old says with a laugh. While on the show, Chu took to Twitter and engaged with enraged fans seething over his seemingly unorthodox playing style, jumping from category to category. For his part, Chu, the victim of childhood bullying, relished any opportunity to play the villain.
Though his streak came to an end in March 2014, the world hadn't heard the last of Chu. Aware that he'd struck some kind of cultural nerve, he wondered how to maximize his newfound celebrity. Realizing his words—not his "game theorizing"—resonated with lots of people, he fashioned himself into a professional cultural critic. Today Chu writes a column on the confluence of three worlds—pop culture, Asian-American identity and nerdom—for The Daily Beast (which is available on Flipboard).
We spoke with him about being the villain, how nerds became cool and why you should argue with people on Facebook.
You were vilified for having an "unorthodox strategy" on Jeopardy. What was it?
I didn't have an unorthodox strategy at first. I knew this was a once-in-a-lifetime opportunity, so I wondered how I could make the most of it.
I found out about the Forrest Bounce, a method that began back in season 2 of Jeopardy. Chuck Forrest made headlines as a "Jeopardy celebrity" for doing very well on the show. His style was to bounce around from category to category.
I looked at the arguments in favor of and against that method. The argument against it boiled down to making the game harder for you. The argument for it is that other players don't know what's coming next.
I thought that if you had the capacity to do it, you should.
So the negative reaction couldn't have surprised you, right?
I was surprised by the intensity of it. The third winningest Jeopardy player in history, David Madden, didn't get that much bad feedback because social media wasn't a player. But he did end up retreating from the public eye.
I was prepared for how relentless negativity can be when it becomes an online sport. It's like a meme: it takes on a life of its own.
After becoming semi-famous and winning hundreds of thousands of dollars, you could have done a lot of things. Why write?
A weird thing happens when you go viral—people have this self-reinforcing notion of you, and I had this reputation for being controversial. If I was some universally beloved icon, it would be hard for me to speak up about controversial things. It's almost lucky that it happened this way.
I was commenting on things outside of myself, and people were taking stuff that I wrote and publishing it. The Guardian offered to publish my interview responses as an op-ed, and The A.V. Club printed an unedited copy of an interview with me. The Cleveland Plain Dealer then reprinted that interview.
I realized I have a voice. Then Sujay Kumar from The Daily Beast asked if I wanted to write for their website. I said yes.
You and I are about the same age, and grew up in a time when being a "nerd" was decidedly uncool. As the unofficial "nerd columnist" for The Daily Beast, can you explain the rise of the nerds?
When we were younger, I didn't identify as a nerd—I got identified as one. I can understand why people get upset that the term has been extended to just mean "enthusiast."
I think it does speak to a world in which technology has fragmented our culture and created narrow subcultures. We used to identify the term "nerd" as being somehow abnormal.
I wrote about this for The Guardian. It's becoming increasingly clear that there's no illusion of a "normal person." And with information being much more widely available, it's easier to pursue passions.
So we're all nerds now.
You're Asian-American, a group who also started receiving some attention from mainstream culture. Yet it's still just a handful of Asian-Americans in the pop culture spotlight, you being one of them. Do you feel any pressure?
I'd spent a lot of time as a kid wanting to say, "I'm not a member of this culture—I want to be an American."
Here's something weird: I intentionally spent time trying to learn about mainstream pop culture to gain acceptance. It's been a recent thing for me to develop this Asian-American consciousness, and developing it with the understanding that the label—Asian—has been put on us by society. It's not a fact about me, but a fact about the world.
There must have been this hunger for representation. Because why would a guy on Jeopardy be that important? Why was Jeremy Lin such a big deal? It's that he's one of us—a Chinese- or Taiwanese-American who had to grow up in this context with slurs and stereotypes, and still achieved success.
After spending more time the Asian-American community, I've developed a new perspective: it's not about saying Asian-Americans have a specific set of cultures, it's about saying the history of how we divide people into boxes is an intrinsic part of this country and we have to deal with it.
Your self-assurance is interesting because you've been marginalized throughout your life in one way or another. And then you kick ass on this game show, and people try and discredit you, and you hold firm. How?
I've been a very outspoken person for a long time. A big part of who I was growing up was to feel like the smartest person in the room. A lot of people my age start out thinking we're celebrities, which is the narcissism of our time. We start out thinking we might go viral.
I've had my arguing muscles honed by the Internet. When you're involved in an argument on Facebook, it can feel like the biggest news in the world to you.
I also spent time building up my confidence by taking classes in acting and improv, [the latter of] which is like being thrown into the deep end of the pool: you have to be entertaining without a script and rely on your natural instincts, and own however people seem you, and just be that person.
You can read Chu's writing in The Daily Beast here.
~ShonaS is curating "Compulsive & Conscious"
GET FLIPBOARD ON:
iOS / ANDROID / WINDOWS / WEB
FOLLOW US ON:
FLIPBOARD / TWITTER / INSTAGRAM / FACEBOOK / GOOGLE+ / TUMBLR / YOUTUBE / SOUNDCLOUD / PINTEREST / MEDIUM
What I'm Reading: Research Assistant Elizabeth McCulloughhttps://about.flipboard.com/inside-flipboard/what-im-reading-research-assistant-elizabeth-mccullough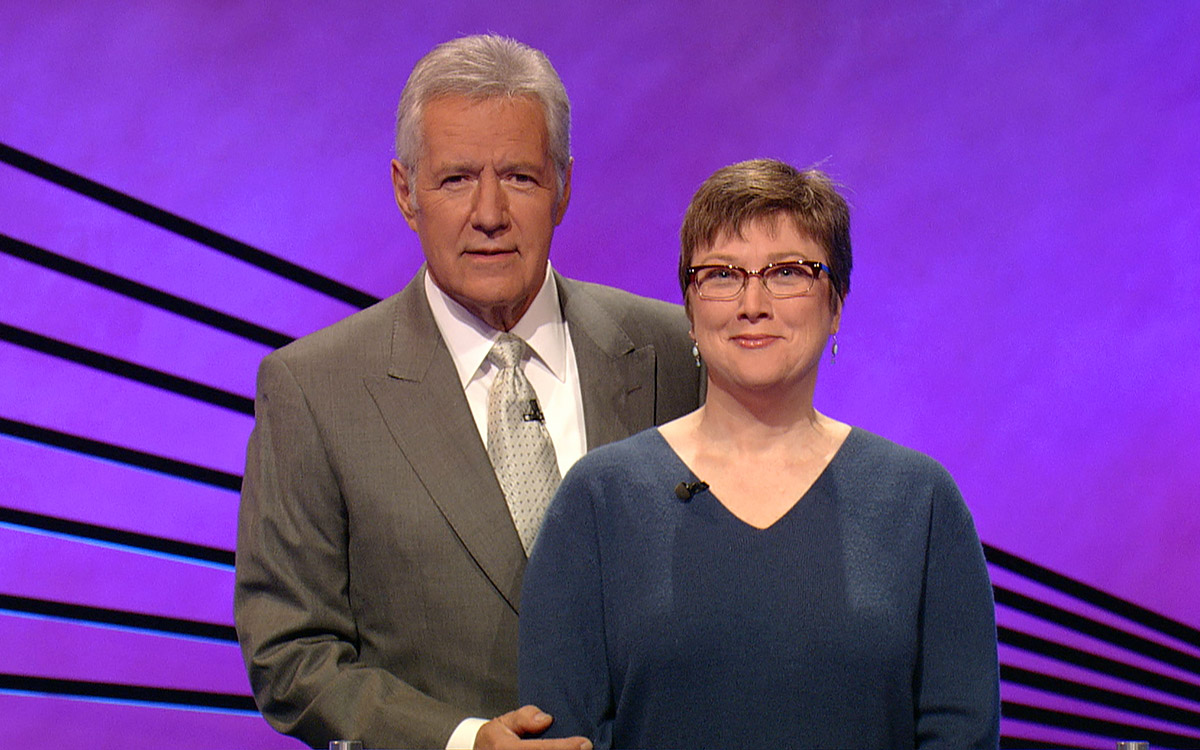 Nobody promotes their magazine on Flipboard quite like former Jeopardy contestant Elizabeth McCullough. On Twitter, McCullough is a master of the pleasantly provocative tweet—"Rough news cycle, huh? Here's a hamster!"—that directs readers to her magazine, The Internet Flâneur.
"I'm just strolling around the internet, gathering the best of what I find and sharing it," says McCullough. A professional writer and editor, McCullough—who holds degrees in psychology and counseling— is also a research assistant for business thinker, social scientist and The New York Times best-selling author Daniel Pink. In her free time, she manages one of the world's most comprehensive literary blogs, Book Balloon.
In short: McCullough loves information. As for what kind, suffice to say her insatiable intellect is without prejudice. Feeling quite confident that we'd learn something new, we asked her: what are you reading?
I subscribe to many, many newsletters and site feeds that I skim just about every morning for articles related to my interests and projects: writing, politics, literature, and creative nonfiction and journalism. Previously, when I found something quirky or moving or really well written, I'd share the link on Facebook. I'd get the occasional comment from a friend saying, "You always find the best stuff," which was gratifying. One day, a friend from Charlottesville, Cindy Maisannes, suggested I give Flipboard a try.
I've loved magazines since I was old enough to hold one. My mother and father subscribed to several, including National Geographic, Field & Stream, Readers Digest, and the classic women's magazines: Redbook, Good Housekeeping, Ladies' Home Journal. My dream job would be reading vintage magazines all day long.
So when I realized that Flipboard was a way I could make my own "magazine" and share it with my friends, I was hooked. My favorite part is choosing the cover image. I know the rule of thumb for a successful magazine is to concentrate on a hot topic or niche interest, but my mind doesn't work that way. That's why I called my magazine "The Internet Flaneur"—I'm just strolling around the Internet, gathering the best of what I find and sharing it.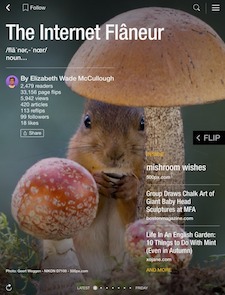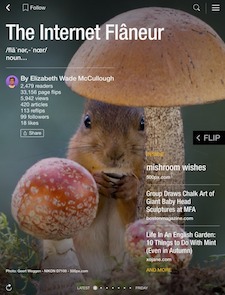 The Internet Flâneur by Elizabeth McCullough
Here's where it gets a little embarrassing: I don't have an iPad, which I understand is the ideal platform for using Flipboard as a feed reader and a porter to Twitter, Facebook, Tumblr, etc. So I'm not getting the full effect of one of the things Flipboard does best, which is graphically organizing information into streams.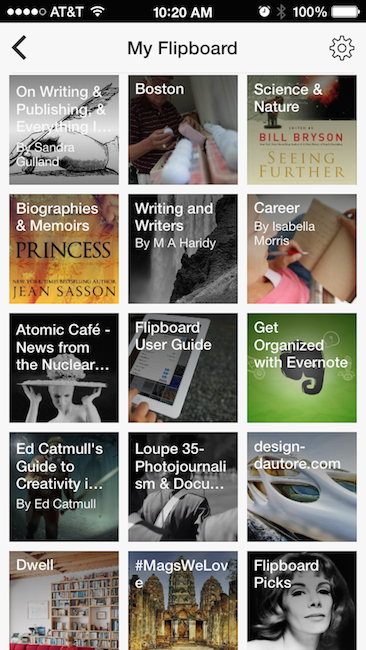 For profiles, human interest stories and creative journalism, I subscribe to a mix of classics and new web-based media: Longform, Esquire, Vanity Fair, Longreads, The New Yorker, The Atlantic, The Hairpin, Washington Post and The New York Times.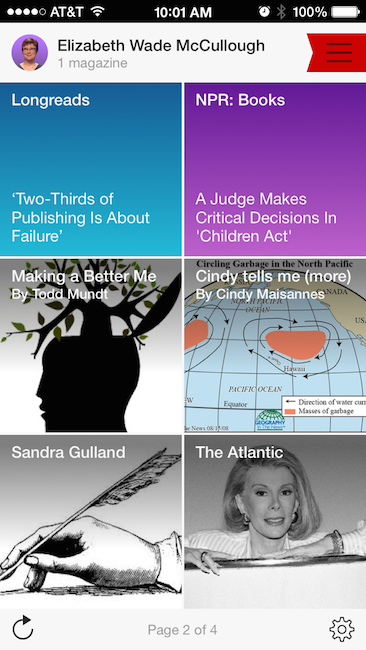 Art and photography, i.e, eye candy: Recaptured, Photos Futuristic Explorations.
For fun: Laughing Squid, Ministry of GIFS and, of course, LOL Cats.
If I run across a good magazine on organization or writing, that goes in the mix as well: All Things Productivity and On Writing & Publishing & Everything.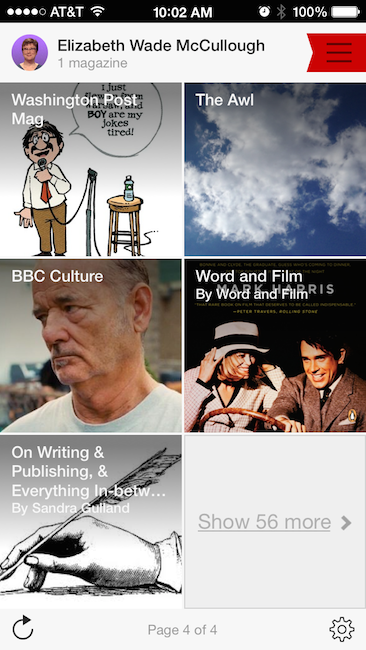 It's so easy to flip, flip, flip through the articles until one catches my eye. Flipboard creates a very comfortable reading format for all kinds of articles. I really appreciate that, because given the amount of time I'm online, my eyes get tired fast.
~ShonaS is reading "The Shot"
/flipboard
@flipboard
+flipboard