Is social media turning us into monsters?
Tech / May 25, 2017
We were promised utopia, but got trolls, fake news—and an utter breakdown in civility.
I hope you read the story  Sunday in The New York Times, " 'The Internet Is Broken': @ev is Trying to Salvage It."  I thought about that piece all week, especially in the aftermath of the Manchester attack. The story profiled Evan Williams, the Silicon Valley entrepreneur whose life's work has changed the way we communicate important ideas online.
Williams, as you probably know, was the prime mover behind both blogging and Twitter—two of the most important, disruptive forms of mass media in recent history. Now, as CEO of Medium, he's trying to make a go of it by advancing quality, written discourse.
The problem with the Internet, Mr. Williams says, is that it rewards extremes —The New York Times
"I thought once everybody could speak freely and exchange information and ideas, the world is automatically going to be a better place," Williams told the Times.  "I was wrong about that."  The piece makes the point that the tools he and other social media people created have done almost as much bad as good.
The latest examples: Just after the suicide bombing in Manchester, some people took to Twitter and Facebook to spread fake stories and posts. "Social media trolls spread fake posts about missing children," wrote The Telegraph. "Trolls pretending to have 'missing friends' after the Manchester attack are so messed up," said Mashable's headline, in a story that looks into the phenomenon of why people would do such a thing at such a ghastly time. (Answer: for the Likes and Retweets.)
Both Buzzfeed and the New York Times  ran lengthy pieces fact checking and debunking fake posts and tweets. An American freelancer found himself the target of a virtual lynch mob after he tweeted bad-taste jokes about the bombing ("This man's terrible tweets about the Manchester bombing set the internet aflame," wrote The Daily Dot), while Kim Kardashian was in the cross hairs after she posted a tone-deaf picture of herself in a show of support that was interpreted as self-promotion.
Stop and think before you hit Like or Retweet or Share. —Wired Magazine
And yet… From its start, the commercial Internet has suffered from the very thing that makes it great. The Net made it easy and virtually free for people to communicate their ideas—good, and bad. It also made it easy for trolls, instigators of flame wars, bullies and cheats to try to ruin the place for everyone else. I wrote about this for Wired Magazine in a far more halcyon 1994 when the online world was still new and shiny—though just as volatile. (See The war between alt.tasteless and rec.pets.cats—or don't if you are offended by explicit language.)
The Net has always been a perfect reflection of imperfect us. And last week was no different. It almost goes without saying that social media was also used, effectively, to help kids find refuge in neighboring homes until they could reconnect with their parents. Facebook activated its SafetyCheck feature, so concert goers could check in and let their friends know they were OK.  Wired published a sadly timely piece offering social media Do's and Don'ts during terrorist attacks.
The point is, social media, like the Net itself, is just a collection of people, good, bad and in between, and all of us are evolving along with our tools. We'll figure it out and grow out of this awkward, difficult phase. As Evan Williams correctly noted, it'll take time to debug the system: "Twenty years isn't very long to change how society works."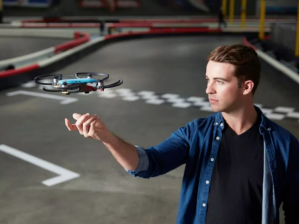 DJI's upcoming Spark drone, Via The Verge
QuickFlips:
BUY: DJI's $499 Spark drone. Cheap(ish), easy-to-use—this thing supposedly responds to hand signals, and does pre-set routines—with a 12-megapixel camera for aerial selfies. The tech press went nuts for the Spark, which is due out in June and "kind of a big deal," says TechCrunch.
READ: Walt Mossberg's final column appeared this week… FORTUNE reports that Buzzfeed and Vox, among others, have  signed up with Facebook to make videos aimed at millennials…Will we finally get to see the bezel-less cellphone that Andy Rubin and his company, Essential is working on? 9 to 5 Google thinks yes, probably: Big announcement slated for next week and the invites show a phone with a weird protuberance… Here's Mark Zuckerberg's commencement speech at Harvard.
WATCH: The GIF of this humpback whale puffing rainbows out of its blowhole. I could view this all day. And have.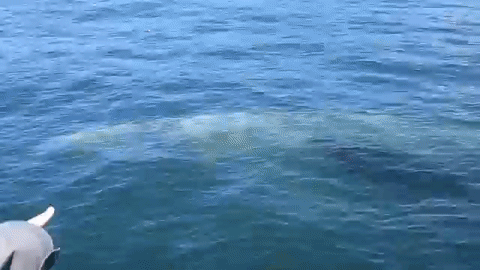 See you next week.