3 Brands Building Thought Leadership With Sports Magazines
insideflipboard / July 7, 2016
It's summer and we're excited about so many things: sunshine, warm weather, vacation days and getting active! Since we're in the midst of baseball and soccer season, and the Summer Games are just around the corner, we can't help but feel sporty and adventurous.
Brands have associated themselves with sports and fitness for decades. Coca-Cola, McDonald's and IBM —none of which are closely associated with athleticism— have long been Olympic sponsors. And let's not forget the heavily anticipated Super Bowl commercials that seem to garner more hype and attention than the game itself.
As content marketing is becoming an increasingly important way for companies to connect with consumers, we see brands attaching their names to sports in new ways. We found three brands on Flipboard that are using sports and fitness in their content marketing strategies. By curating owned and shared content, Intel, Rocket Vodka and CloudLine are telling fresh and interesting stories about their company vision and products. Take a look at these three examples: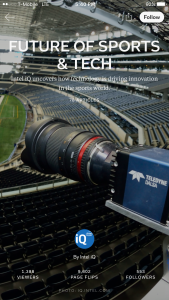 Intel's Future of Sports and Tech: Intel is a leader in technology and innovation (as mentioned in our post about owned media on Flipboard). Now, they're delving into the world of sports to tell their story with content created by Intel's team, uncovering the seemingly infinite ways technology drives innovation across the spectrum of athletics. Whether it's how technology is taking the X Games to the extreme, how athletes can train using virtual reality, or a list of the best wearable devices to boost performance, Intel is looking forward and reaffirming itself as a thought leader in the ever-changing tapestry of content marketing. Like a trade journal, this magazine can help you stay ahead of the digital curve.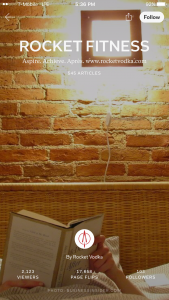 Rocket Vodka's Rocket Fitness: If your adventurous spirit knows no bounds, we recommend checking out Rocket Vodka's collection of sports and fitness Flipboard Magazines, inspired by life's "peak moments," which can be a celebration or a physical achievement. Sure, alcohol and fitness don't typically go hand-in-hand, but through content marketing, Rocket Vodka is building that association. Rather than stressing the product itself, Rocket Vodka's curated content illustrates an exciting and enriching lifestyle that's built on aspiration, achievement and celebration of all the good things in life.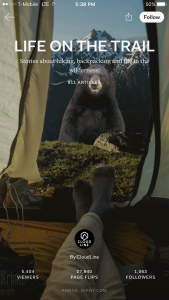 CloudLine's Life on the Trail: Most socks are boring, but not CloudLine wool hiking socks. The company injected life into its otherwise everyday product by building a brand narrative on Flipboard centered around outdoor adventure. From backpacking hacks and hiking essentials to mind-blowing images of kayaking journeys and reasons to take on the world's most perilous trails, CloudLine's Flipboard Magazines cover a wide range of experiences that'll help any adventure-seeker make the most of their time in the great outdoors.
It's time to take cues from these brands' playbooks and make your own move on the content marketing field. Game on.
~AngelaH is curating "It's A Thing"