Flipboard Makes Content Marketing Easy—Part 1: Owned Media
Christel van der Boom / April 7, 2016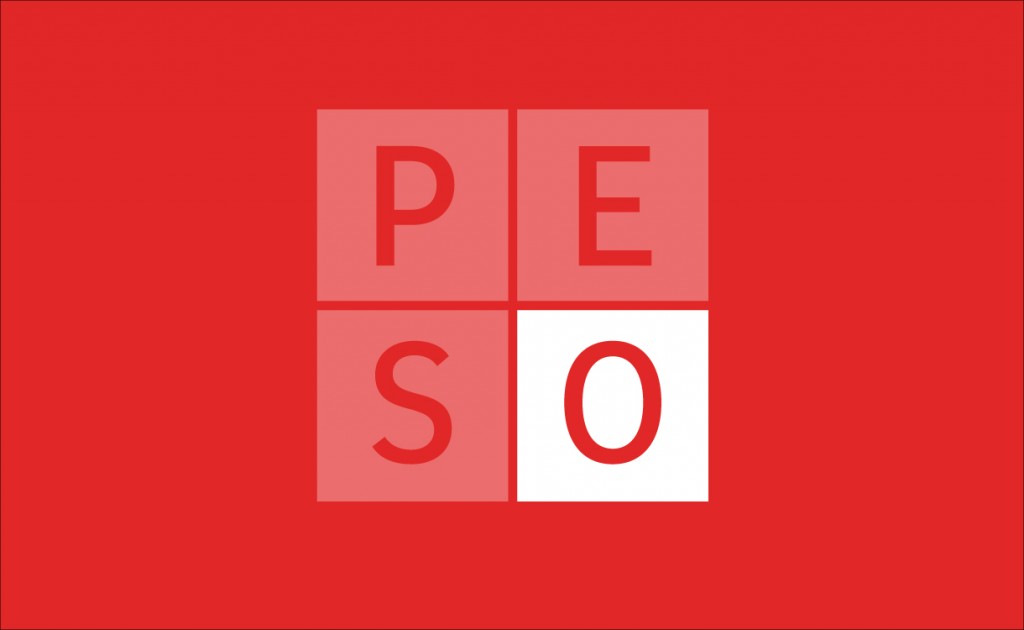 The business of content marketing is booming. The number of content marketing job listings has grown nearly 350% between 2011 and 2015. And content marketing revenue— that is, the money paid to people who provide content marketing services—is expected to more than double over the next five years.
If you're a content marketer, you're probably familiar with the PESO model, developed and championed by Gini Dietrich. It breaks content marketing down into four types of media: Paid, Earned, Shared and Owned—hence the acronym.
Interestingly, brands can use Flipboard for each of these four forms of media. Over the next four weeks, I'll discuss each one, albeit in reverse order since a company's owned media is at the heart of any content-marketing strategy.
The way to create owned media on Flipboard is by curating Flipboard magazines. Brands and agencies use our platform to package media—articles, videos, images— that tell a brand's story or shares a company's vision. There are some great examples by companies such as Woodford Reserve, Rolex and Cisco.
With 85 million monthly active readers that engage with their personal and professional interests, marketers use Flipboard for the distribution of existing content. We see brands curating magazines with their own content as well as with content from all over the Web. Depending on the brand's identity, products and target audience, content marketing can take on different forms on Flipboard to help create a specific "voice" on the platform.
One of the virtues of making a magazine on Flipboard is that our topic engine understands the contents of articles and indexes them, making sure that people interested in a topic see related magazines. If you like to read about technology, for instance, you could see Intel's magazines.
Here are three use cases: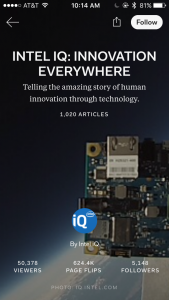 Thought Leadership
Intel and Cisco use content marketing to build their reputations as thought leaders in technology and innovation. Both companies curate content from the editorial on their own websites, as well as third-party sources such as Flipboard's publishing partners The New York Times, The Wall Street Journal TechCrunch and VentureBeat. But you don't have to be a Fortune 500 brand to do this: Fitness trainer Michael Wood curates Flipboard magazines about health and exercise, which help build his reputation as an expert in these fields. Cloudline, a company that makes hiking socks, has a great collection of magazines about hiking and the great outdoors.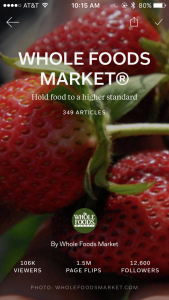 Service-Focused Magazines
Consumer brands like to use Flipboard magazines to share content that inspires people to use their products. The Flipboard magazine by Marriott is like a travel guide full of travel ideas and fun destinations. Whole Foods has a magazine that resembles a cookbook full of healthy recipes. And Woodford Reserve has curated a magazine featuring delicious cocktails made with this hand crafted bourbon. Sony is curating a magazine for photographers around its Alpha mirrorless cameras.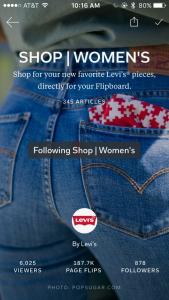 Brochures
For yet another group of brands, mostly in the lifestyle realm, savvy marketers use Flipboard magazines to share a product line or collection. For instance, Adidas showcases its latest shoes in a Flipboard magazine, Levi's creates magazines around their men's and women's collections and Ben & Jerry's has a magazine about their various ice-cream flavors.
Flipboard Magazines have an editor dashboard that provides usage data—and the magazine has a tweetable, shareable link to help you increase exposure. For social teams not only is Flipboard great for distribution of content but also for interaction with readers. Marketers can engage with their audience through comments and readers can also like and re-flip content into their own magazines—more on this in part 3 of this series.
If your company has a magazine on Flipboard, let us know about it by tweeting @FlipMarketer or emailing flipmarketer@flipboard.com.
~ChristelV is reading Youversation
Also read the other posts in this series about the PESO model and content marketing on Flipboard: