Flipboard Promoted Story Campaign Drives Traffic Spike of 230% To Marriott Traveler
Paul Katz / February 1, 2017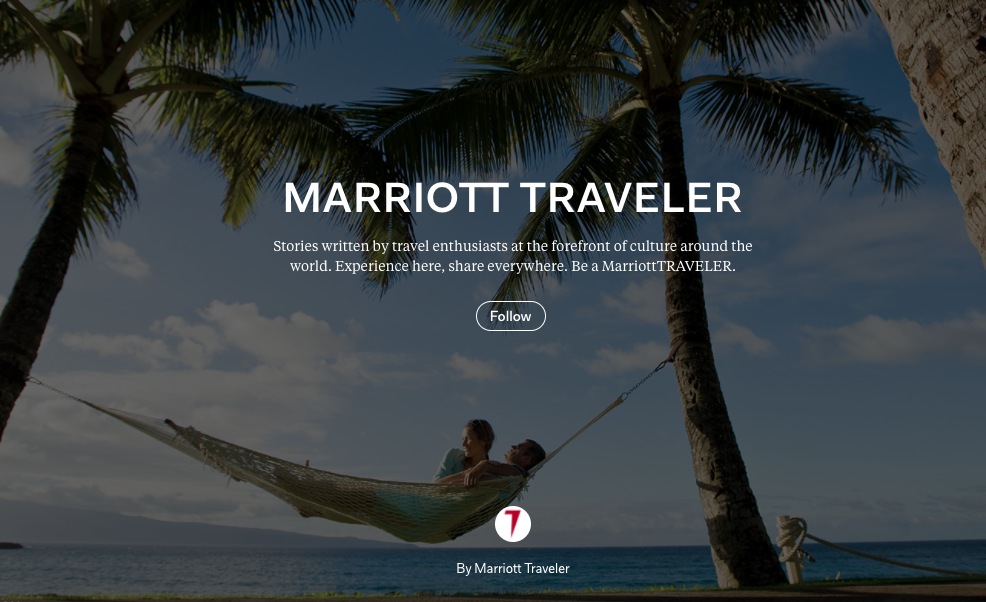 Curious which airports are the most dog friendly in the U.S.? Need to get acquainted with "The 10 Commandments of Sushi"? Time to get schooled by learning Boston slang?
Marriott Traveler has you covered.
In 2015, the global hotelier launched Marriott Traveler, a digital publication creating original content focused on providing readers with authentic travel stories and experiences written by experts and influencers. Over the past two years, Marriott Traveler has created nine Flipboard magazines curated around travel personas that cover everything from the Family Traveler to the Tech Traveler to the Adventure Traveler.
This past November, the brand activated a native advertising campaign via the Flipboard Promoted Story unit to highlight top stories resulting in a 230% increase in monthly traffic to the Marriott Traveler website over the prior month. "We regularly use Flipboard to organically promote our stories each day, but during November we found a higher-than-expected engagement with the campaign of more than a  2% CTR," says Marc Graser, the Editorial Director for Marriott International. "That's something every brand wants to see when spending marketing dollars."
We asked Graser to expand on why the team engages on Flipboard as a platform for both owned and shared media.
Why did you choose to partner with Flipboard for this campaign?
After celebrating a successful year as an online travel magazine for experience seekers, Marriott Traveler wanted to work with Flipboard to showcase some of its best stories and connect with travelers that may not necessarily be familiar with Marriott Traveler yet. We found Flipboard has an active user base that's hungry for compelling content.
What was the ultimate objective for this campaign?
To promote Marriott Traveler as a reliable and authentic voice when it comes to bringing cities and the people that make them special to life—and inspire readers to want to visit those places.
What does Marriott Traveler focus on when creating content?
It comes down to: We Are Why We Travel. It's our mantra. We're not so heavily focused on promoting Marriott's 30 hotel brands and Marriott Rewards program, but encourage people to explore the world and the amazing experiences you can have in cities everywhere. Every place has a great story to tell. But you have to go behind the façade first. When you come to Marriott Traveler you know we have hotels—we don't have to sell that. We want to promote why you should travel in the first place. And that comes down to the people—the great talent we hire and the wonderful guests we welcome with open arms at our hotels.
How does Marriott Traveler aim to stand out from other travel content?
Travel is a competitive space. We want to stand out through the people that make places special. It could be great stories our hotel guests have to tell, the memorable chefs, mixologists you might meet at our properties, the designer that creates stunning new hotel rooms or public spaces, or the local characters outside of our hotels that will leave a mark and help create a memory.  We're about introducing all of them and what makes them special.
What made you decide Flipboard was the right platform for your content strategy?
We've been big fans of Flipboard because the platform still provides a great way to discover amazing content. It's a fun place to explore, and it couldn't be a better places to showcase the best travel articles.
How are you measuring success?
It all comes down to traffic. We all know that. And Flipboard has proven itself time and time again as not only a great way to get your content in front of a powerful audience but when they like what you're produced, they share it and want others to see it in their own magazines. We make sure all of our best stories appear in our Flipboard magazines daily.  Just getting our articles in front of a larger audience is key for us to build a stronger brand but also a long-lasting one. Flipboard provides that.
What have you learned from the Flipboard execution?
We've found that Flipboard users spend more time exploring the Marriott Traveler site, with visitors who were introduced to the site through the campaign spending well over two minutes per post and checking out two to three more articles, on average, helping decrease bounce rates to the site.
What advice would you give to other brands and users interested in Flipboard?
Definitely launch a Flipboard magazine — not just one but several. See what works. Explore other brands' magazines. Experiment. You'll be surprised what readers gravitate to, what they share, and you'll get hooked. The best part is it's free to create a magazine.
~PaulK is curating I Want To Go To There