Flipboard Expands Paid Content Program For Publishers
Andrew Zalk / January 7, 2020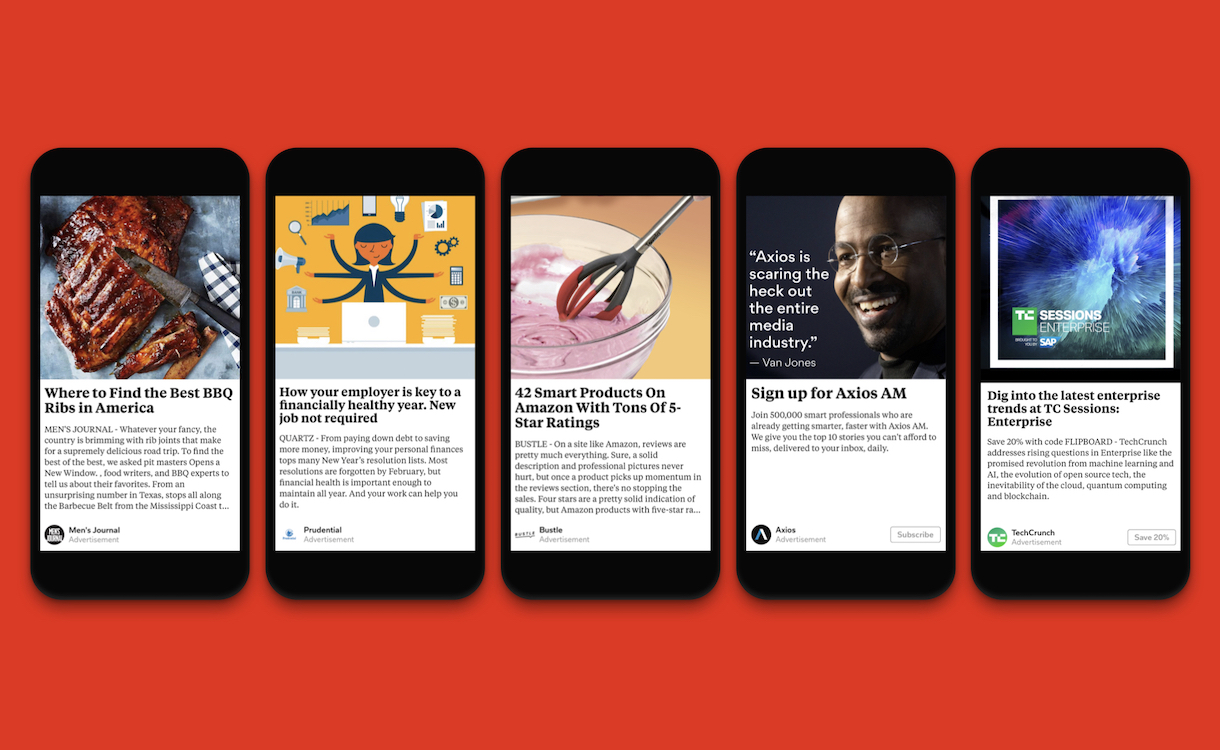 We often hear from publishers that they receive high quality referral traffic from Flipboard, and they wonder what more can be done to drive bigger audiences and engage with readers on our platform. These requests inspired us to introduce a paid beta program last summer that gave content creators the opportunity to promote stories, expand audience development, and/or support affiliate and marketing efforts.
After receiving interest from over 250 applicants, we accepted 30 initial beta partners and are now ready to extend the paid content program to others. The program is designed to help all kinds of content creators, from publishers and media companies to bloggers and even brands, reach Flipboard audiences across thousands of topics and areas of interest.
My name is Andrew Zalk, and with the help of a whole crew of amazing teammates, I've led this program. In the process, I've spoken with CEOs, chief revenue officers, content analysts, editors, heads of audience development, sales, marketing and social — basically anyone who will spend time with me — at the world's top publishers, asking about their challenges, listening to their needs and learning about their goals for audience growth and monetization. We've channeled these insights into a program that puts publishers' needs first.
One thing that I've heard time and time again is that partners are looking for ways to diversify their referral traffic sources, to be less dependent on the duopoly of Google and Facebook. With 145 million monthly active users globally, Flipboard doesn't match the size of the largest social platforms, but we help move the needle because people come to Flipboard to catch up on the things they are most interested in.
Flipboard usually ranks in a publisher's top five traffic referral sources, but I also hear regularly that Parse.ly, Chartbeat or Google Analytics show us as the number one referrer for some. Moreover, we hear from publishers that people who find their content on Flipboard stay longer on their sites. If you think about it, that makes sense. After all, people open Flipboard to get caught up and read about the things they truly care about. My colleague Claus Enevoldsen put it this way when he spoke with Hubspot recently: "When you stand in line for your coffee, you browse through your social networks, but it's when you sit down with your coffee that you go into Flipboard."
Publishers see this reflected in the traffic they see from us and it explains why we receive a growing number requests from publishers and content creators to pay to promote their best stuff on Flipboard. Hence, today's roll-out of our Paid Content Program for Publishers.
We tailor the program for each publisher based on their needs. For instance, during the holiday season, we partnered with Bustle Digital Group to drive awareness to their gift guides. They worked with Flipboard to test a number of articles and then optimized and scaled towards the pieces that drove the strongest engagement. Another publisher wanted to draw attention to an upcoming sporting event they were streaming on their site in mid-December. By promoting stories about the event on Flipboard, they drove additional viewers to the live-stream.
To learn more about promoting content on Flipboard, please reach out to contentpartnerships@flipboard.com. It's exciting in these early stages to help make that happen, and we're just getting started!

— Andrew Zalk is reading about #STARTUPS, #ART and #FOOTBALL (SOCCER)