<![CDATA[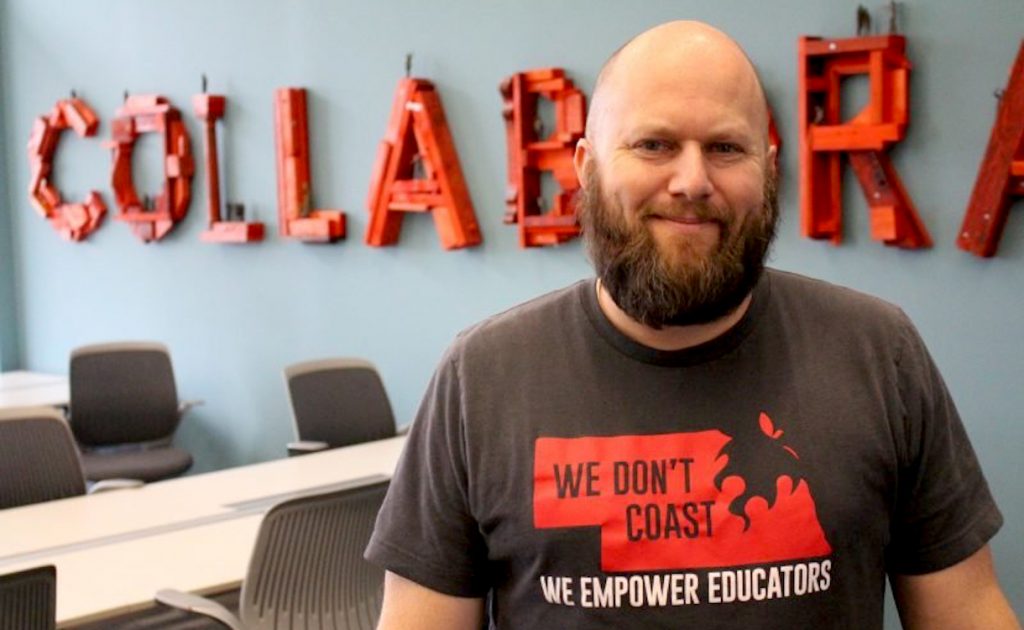 Josh Allen has been a member of the Flipboard community for nearly a decade and an educator for 17 years. He's passionate about his small but mighty school district in Council Bluffs, Iowa, where he is the Technology Integration Specialist for Lewis Central CSD and the social media manager for the district. We spoke with Josh about his experience with technology and education.
What's something you love about your job?

I love working with kids and teachers. My best days are when I'm out in classrooms either creating something with kids or helping tell the stories of our students on social media. Flipboard has been an extremely valuable tool to bring all of the news and social media posts about our school district into one place. In five and a half years, we've had 48,000 flips of our 10,000 stories. Not bad for a school of less than 3,000 kids!
We love the quote in your Twitter profile: "If technology is an event in your school, you are doing it wrong."
When I first started doing technology integration, it seemed as if new tools were coming out every month to be a savior for education, but there would be no true purpose to it. Virtual reality is one example that comes to mind: I've seen it used where there is no tie to anything that is happening in the curriculum — it's just used because it's cool. Activities that don't allow for follow-up become an event instead of education.
How can educators avoid making technology an event?
By being creative and constantly adapting. For example, now that our district is 1:1 K-12 with Chromebooks, elementary teachers are introducing Google Slides to students instead of sixth grade teachers. So the sixth grade teachers need to adapt and find new lessons that are utilizing Google Slides instead of simply teaching it. One way to make sure you're keeping the curriculum engaging is to see what your students are creating — is there room for individual learning and creativity, or are all the students making the same thing? I love this quote by Chris Lehmann: "If you assign a project and get back 30 of the exact same thing, that's not a project, that's a recipe."
What's a factor that's essential when integrating technology into the classroom?
Having administrators that are supportive of staff taking calculated risks with technology is essential. We're judged by standardized testing, and when teachers have a curriculum that works, it's hard to pivot to something new. With administrative support, it usually means teachers are more willing to take some chances at trying new things, like technology, in the classroom.
Why do you use Flipboard?
It's a place to get news and information from a variety of sources. The internet is a large place that I don't have time to explore! I let Flipboard do the work of searching the internet for me. For example, we bought a camper last year, so I now have a camping feed on my home screen for new ideas.
On the sharing side, Flipboard has made it easier and more visually appealing to share my learning with others. Instead of making a website and constantly updating it, I can quickly flip an article or resource into a magazine and the Flipboard alerts my community for me. Not all technology is as simple and device agnostic as Flipboard. You can easily jump into Flipboard regardless of the device in your hands.

You have such a breadth of magazines, from personal interests to helping other educators. Does any magazine hold a special place in your heart?

"Beautiful Nebraska" takes its name from the state song and shows off the breadth of landscapes and beauty of my home state. "Home Field" came out of a chance meeting with fellow educator Clay Riesler. We met while presenting at the same conference and, while discussing the stadium aesthetics at the Class A baseball game we attended together, decided to collaborate on this group magazine.

How do you get your community of teachers and students excited about using Flipboard?
I tell them how easy it is for them to take control and create their own magazines. Whatever their passion is, there is a community to learn from on Flipboard. And if not — I tell them to start their own! Someone else may be looking for it.
—Kirstie is curating "Anti-Racism"