<![CDATA[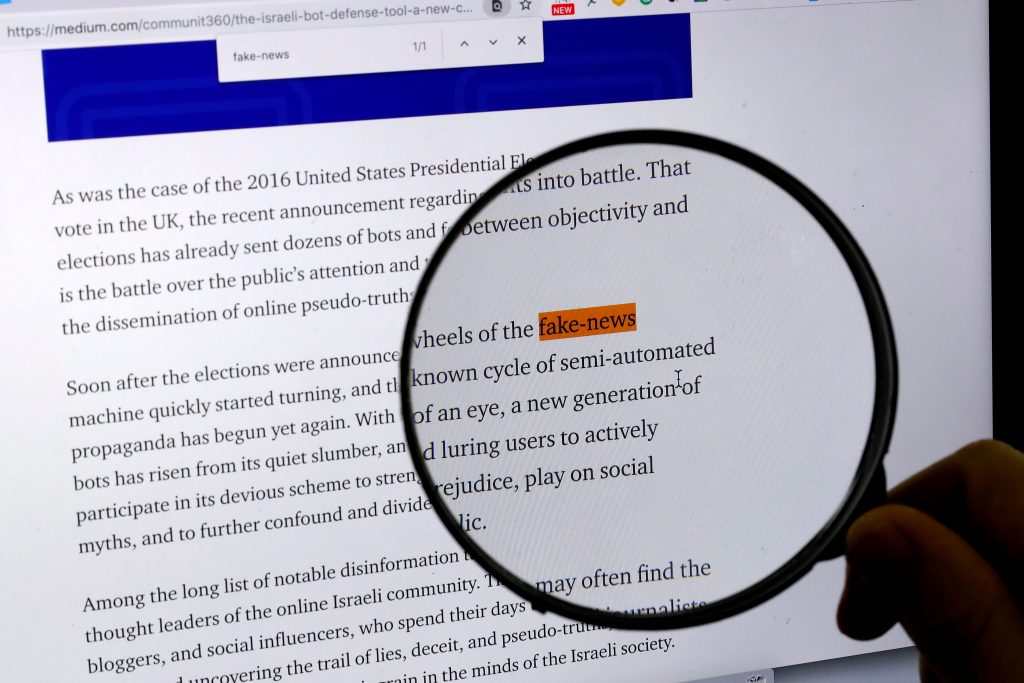 These days, "news literacy" is a topic as hot as the stories it calls into question. Misinformation, disinformation, fake news, and deep fakes make for an especially challenging landscape out there, particularly for the uninformed. That's why we're pleased to support the News Literacy Project (NLP), a nonpartisan national education nonprofit that empowers educators to teach students the skills they need to become smart, active consumers of media, as well as engaged, informed participants in our democracy.​ We caught up with Alan C. Miller, founder and CEO of the News Literacy Project, to learn more.

Why is it hard today for people to trust the news?
Every day we are confronted with a complex and confusing information landscape. While we have more credible information available at our fingertips than at any time in human history, it competes for attention with content that seeks to mislead, provoke or misinform. And a 2018 MIT study found that false news spreads much faster and farther—and penetrates more deeply—than real news.

There is no disputing the profound challenge presented by today's information ecosystem. The prevalence of "fake news" has left nearly nine in 10 Americans confused about even basic facts, according to the Pew Research Center. As misinformation continues to evolve and spread like a virus in ever more sophisticated ways, the public—and particularly young people—find themselves ill-equipped to separate fact from fiction. The inability to know what to believe leads to sweeping distrust of all information, even credible content. It also erodes trust in our democratic institutions, posing a growing threat to the health of our democracy.

Is there a path to creating greater trust in the media?
Absolutely. At the News Literacy Project, we believe education is the most effective solution to the challenge of misinformation and distrust of quality journalism. We see news literacy as a critical life skill that the next generation needs to become informed and engaged participants in the lives of their communities.

I have seen real-world news literacy lessons empower middle school and high school students to confidently navigate the information landscape. The Checkology virtual classroom, our e-learning platform, reaches students as they are forming the habits of mind and the news consumption patterns that will last a lifetime, and it does so where they live—online. We approach them not simply as information consumers, but as content creators who participate in the nonstop virtual conversation. It is the only news literacy platform of its kind in the marketplace.

What inspired you to tackle this rather daunting challenge?
In 2006, long before the phrase "fake news" became part of our lexicon, I was working as an investigative reporter in the Washington bureau of the Los Angeles Times. I was invited to speak to my daughter Julia's sixth-grade class about my job as a journalist and the important role of watchdog journalism in a democracy. I went into the school already concerned about two things: how my 12-year-old daughter was accessing and evaluating the tsunami of online information from myriad sources of varying credibility, accountability and transparency, and whether, amid the wrenching changes to the news business brought on by the internet, there would continue to be an appreciation for quality journalism.

That night, Julia brought home 175 handwritten thank-you notes from her classmates. I could see what had resonated with them, and the seed of an idea—one that became the News Literacy Project—was planted.
"A 2018 MIT study found that false news spreads much faster and farther—and penetrates more deeply—than real news."

Not long after, I served on a panel at my alma mater, Wesleyan University, moderated by Alberto Ibargüen, a fellow alumnus and the president and CEO of the John S. and James L. Knight Foundation. After the panel, I shared with him my idea of establishing a nonprofit to teach news literacy to students in middle school and high school. Following numerous discussions over more than a year, Knight became the News Literacy Project's first funder in 2008. The following year, we began classroom and after-school programs in middle schools and high schools in New York City and the Washington, D.C., region, and expanded to Chicago shortly thereafter.

How is NLP approaching news literacy today?
We are approaching it on several fronts—but primarily through Checkology, which has registered users in all 50 states, the District of Columbia, three U.S. territories, and 104 other countries. More than 17,600 educators have registered to use the platform since its launch in 2016, and more than 122,000 students have accessed the lessons

Our NewsLitCamp is a unique professional development opportunity that brings educators to one of our partner news organizations for a day of tailored workshops with journalists from that outlet. Participants—primarily English and social studies teachers and librarians—go back to their classrooms with newfound knowledge, skills and resources to bring news literacy education to life. We plan to hold as many as a dozen NewsLitCamps annually throughout the U.S.
"We see news literacy as a critical life skill."

We also give presentations around the world on what misinformation is, how it spreads and why it's a danger to democratic societies everywhere. Educators—and anyone interested in news literacy topics—can subscribe to The Sift, our free newsletter, published weekly during the school year, that offers teachable moments related to the latest viral rumors and falsehoods. Finally, our website is replete with free tips and resources, including our recently launched road map for developing or expanding news literacy programs, "Give Facts a Fighting Chance: A global playbook for teaching news literacy."
Do you see signs of success? What are you most excited about?
Definitely. We assess students' knowledge, attitudes and behaviors before and after they use the Checkology virtual classroom, and we see the platform's impact—not only on their ability to sort fact from fiction, but also on their understanding and appreciation of responsible journalism and the First Amendment and their desire to become engaged participants in civic life.

These results are from students' self-reported feedback surveys during the 2017-18 school year:
93% said they are more confident in their ability to spot misinformation.​
81% said they are more confident in their ability to explain the role of the First Amendment in American democracy.​
81% said they are more likely to be civically engaged — for example, to vote when old enough to do so or to participate in political activity.​
80% said they are more likely to correct misinformation they see online.​
I'm particularly excited that the scalability of our programs and resources will allow us to rapidly cultivate an engaged community of educators, journalists and students committed to news literacy. By 2022, we plan to build a network of 20,000 practitioners who, using our programs and resources, teach news literacy skills to 3 million middle school and high school students each year and support the adoption of news literacy into the American education experience.​

If you have one message for people consuming news every day, what would it be?
Every one of us can help stop the spread of misinformation and the damage it inflicts by adopting some simple habits. We can slow down before we hit "share," "retweet" or "like," and ask ourselves if doing so will mislead, misinform or do harm.

We can read past the headline or subject line and look for a byline (or another way to determine the creator). We can pay attention to whether credible sources or documents are cited and if enough information is presented to allow the reader or viewer to make up their own mind about the topic. We can explore whether what we're reading, watching or hearing is being widely reported or is coming only from a single source. We can determine whether it intends to inform in a dispassionate way or plays to our emotions and seeks to persuade, sell, incite or exploit.

Then we must look within: What bias am I bringing to this topic? Am I seeking information or confirmation? Is this something that I can responsibly trust, share and act on?

Finally, each of us can stand up for facts online and in our community and encourage others to join us. Together, let's give facts a fighting chance.

Be sure to follow the News Literacy Project on Flipboard to keep up with updates from the org, videos that share their vision, and articles the NLP team is reading.

— Marci McCue is reading "NLP Updates and Coverage"