21 Ways to Give the Gift of Flipboard This Holiday Season
Inside Flipboard / November 17, 2015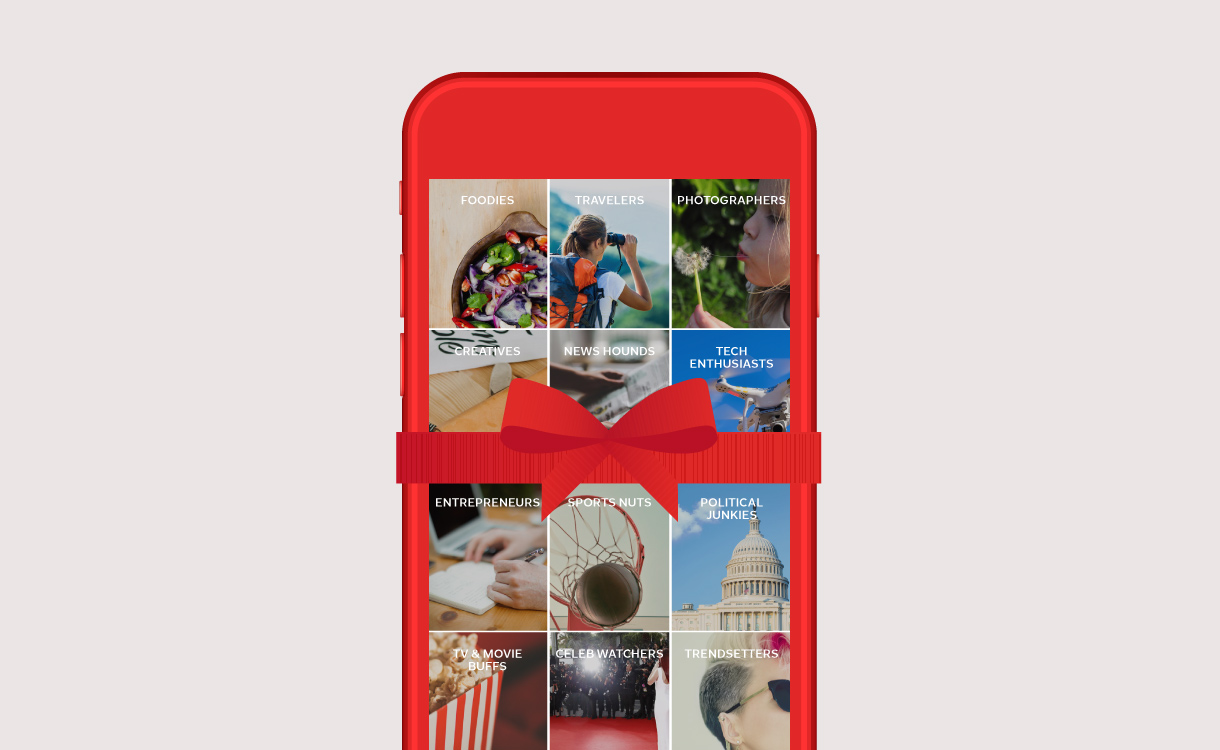 Everyone knows someone who's crazy passionate about something, and it's always fun to indulge those people around the holidays. Well, this year, we have the perfect gift for you to send friends who are into things like food, photography, travel, tech and so much more: the Gift of Flipboard. (Even better: this present is free.)
There are now 21 preconfigured Flipboards ready to give (full list below). Each Flipboard Gift is a lovingly curated package of some the best Flipboard Magazines, topics and publishers about a given topic. When you send, say, the Gift of Flipboard for Foodies to your culinary friends, and they accept the gift, their Flipboard will become instantly preconfigured with awesome food content. In other words, they won't have to do anything to immediately experience fantastic articles, photos and videos about cooking, baking, food science and eating out.
If the person you send the gift to is new to Flipboard, they will be prompted to download Flipboard. When they open it, they'll be right in their gift, with a beautiful cover and high-quality stories from sources hand-picked by our editorial team. They can always edit what's in the gift by going to their Following tab then pressing and holding on any source to remove it. If they want to add more, there's a Get More button where they can pick new topics or sources to their Flipboard and save it all by creating their account.
If your gift's recipient is already a Flipboard user, the gift will download as a single new tile in their Follow tab. Either way, the stories from the gift will make the recipient's Cover Stories even better by adding more content about the things they love.
There's a gift for just about anyone and, though you can't send multiple gifts in one shot, you can keep spreading the cheer to your polymath friends by sending multiple emails to the same person. We'll be adding new packages and updating the current gifts over time with the latest and best content, so even past the holidays you'll be able to give the Gift of Flipboard.
Give the gift here, or preview all 21 gifts below:
• Foodies
• Travelers
• Photographers
• Creatives
• News Hounds
• Tech Enthusiasts
• Entrepreneurs
• Sports Nuts
• Political Junkies
• TV & Movie Buffs
• Celeb Watchers
• Trendsetters
• Gamers
• Music Fans
• LOL Lovers
• Voracious Readers
• Makers
• Self-Improvers
• Educators
• Marketers
• Parents
Happy holidays!
~The Flipboard Team
P.S. If you're more into information and inspiration about how to make the holidays themselves a smashing success, head on over to Holiday Central, our destination for articles, Flipboard Magazines and topics about holiday cooking, entertaining, travel and gift giving.
GET FLIPBOARD ON:
iOS / ANDROID / WINDOWS / WEB
FOLLOW US ON:
FLIPBOARD / TWITTER / INSTAGRAM / FACEBOOK / GOOGLE+ / TUMBLR / YOUTUBE / SOUNDCLOUD / PINTEREST / MEDIUM